Everything You Need To Know About Grillo's New Pickle-Flavored Potato Chips
In the ranking of all-time great culinary inventions, pickle-flavored chips are right up there with sliced bread. Combining the tang and crunch of pickles with the saltiness and umami of potato chips — what could possibly make more sense? Now, joining the likes of Pringles, Lay's and Kettle Brand, Grillo's and Utz have teamed up for the latest take on a classic fusion snack.
Utz & Grillo's Classic Dill Pickle flavored potato chips bring pickle-lovers and chip-lovers the best of both brands, offering an ideal combination of "fresh, crispy, salty, and dill pickle flavor," according to a press release. The limited-time-only product was teased earlier this month on Grillo's Pickles' Instagram, generating instant excitement among Grillo's fans. Eddie Andre, Grillo's director of brand experience, is confident that the collaboration will be a hit among Utz fans, too, saying in a statement, "The thing about Grillo's and Utz is that you can't just have one – they're way too good! I know when Grillo's fans and pickle lovers alike try this chip they're going to go wild for it, and I have no doubt Utz fans will too." But why this collaboration? And why now?
The connection between Grillo's Pickles and Utz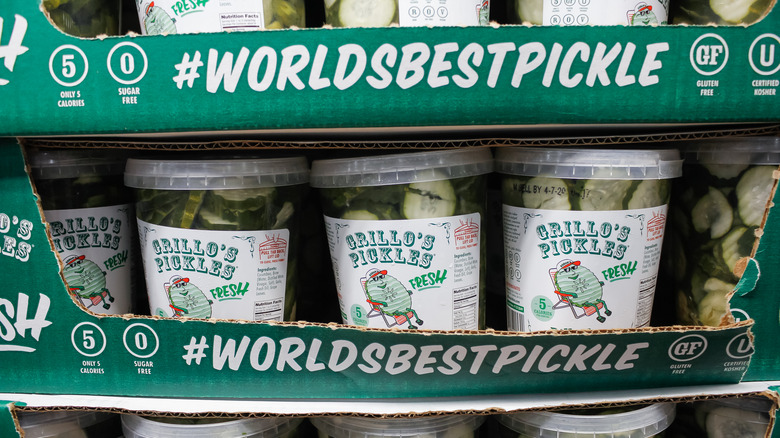 The Image Party/Shutterstock
Grillo's Pickles and Utz Brands go back further than you might expect. As it turns out, Utz chips were a favorite of Eddie Andre's back in the day, when Grillo's Pickles was still just a "pickle cart" operation: "I would eat Utz chips and a Grillo's spear while working the pickle cart," Andre reminisced, in a PR statement. "So to have two of the best snacks available collaborate is a dream come true."
Utz is enthusiastic about the partnership, too, saying in a statement: "We are excited to work with Grillo's Pickles...As we work to bring innovation and excitement to our brand fans, our new...Pickle flavored potato chips will deliver with big and bold flavor!" The chips are available at leading supermarkets and come in an "On-the-Go" and "Take-Home" size, which retail for $2.19 and $4.29, respectively. With their limited-time run, pickle lovers and Utz fans alike will have to get their hands on a bag while they're still available.