Here's How To Make Duff Goldman's Carrot Cake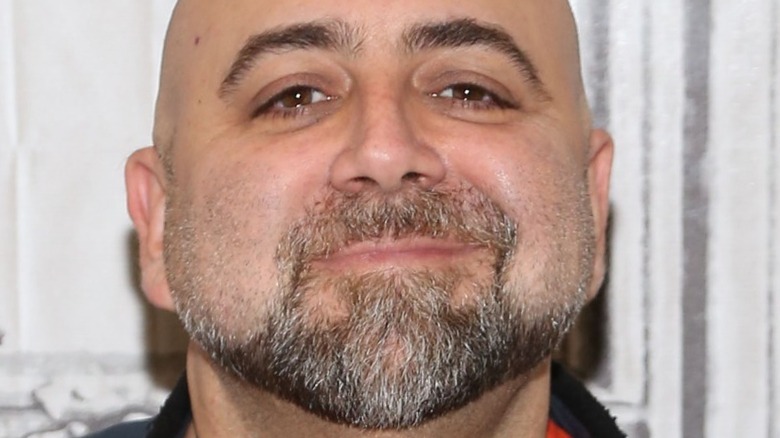 Manny Carabel/Getty
Carrot cake is often a popular option for sweet spring treats. Even though a well-made carrot cake can certainly be decadent, especially when slathered with cream cheese frosting, the addition of the carrots and the overall flavor creates a cake that's just a bit lighter and more appropriate for the spring season than a dense chocolate fudge cake.
If you're always in search of the perfect carrot cake recipe, you may want to check out how television personality and celebrity baker Duff Goldman makes the dessert. Goldman shared the recipe, which was also featured in his cookbook "Duff Bakes: Think and Bake Like A Pro at Home," on The Rachael Ray Show. It seems that the cookbook author has one particular secret for keeping his carrot cake as moist as possible.
While for many cakes, one of the first ingredients you reach for is butter, Goldman advises that any carrot cake recipe using just butter won't quite be as good as you'd hope. The secret is oil: His carrot cake recipe calls for just over two cups of vegetable oil or olive oil in order to create a moist final product. Beyond that, it's all a matter of your personal preference — Goldman's recipe includes some staple carrot cake spices like nutmeg and cinnamon but lists add-ins such as golden raisins and pecans as optional. They can add a nice bit of texture and extra flavor, but carrot cake purists can leave them out if desired.
A few more tips for perfect carrot cake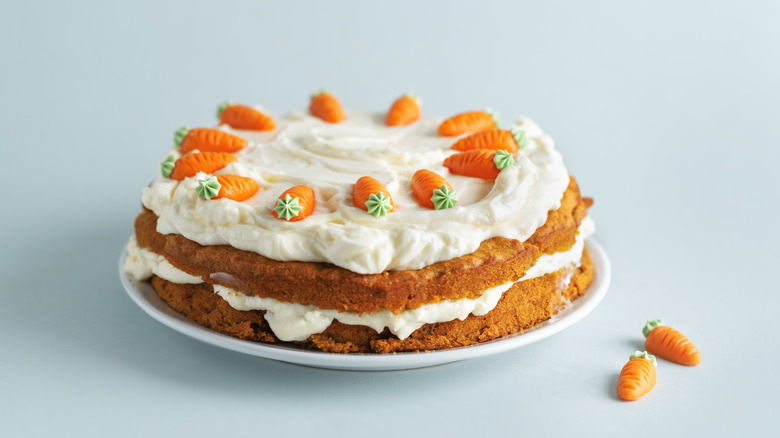 nerudol/Shutterstock
You may have noticed that Duff Goldman's carrot cake recipe doesn't include any pineapple, which many cooks use as a way to keep the cake moist while cutting back on a bit of the oil content, as AllRecipes reports. However, Bon Appetit warns that you may want to reconsider that particular tip. Pineapple may actually end up making the carrot cake batter a bit too moist, meaning it'll end up a bit wet and mushy rather than moist and tender.
The other major element to keep in mind when whipping up carrot cake, especially if you're a creative baker who likes to alter recipes a bit, is what you're mixing in. Any carrot cake obviously needs carrots, but don't just reach for the first grater you can find in your kitchen. Bon Appetit recommends selecting the smallest possible setting you have on your box grater or food processor — you want the carrots to be very finely grated so that they're properly suspended in the batter and don't run the risk of being underdone.
And, if you decide to add in the golden raisins and pecans that Goldman lists as optional in his recipe shared on The Rachael Ray Show, just make sure you're sticking to the quantities listed. In this case, more isn't better: As Southern Living warns, those dried ingredients may actually soak up some of the cake's moisture, leaving you with a dry cake.