Why You Need To Start Keeping Rice Wine Vinegar In Your Pantry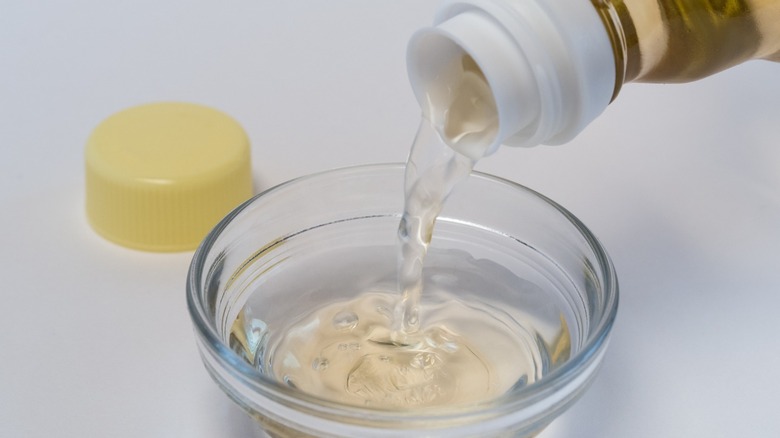 Michelle Lee Photography/Shutterstock
Anyone that loves to cook can agree that having a well-stocked pantry is key to preparing great dishes. However, when the pantry is missing even one staple, it can be a real chore to run to the store to buy the missing ingredients, especially in the middle of the cooking process. And although we've already covered the many reasons why you should consider keeping fish sauce in your pantry, chefs to reveal other pantry staples that can work in a pinch. 
Per MSN, chefs mention ingredients like cayenne pepper, xanthan gum, coconut milk, flour, and canned vegetables to always have handy. But, there is one versatile condiment that everyone should keep in their pantry — rice wine vinegar, also known as rice vinegar. According to Masterclass, this type of vinegar is made from "fermented rice." But what is so special about this vinegar and why should you keep it in your pantry? What exactly does this ingredient bring to the table?
The many faces of rice wine vinegar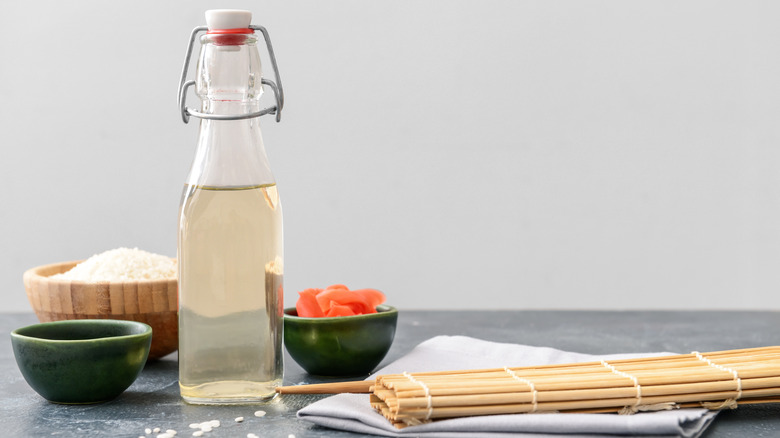 Pixel-Shot/Shutterstock
There are many types of rice vinegar, and the condiment is especially popular in Chinese, Vietnamese, Korean, and Japanese cuisines. White rice vinegar is the most common, with a clean and tangy flavor. Seasoned rice vinegar is made with a mixture of white rice vinegar and sugar or MSG, and it's typically used with sushi rice. Brown rice vinegar is slightly different in color and flavor when compared to white rice vinegar, but still mild, while black rice vinegar is usually served as a dipping sauce made from black glutinous rice, wheat, and grains such as sorghum. Red rice vinegar, on the other hand, is described as "similar to black rice vinegar. It's sweet, sour, and a little funky" (via Masterclass). 
Chef Jose Mendoza of the Great Oak Steakhouse at Pechanga Resort Casino told MSN that this condiment should always be a part of your pantry because it "livens up homemade salad dressings, aioli, and stir-fry." Rice vinegar can also be used for pickling vegetables such as cucumbers and cabbage when mixed with salt and selected herbs, creating a pickling brine. Mendoza says he uses this condiment for French fries, too.
Rice wine vinegar surely deserves a special place in your pantry. However, if you find yourself short on this condiment, there's still a solution — here are the best substitutes for rice wine vinegar.