The Worst Decision Taco Bell Has Made In Recent Years, According To 31% Of People
Taco Bell has been the butt of jokes for years — many of which, ironically, tend to involve a person's backside — but, oftentimes, the wisecracks come from a place of love. The fast food joint is a favorite for millions of people that want to "think outside the bun" when looking for a quick, convenient, and cheap bite to eat, and has even captured the hearts of some of the world's most notable celebs. Remember when Fergie namedropped the beloved Mexican eatery in her hit song "Glamorous?" Taco Bell's numbers reflect its popularity as well. In 2020, Restaurant Business reported that the chain was the fourth-largest in America after raking in an impressive $11.3 billion in sales, which then increased to a whopping $13.3 billion the following year. That's a lot of Doritos Locos Tacos and Baja Blast.
But, alas, even the most successful businesses are prone to making poor choices from time to time, and regardless of whether or not you're of Taco Bell's 40 million weekly customers, you can probably think of a few that the eatery has committed in recent years. Some went on without a hitch while others caused serious uproar amongst the restaurant's loyal clientele, but which decision did customers feel slighted by the most? Mashed surveyed 596 of the chain's fans in the U.S. to find out and though the results were close, there was one decision that was condemned by more customers than the rest.
Most respondents said getting rid of this menu item was Taco Bell's biggest blunder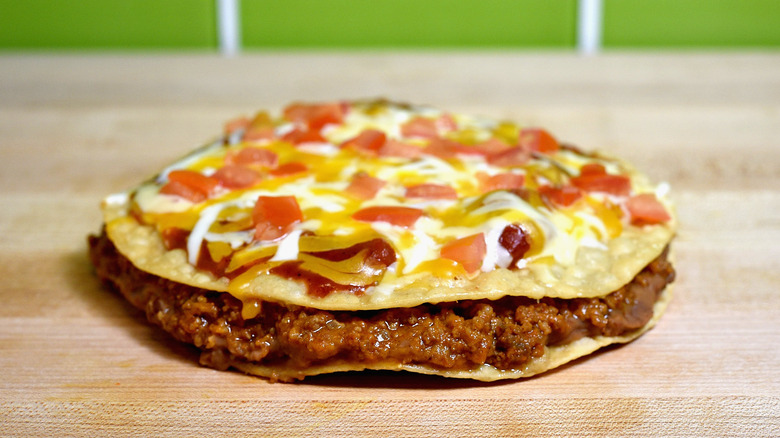 Joshua Blanchard/Getty Images
Taco Bell has long been praised for offering several vegetarian options on its menu, which became officially certified by the American Vegetarian Association in 2015. Therefore, when the chain announced it would be removing potatoes, one of its most popular meatless items, for "menu simplification" purposes in 2020, it wasn't surprising that fans were not happy. But as quickly as they were removed, the restaurant's spuds made their way back into restaurants in March of 2021 — though that didn't stop 21.81% of respondents to Mashed's survey deeming it Taco Bell's worst decision in recent years.
While that number is a fairly large chunk of the 596 participants in our poll, the controversial choice actually received the least amount of votes. Both Taco Bell's $10 taco subscription service and its crispy chicken wings were perceived as even poorer choices by the chain, with each earning 23.32% of the vote, while 31.54% of respondents dubbed the eatery's decision to take the Mexican Pizza off the menu as its biggest gaffe.
A staple at the chain since 1985, the Mexican-Italian hybrid dish was a major crowd-pleaser until it was axed along with potatoes in 2020. The decision caused serious chaos in the Taco Bell fandom on social media and even rapper Doja Cat tweeted about it. Their efforts appear to have paid off, as it was recently announced that Taco Bell is bringing back its Mexican Pizza.