The Rumors Are True: Taco Bell Is Bringing Back Its Mexican Pizza
Joshua Blanchard/Getty Images
A devastating wrong is finally being righted. Taco Bell's beloved Mexican Pizza will once again be back on store menus in April or May of 2022, says food blogger Markie_devo on his Instagram page. Cue lines around the corner. People have been missing their Mexican Pizzas something fierce!
Although a pizza might seem like a stretch for a Mexican fast food joint, Taco Bell's gained a cult following quickly after it's 1985 introduction (via YouTube). Fan reaction was swift and furious regarding the cancellation of the Mexican Pizza (via The Takeout), which consisted of seasoned ground beef and refried beans sandwiched between two crisp "pizza shell" tostadas (via Taco Bell). All that yum is covered up in diced tomatoes, a three-cheese blend, and a pizza sauce that's delightfully spicy. Since the original version (made without beef) is American Vegetarian Associated certified, it's easy to see why this dish was so popular.
As a result, there has been much speculation about a Mexican Pizza comeback ever since the November 2020 cancellation. Now that we have an answer to that age-old question, it's time to rediscover the Taco Bell Mexican Pizza, 2022-style.
Exciting developments for Taco Bell's Mexican Pizza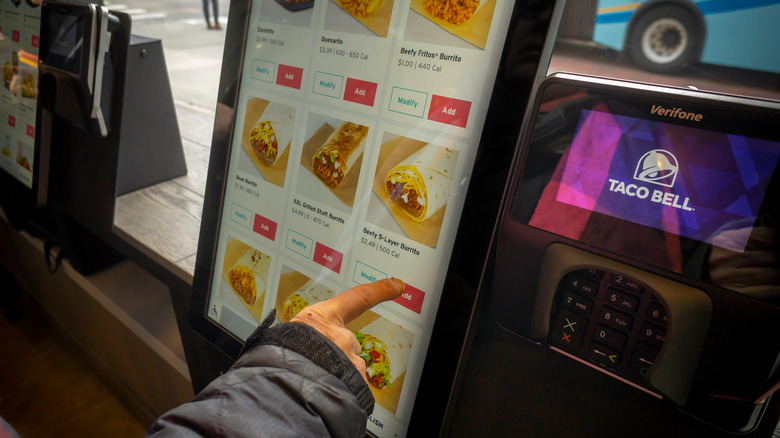 rblfmr/Shutterstock
Although a classic Mexican Pizza option is a sure thing, Taco Bell is reportedly taking the new incarnation one step further. Rumor has it that a range of new and improved versions will be on the menu, including a "double cheesy" version, one that includes spicy chorizo, and another with bacon/ranch influences (via Living Más). A dessert option may also make an appearance.
The current Taco Bell online menu gives guests a peek at how they'll be able to customize the 530-calorie classic, which retails for $3.89. In particular, there's a lot of protein-related wiggle room, as the order can feature no beef, extra beef, steak, chicken, beans, and/or black beans. Add-ons like jalapeno peppers and seasoned rice, as well as a ton of sauce options, spice up the deal.
The Mexican Pizza will also reportedly come in a new carrier, as the unsustainable original packaging was one of the main reasons it was discontinued in the first place. So think of it as a greener, if not leaner, take on the classic. Green is always a good thing!