The One Thing You Need To Make Authentic Italian Cannolis, According To A Chef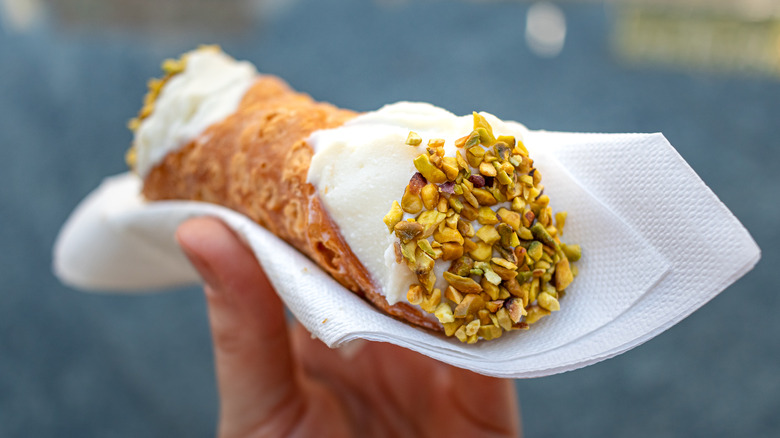 Paty Tessmann/Shutterstock
The pervasiveness of the cannoli is very impressive, because the fried, ricotta-filled pastry can be traced back to 10th and 11th century Sicily, and they are still enjoyed today (via La Cucina Italiana). The popular Italian dessert is a seemingly simple combination of sweetened ricotta inside a crispy pastry shell but has a surprisingly scandalous past. There are conflicting stories about whether the pastry was invented by Sicilian nuns or women in the "Moorish harem of Qalc'at al-Nissa," but either way, its phallic shape was no accident (via La Cucina Italiana). This was not uncommon at the time, as erotic desserts date back to Greek and Roman times, and were a "symbol of abundance," according to Maria Olivery, an expert in cultural heritage studies from the city of Palermo (via BBC).
The pastry was first enjoyed during Carnevale, a celebration of freedom before Lent, but now it is enjoyed year-round in countries around the world (via Eataly). Other countries have imparted their own flavors to the dessert, like the infamous Mike's Pastry in Boston, which has an Oreo, mint chip, and pecan caramel cannoli. However, according to this Italian chef, without one particular ingredient, the dessert doesn't qualify as a cannoli.
According to Fabio Viviani, cannolis must have sweet vanilla ricotta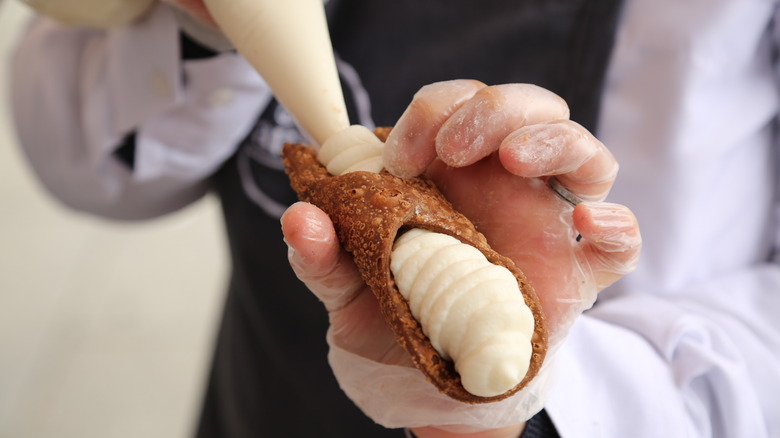 Shai Daniel/Shutterstock
Florence native and celebrity chef Fabio Viviani knows a thing or two about Italian cuisine. Many know him as a fan favorite from Seasons 5 and 8 of "Top Chef," and he has opened many concepts in the hospitality field since his time on the show, most recently a fast-casual dessert concept called JARS. The dessert destination will feature popular sweet treats like chocolate chip cookies, Mississippi Mud Pie, and peach cobbler, presented in a new and fun way (via their official website).
Although this concept is built on reinventing classic desserts, Viviani told Mashed in an exclusive interview that he is a purist when it comes to some desserts, like cannoli. "So for me, cannoli has to have sweet vanilla ricotta, it has to have pistachio, and it has to have a little bit of chocolate. That's it," Viviani told Mashed. "I don't do dried fruit, I don't do orange zest, I don't do any of that crap." Another strong, but helpful opinion that the "Top Chef" alum shared is that cannoli shells are "painful to make at home," so it's better to leave it to the professionals.