Why There's No Steak At Steak N' Shake
You walk into your local Steak n' Shake, same as you would any other day. You sit down and peruse the menu, seeing the usual offerings — burgers, milkshakes, and fries, a classic American diner-style fare. That's not to say in any way a bad thing, but for a company with the word "steak" in the title, you'd think they would offer it on the menu. A T-bone steak and some fries would sound pretty darn good, wouldn't it?
First opening in Normal, Illinois in 1934 (via Restaurant News), Steak n' Shake has prided itself on big, juicy burgers, thick milkshakes, and capturing that retro-Americana style associated with enjoying a burger and a shake. While the chain is known for its fair share of good times and bad times, from being sued for wage theft by employees (via Restaurant Business Online) to late-night host David Letterman ordering some burgers on live TV (via Eater), it's certainly not known for being a steakhouse. At no point did the restaurant ever sell steak on its menu, nor has it ever leaned into Longhorn or Outback Steakhouse territory.
While it is true you can't get a steak at a Steak n' Shake, per say, founder Gus Belt certainly didn't run some kind of country-themed steakhouse. But what Belt did sell was burgers — Steakburgers, to be exact. He technically was serving steaks, just in an entirely different way. 
Steakburgers are made of ground-up steaks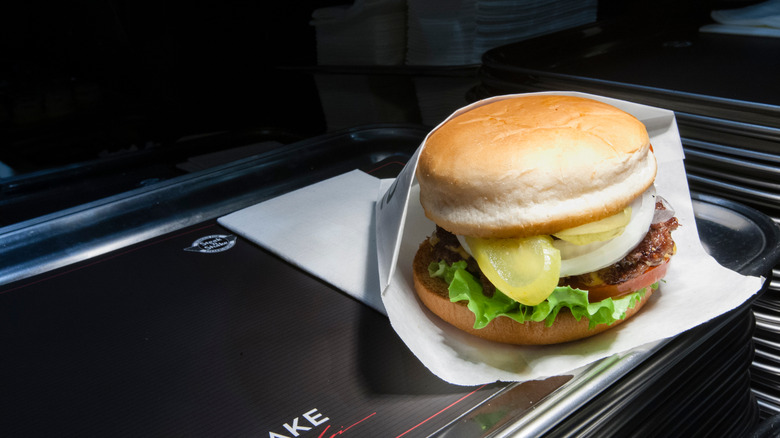 Andre Roque Almeida/Shutterstock
Imagine that you're Gus Belt, and you've just opened your first hamburger restaurant. You know that you need to do something that sets your burgers apart from the competitors, something that will really make the public crave your burgers above all else. The solution comes to you: What if you could show just how fresh and meaty your burgers really are? What if the public could see just what goes into those beef pucks they're eating?
As the story goes, Belt would come around during the lunch hour rush, a time when the building would be packed with people. He would stroll through the restaurant, pushing a barrel filled with a wide variety of steaks from T-bones to sirloins, stopping at a large meat grinder set up in direct view of the customers. With all the air of a showman, Belt would grind these pieces of steaks into patties to be grilled directly in front of the customers. Not only would they have a pretty interesting show while they ate, but they would also know that their burgers were made of 100% real steak. This also gave rise to the company slogan: "In Sight, It Must Be Right."
Granted, today you're not going to be seeing that practice at any Steak n' Shake (or any other restaurant), the company reassures customers that the burgers are still made with top-of-the-line beef — even if your host isn't grinding them in front of you.