Trader Joe's Shoppers Are Loving This 'Play On The Chocolate Egg'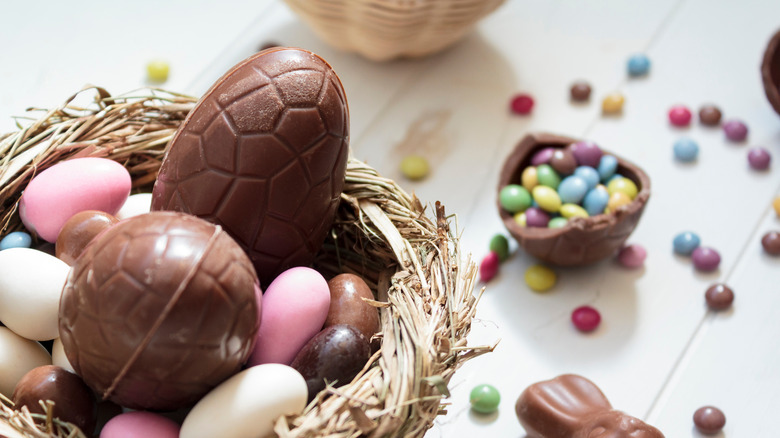 rfranca/Shutterstock
With Easter coming up, people who celebrate the holiday may have broken out their Easter ham recipe or might be planning for a ham-less but still perfect Easter dinner. Although there's a lot to do to prepare for a feast with friends and family, one way to ensure that the kids are happy is to pass out some chocolate eggs and jelly beans. Plus, adults might love a sweet treat as well. Of course, the words "chocolate egg" might evoke images of the unbroken, oval variety. But Trader Joe's has clearly tried to reinvent it.
On the Trader Joe's subreddit, user Argonian0727 posted a photo of the store's Chocolate Caramel Yolkies and called it a "new play on the chocolate egg" in the caption. Wondering what exactly makes this chocolate egg different? This is a cracked egg with the egg white, yolk, and all. There's a milk chocolate square topped with white chocolate that resembles an egg that's been fried sunny-side-up. There's also a caramel filling.
What are Trader Joe's fans saying about this chocolate egg?
Overall, the Reddit comments about Trader Joe's Chocolate Caramel Yolkies are positive, and shoppers are enthusiastic about seeing a creative twist on the classic chocolate Easter egg. In a response to a question asking what this product tasted like, one Redditor responded, "I liked them! Each one actually breaks into six small squares. The white / milk chocolate are decent, but my favorite part was the 'yolk' that has a creamy caramel filling. Definitely worth trying if you come across them."
On the other hand, some people didn't think the chocolate was high quality and don't seem to be fans of white chocolate. With a name like Chocolate Caramel Yolkies, the treat sounds like it wouldn't get any love from chocolate haters. But at least one person seemed prepared to make an exception, writing, "I don't like chocolate, but I'm tempted to buy these simply because they are so cute and clever." Similarly, another person focused on how smart they thought this product was: "I am totally into this. Clever and tasty make a nice combo. Plan to head to TJs today, so will keep my eyes peeled!" They did not specify whether they planned to walk, run, or bunny-hop.