The Surprising Number Of Car Manufacturers Who've Dabbled In The Culinary World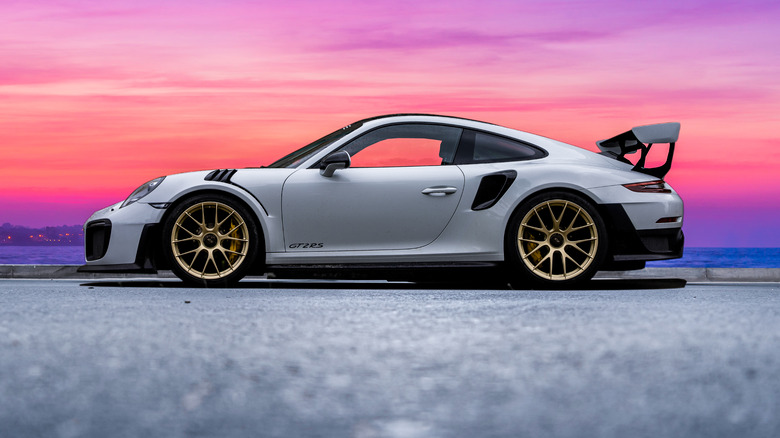 Fede Desal/Shutterstock
Anyone who loves cars — the almost lyrical revving of the engine, the breakneck climb from zero to sixty, and the trademark new car smell — appreciates the engineering know-how and sheer artistry that goes into their creation. For them, a car is more than just a mode of transport to get you from Point A to Point B. Instead, the automobile is a thing of beauty, a source of joy, a giver of freedom, and a reflection of the driver's personality. 
To the avid foodie, a good meal can be likened to a nice ride. After all, a well-executed dish is more than just sustenance or a satisfier of appetites. It is a work of art, a taste of heaven, a way for your taste buds to visit faraway places, and an expression of the chef's soul. It makes sense then, in a roundabout way, that the manufacturer of a fine automobile would also dabble in the culinary world. And while one car manufacturer designed a car that ran on coffee, several others have used their expertise in unexpected ways to make food products. 
You can drink a Lamborghini energy drink while driving your Aventador
When car enthusiasts think of Carroll Shelby, they think of Grand Prix wins, the Shelby Cobra, and the Shelby Mustang. It turns out that the two-time Sports Illustrated Driver of the Year was also a chili enthusiast of the highest caliber. Shelby was the co-founder of the International Chili Society and creator of the chili cook-off at Terlingua, Texas (per Carrol Shelby's Chili). Shelby's company website explains that he started giving out the fixings for his dish in paper bags and they became so popular that by the sixth cook-off, he put his chili kits on the market. And they're still available today. 
Meanwhile, Tonino Lamborghini, a member of Italy's renowned automotive family, has taken the brand's reputation for luxury and quality and developed a high-end line of beverages that includes coffees, hot chocolates, spirits, and energy drinks (per Tonino Lamborghini). Whether you crave an espresso, a cup of orange and cinnamon cocoa, some vodka, or a jolt of caffeinated energy, Lamborghini has exactly what you're looking for. 
Peugeot Saveur makes some of the best pepper mills
The Peugeot family owned a grist mill well before they entered the realm of auto manufacturing. In 1848, they devised their first coffee grinder and in 1874, they churned out their first pepper mill (per Car and Driver). And these pepper grinders are still earning praise to this very day. While Peugeot automobiles and Peugeot Saveur, the brand's kitchenware division, became separate entities in 1926, you can still purchase an array of products bearing the Peugeot name and know-how to this very day. Whether you're looking for a pepper mill, a corkscrew, a ceramic baking dish, or a French press, Peugeot has got you covered. 
Porsche has introduced honey bee colonies (totaling nearly three million bees) to the acreage around its Leipzig auto factory and now sells Turbienchen spring blossom honey, according to Car and Driver. The honey can be purchased at the Porsche Leipzig Customer Center and online. Yes, Porsche can now give you a sweet ride and an equally sweet condiment.  
Not only is it refreshing to witness skilled car builders using their knowledge to create other superb products, but it enables the epicurean who also possesses a love of automobiles to purchase a broad range of products that pay homage to both interests. And while you may not be able to afford a car bearing the name "Lamborghini," you can likely secure that sought-after label on a cup of coffee, instead.