Potbelly's Latest BOGO Is A One-Day-Only Deal
It's a safe bet that Tax Day is never one to inspire rejoicing. Even if you're owed a refund, it's still a challenge not to see it as nothing more than payback on the interest-free loan you've been making to the government with each paycheck or quarterly estimated tax payment. In any event, there's still the burden of having to collect all your income information pertaining to the last calendar year and the tedium of filling out the necessary forms. 
For the past two years, the pain of Tax Day was mitigated somewhat by its pandemic-related extensions — to May 15 in 2021 and July 15 in 2020, with the upshot being shorter lines at the post office and fewer hysterical phone calls to tax preparers. Moreover, these extensions had the effect of diluting the tax-related "grumpiness burden" over a period of weeks. Of course, we don't need to tell you that Tax Day 2022 is today, April 18 — extended a mere three days, thanks to Good Friday being on April 15. 
Whatever irritation you may be feeling, here are two bright spots to consider. First, we're all in this same boat on this same day once again. The other? The promise of a free sandwich from Potbelly Sandwich Shop. Sure, it's a BOGO thing, but doesn't that also mean MORE sandwiches?
Potbelly Sandwich Shop is here for you on Tax Day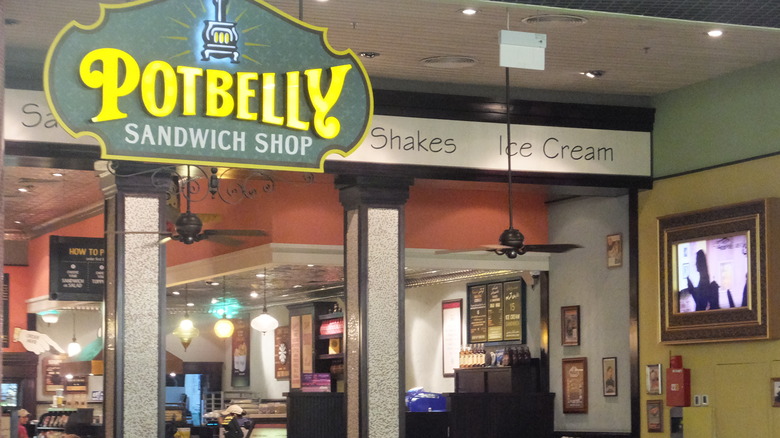 Ritu Manoj Jethani/Shutterstock
As if Tax Day weren't enough of a burden, this year it's happening on a Monday, not to mention a month earlier than last year and a full three months earlier than in 2020. It's almost as if the government is mocking us. But one reliable and highly effective way to take back your power is to eat well and at a discount. That's where Potbelly Sandwich Shop comes in with it's one-day-only BOGO deal on sandwiches, per the Potbelly website. 
You can find Potbelly stores in 434 locations across the U.S., per ScrapeHero, which says its number are current as of March 24, 2022 and points out that Illinois, alone, is home to 112 of those locations. But even if you live anywhere in Illinois, or anywhere in driving distance to a Potbelly Sandwich Shop, you'll still need to order online to take advantage of this one-day-only BOGO deal.
You can do that via the Potbelly website or via the Potbelly app by placing two original sandwiches (i.e., it's probably not the best time to order off the Potbelly secret menu) in your cart and entering the promo code "BOGO" at checkout. If this is your first order, you may even be able to get a third sandwich on the house by joining Potbelly Perks. According to the Potbelly website, joining the program entitles you to one free original sandwich with your first order.