The Garlic Bread Festival In Australia You Had No Idea About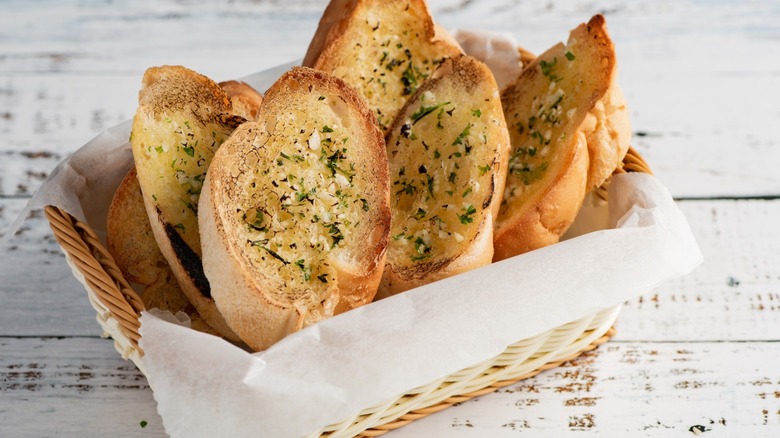 C_KAWI/Shutterstock
Australia has given us yet another reason to love garlic bread. The country will celebrate all things related to the combination of bread and garlic at a day-long festival beginning at 12 p.m. on April 30 in Melbourne, according to Concrete Playground. The Garlic Bread Festival will feature more than your run-of-the-mill garlic bread recipe – if such a thing even exists. Vendors selling all manner of garlic bread creations, like garlic bread burgers and Philly cheesesteaks will set up shop to sell whatever garlicky goodness they can dream up (via Tasting Table).
Welcome to Thornbury, a 13,000 square-foot arena for food trucks outside Melbourne, will host the event. The space includes a ginormous beer garden, space for 700 people, and both indoor and outdoor seating, Tasting Table reported. The food truck park is accepting reservations for groups of 30 people or fewer for the Garlic Bread Festival. Event officials recommend making a reservation for larger parties, but folks coming in flocks of six or less can swing by at any time. Entry is free.
Australia preps for mega carb consumption
Who wouldn't be thrilled to celebrate the polygamous marriage of bread, butter, and garlic? Last year the venue shared about the festival on social media and buzz around the event has abounded. Welcome To Thornbury's advice for festival-goers via last year's Instagram post about the event was simple — wear stretchy pants. One commenter wrote, "I'm looking into stretchy pants. Might have to bust out my 'maternity' dress." Another said, "I can smell it already."
A comment on an Instagram post about this year's event indicates that the festival ran out of goodies before the end of the day last year. "Unfortunately we did sell out early last year but will ensure there's plenty of the good stuff all day this year," Welcome to Thornbury, the venue hosting the event, responded. You may not find Guy Fieri's secret to perfect garlic bread, but you're sure to have every craving for pungent carbohydrates satisfied at this festival.