What The Queen Likes To Eat As She Celebrates Two Different Birthdays Each Year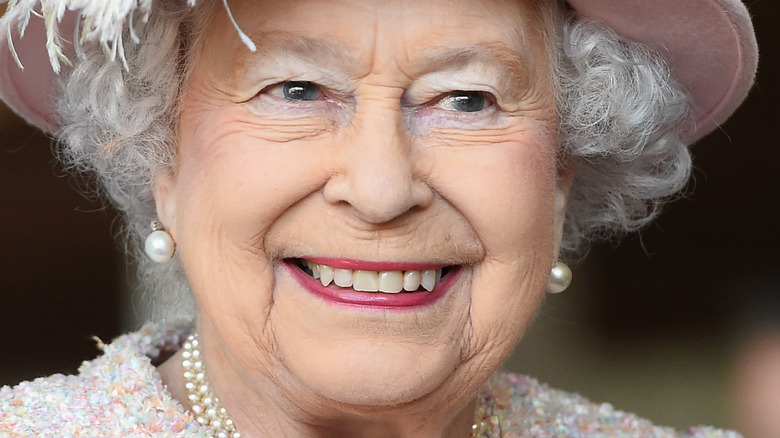 Stuart C. Wilson/Getty Images
In June, Queen Elizabeth II will attend her public birthday party, a celebration of Britain's monarch. In April, however, she's celebrating her 96th birthday (as much as she did or didn't want to) in private. 
According to the BBC, the queen and her guests planned to spend April 21 at Wood Farm, a small Norfolk property that's full of family memories of the late Prince Philip. Remarking to Today on why his grandmother may want to keep to herself for the day, Prince Harry suggested lightly, "I think after a certain age you get bored of birthdays."
Though the queen's 2022 birthday may be on the low-key side, if she's doing anything special to commemorate the day in terms of food, it's likely eating her favorite cake. As Queen Elizabeth II's former chef Darren McGrady explained on YouTube, "The queen loves chocolate, and every year, it's the same cake, the same recipe: the queen's birthday chocolate cake." She likes it so much, he noted, that she also typically serves the birthday cake recipe at her second birthday celebration. 
What's this about a second birthday?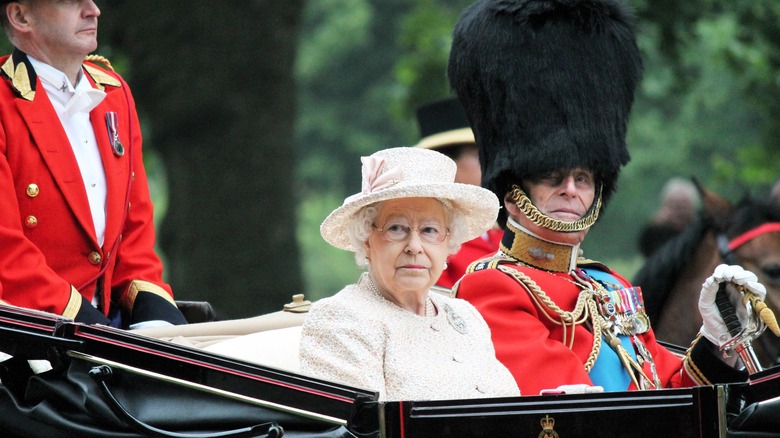 Lorna Roberts/Shutterstock
As for why Queen Elizabeth II is going to celebrate her April 21 birthday again on June 2, that's a tradition. According to the British Army, the queen's "official birthday" calls for a military parade called the Trooping the Colour ceremony each year. This has been customary for monarchs since George II reigned in the mid-18th century, per Cambridgeshire Live and was truly popularized by Edward VII in the early 1900s. 
The reason? Both had birthdays in November, which, in Britain, is not an ideal month for a public celebration outdoors. So, they moved their official birthday parties to the summer when the Trooping of the Colour occurred. 
For Queen Elizabeth II, who prefers a quiet birthday, the advantage of the tradition isn't extra attention, but extra cake. On her special days, we assume the menu is free of garlic — which the queen refuses to eat — and full of her favorite chocolate ganache-frosted dessert.