Ina Garten Just Put A Spring Twist On Her Classic Roast Chicken Recipe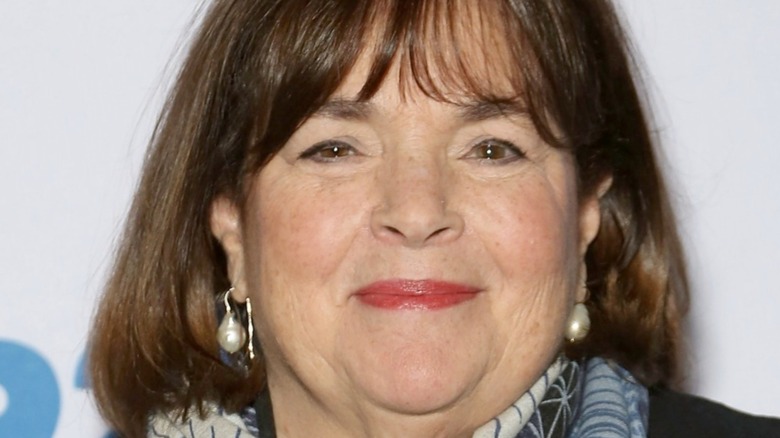 Manny Carabel/Getty
While Ina Garten has hundreds of recipes that are guaranteed to impress, many fans would argue that nothing will ever top her perfect roast chicken. The iconic dish has received hundreds of five-star reviews on Food Network and remains one of the "Barefoot Contessa" star's highest-rated recipes. 
It's even been adopted into several variations, including "engagement roast chicken," which has been praised by actor Emily Blunt and Duchess Meghan Markle, and it's been named the dish Garten can't live without. We can't say we blame them. The simple combination of fresh herbs, onion, lemon, and garlic, along with plenty of butter with oven-roasted chicken and root vegetables makes for a dish that can double as a comfort meal or an elegant dinner party meal. 
Of course, while her perfect roast chicken always satisfies, the celebrity chef has just the thing for those looking to give the dish a seasonal spring update. The Food Network star took to Instagram to share her latest twist on the recipe, which features asparagus as a key ingredient. "It doesn't have to be Friday night to make Roast Chicken with Spring Vegetables! It's the perfect one-pan dinner," she wrote in the caption. "Put the chicken, vegetables, and herbs in the oven and add the asparagus for the last 10 minutes. Dinner couldn't be easier than that! "
Fans agree that Ina Garten's chicken recipes reign supreme
Ina Garten's post generated a lot of buzz among her followers, who seemed eager as ever about the new roast chicken dish. "This looks so tasty and fresh," remarked one fan in the comments. "Definitely trying this out for dinner! So good!" added another. Others praised the cookbook author for coming up with a recipe that's accessible to people of various skill levels and big enough to feed a family. "So nice and healthy too!! You make everything perfectly delicious," wrote one user. "Love cooking like this, tasty, economical," concurred another. Out of all the enthusiastic comments, one user summed up the sentiment best: "No one does chicken like you, Ina," they concluded. We'd have to agree!
The new roast chicken with spring vegetables is an entry straight from Garten's new cookbook inspired by pandemic stress, "Go-To Dinners," which is scheduled to hit shelves this October, per a March 21 Instagram post. Thankfully, her fans don't have to wait until then to learn how to make this scrumptious one-pan dinner, as Garten has made the recipe available on her blog. The entire meal comes together in the oven with just 10 ingredients in a single 13 x 16-inch pan, so it's ideal for anyone who wants a simple, scrumptious dinner they can make over and over again. 
One commenter who already tried it gave it their stamp of approval, writing, "I made it last night, Ina! Delicious and so easy!"