The Surprising Reason Over 4,500 Pounds Of Beef Jerky Just Got Recalled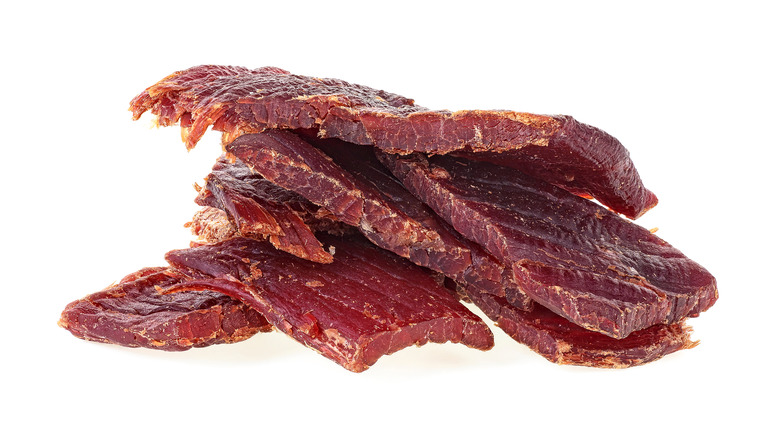 domnitsky/Shutterstock
Snacks and love go hand-in-mouth. Snacks make us happy when our stomachs are grumpy and grumbling. For s certain subset of people, that happiness might have come from beef jerky. Thanks to fans like them, the year 2017 saw $1 billion in beef jerky sales (via FoodDive). If you have a penchant for purchasing this savory snack, then you may want to take note of a recent recall. 
According to a report from the USDA's Food Safety and Inspection Services, Tennessee Brown Bag, LLC  recalled 4,590 pounds of beef jerky for a really surprising reason. Even though the packaging advertises that the meat treats were " cut from a single piece of100% USDA choice beef,"  more than 2 tons of jerky did not have a mark of USDA inspection. What exactly does that mean?
The USDA elaborates that jerky maker Tennessee Brown Bag, LLC, which works with Naked River Brewing Company, is not a "federally inspected establishment." Various websites – as well as sellers in Alabama, Georgia, South Carolina, Tennessee, and Virginia – sold the snack straight to customers.
What to do if you have any of the recalled jerky
The USDA is really our food's checks and balance system. A document on the department's website states that the organization is responsible for inspecting meat, poultry, and egg products to certify that they are "clean, safe, and wholesome" for you to eat. By law, "red meat products sold in interstate and foreign commerce" must be inspected. Per the USDA's Food Safety and Inspection Services announcement, the Tennessee Department of Agriculture raised the alarm about the uninspected jerky.
The beef jerky in question was made between January 2020 and April 2022. There is also a list of 7 different flavors affected by this recall. They include Tennessee Brown Bag Original, Peppered, Spicy, Teriyaki, Hotiyaki Sweet Heat, Dill Pickle, and Jalapeno Dill. All have "Best By" dates through April 2023. 
What should you do if you have some of this jerky? Do not eat it. Instead, either throw it away or return it to wherever you purchased it for a refund. The USDA's announcement also suggested that consumers reach out to Christopher Petriccione, Tennessee Brown Bag, LLC, by calling 833-862-7696, ext. 701 or emailing tnbrownbag@gmail.com. The content on the company's Facebook page is currently unavailable, but its Instagram page is still active.