Here's How KFC Restaurants In China Became More Energy Efficient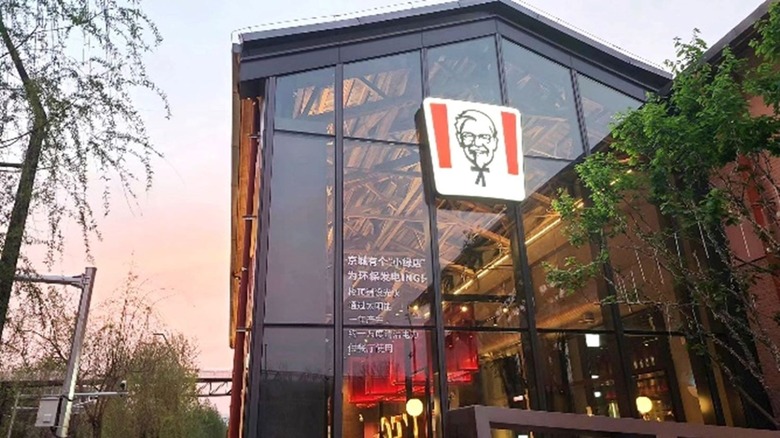 Yum China Holdings Inc.
KFC doesn't just serve delicious fried chicken — the chain is also trying to do business in a manner that is a little greener. Per a press release, Yum China, which is the holding company for the likes of KFC, Pizza Hut, and Taco Bell in the country, is working to become more environmentally friendly. On Earth Day, the fast food company unveiled a first-of-its-kind KFC location that was designed for sustainability with a goal of producing net-zero greenhouse gas emissions by 2050. The company has dubbed this effort a "Green Pioneer Store," and according to their announcement, this new member of the KFC family has all the bells and whistles of an environmentally conscious building. 
The announcement reveals the buildings, located in Hangzhou and Beijing, boast rooftop solar panels that are expected to generate about 10,000 kWh of solar power every year. Additionally, there is AI technology that could help reduce the amount of energy used on an annual basis by 10 percent, recycled ceramic floor tiles, solar energy-powered outdoor umbrellas, and more efficient use of natural light. What was the catalyst that pushed KFC to create a more energy-efficient location and experience for its customers?
Helping to keep the temperature rise under 2 degrees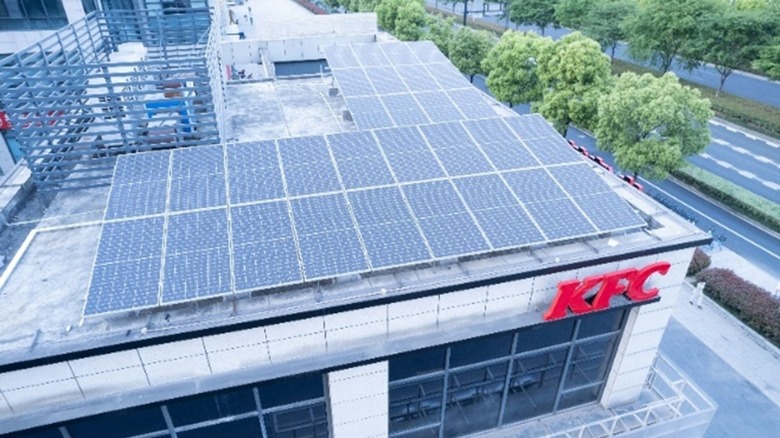 Yum China Holdings Inc.
The announcement explains that the debut of the new KFC stores comes on the heels of Yum China's 2021 signing of the Science Based Targets Business Ambition Initiative (SBTi) for 1.5 degree Celsius pledge. SBTi is committed to slowing down climate change by getting businesses to commit to practices that will help keep the rise in temperature under 2 degrees and this pledge puts the corporate world's feet to the fire. 
"We are committed to driving meaningful change and pioneering in the restaurant industry towards net-zero emissions. Building Green Pioneer Stores is an important part of our journey," said Joey Wat, CEO of Yum China, in the release. Wat further elaborated on Yum China's commitment saying, "We will continue to explore utilization of innovative technologies in restaurant construction and operations to promote sustainable development as well as contribute to the low carbon economy."
Every action to help reduce our carbon footprint has an impact. China, the European Union, and the U.S. are the top offenders of greenhouse gas emissions, contributing almost 42% of all emissions in the world, per the World Resources Institute. KFC's new Green Pioneer Stores are expected to help eliminate emissions by approximately 15% per year compared to average emissions at the restaurant's locations in 2020.