The Unexpected Vegetable Amanda Freitag Uses In Her Spring Omelette Recipe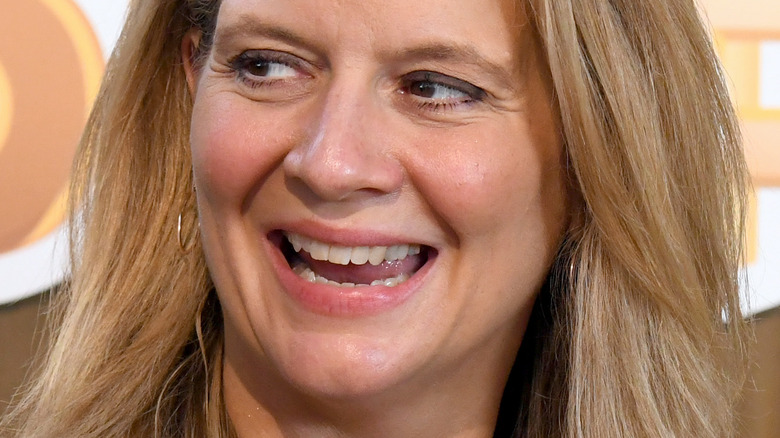 Noam Galai/Getty Images
Beloved Food Network star, restaurateur, cookbook author, and award-winning chef Amanda Freitag is constantly serving up incredibly delicious dishes. A master of various cuisines, Freitag loves to incorporate a wide variety of ingredients in her meals. Her abundant recipe collection includes everything from decadent desserts and whimsical cocktails, to quick lunches and breakfast plates that can be prepared in a matter of minutes. No matter your level of culinary expertise, Freitag makes sure cooking is a breeze for anyone who wants to eat well.
Freitag recently shared a recipe on Instagram for a tasty, hearty omelette that's perfect for breakfast and brunch year 'round, particularly in the spring. The recipe includes an ingredient that's often the star of soups, pastas, casseroles, paired with meats and other vegetables, or enjoyed by its lovely self as a savory side or elegant hors d'oeuvre. Here's a hint: It has a green color, a mild to bittersweet taste (depending on your palate), and a starchy, toothsome bite.
Amanda Freitag's spring omelette recipe calls for asparagus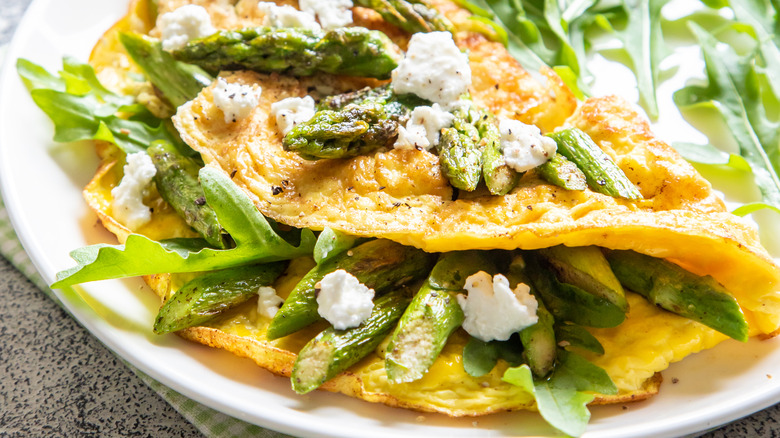 Ivanna Pavliuk/Shutterstock
If you're not adding fresh veggies to your weekend omelettes, what are you even doing? The caption of Amanda Freitag's Instagram video reads, "Breakfast, lunch, or dinner, few things can beat a perfect omelette filled to the brim with goodies. For spring, we're showcasing it with asparagus." Ah, asparagus! Asparagus, also known as sparrow grass, is a crunchy, aromatic, spear-shaped, nutrient-packed veggie that adds a crisp, fibrous texture and bold, earthy flavor to anything it touches. In fact, asparagus has been ingrained into history thanks to Caesar Augustus, a fanatic of the crop. Per Modern Farmer, the first Roman emperor would famously exclaim, "Velocius quam asparagi conquantur!" — "Faster than cooking asparagus!" — when he would advise people to "get a move on!"
Like many of the foods and drinks she whips up in her kitchen and on-set, Freitag's "easy AF" asparagus omelette recipe is super simple. First, add salt to boiling water. Cook the asparagus in the saltwater for about two minutes, then place the spears in an ice bath. Next, slice them into bite-sized pieces. Crack three eggs into a bowl, add salt and pepper to taste, and whisk until the yolks are broken. Melt one tablespoon of unsalted butter in a hot skillet, pour in the beaten eggs, and swirl them around with a spatula until the omelette is fluffy. Remove the skillet from the heat and top with the chopped asparagus, plus some shallots and any extra spices your heart desires. Fold the cooked egg in half, plate, and enjoy!