The Real Reason A 'Cup Of Coffee' Went Viral On Twitter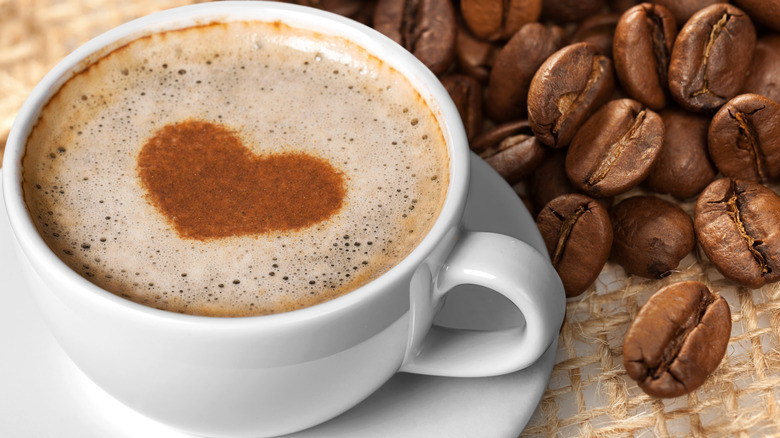 Billion Photos/Shutterstock
Immersing ourselves in waves of caffeine surges has become an increasingly essential part of life. As a matter of fact, retail sales of coffee in the U.S. during 2015 and 2016 were estimated to be an astounding $5.18 billion (per Statista).
Although our perceptions can be arguably influenced by the effects of caffeine, the artwork of the coffee creations produced by some baristas is more profound than anything we could possibly mastermind at home. The challenging task requires careful calculations of temperature-controlled milk that is appropriately steamed and spun before any of the fancy froth designs can even take place (via Coffee Science).
Twitter has discovered something even more inspirational than creative latte art, however — a painting of a coffee so realistic you could be forgiven for reaching out and trying to drink it. The impressive drawing has been shared on Twitter by user @VforVendakka_ with the caption "I painted filter coffee!" The image shows a bubbling cup of coffee in a metal cup and dish surrounded by coffee beans and a newspaper. Twitter has been piling praise on the artist, desperate to learn more about their skill.
Coffee art takes on a new meaning
The coffee art tweet has received nearly 60,000 likes and has gathered many replies encouraging sales of the painting. Per the artist, prints are being considered. Coffee and art lovers alike have taken pleasure in using the image as phone wallpapers, and many have been zooming in to check its validity, in awe at how realistic it is. Scrolling through the Twitter comments, you'll notice those of awe and disbelief including, "I almost ended up asking you: which camera and what filter?!" and "Liar. That's not paint I will not accept it. It's a photograph. You are not allowed to be that talented." 
The artist also posted her work on Instagram, and the bio section of the account reveals she is a painter, photographer, and cinematographer involved in packaging design in Chennai, India. The coffee painting has acquired 4,065 likes on Instagram, and although it appears the user has turned off the comments, prior to that we did see it praised as "magical" and "perfection."
Another post by the artist has garnered accolades — a painting of idli sambar – which is a rice-and-lentil batter and spicy lentil soup, notes Vaya. There is also an interpretation of a cracked egg which has received many congratulations for being egg-cellent.