Spicy Lentil Soup Recipe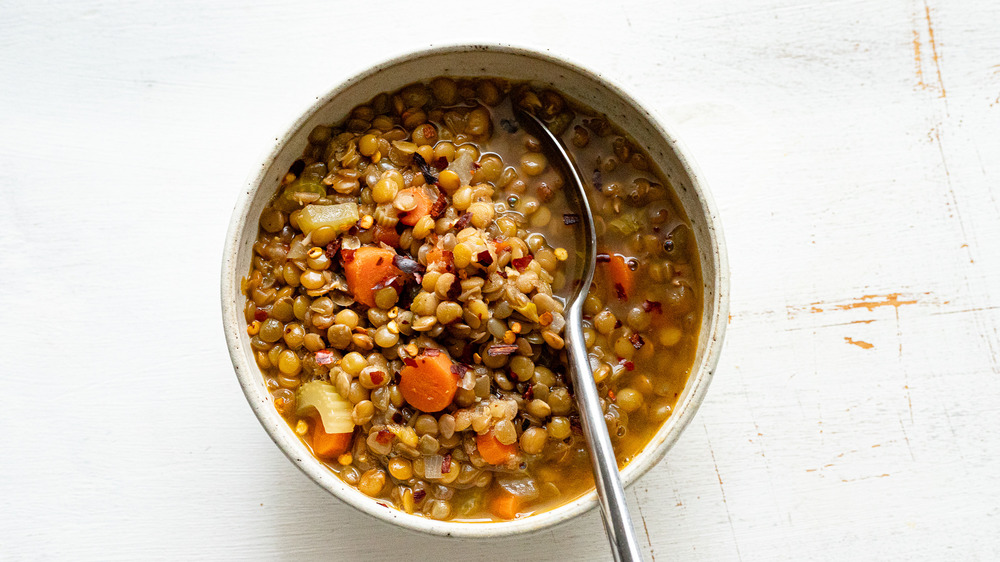 Sher Castellano/Mashed
If you're looking for the perfect warm, nourishing soup for a cold winter night, then you're looking in the right place with this spicy lentil soup. Need a hearty soup that will keep you full and satisfied on a brisk fall afternoon? Same story. And for a great healthy lunch on a crisp spring day, ditto. Also, there's actually no law against eating hearty lentil soups during the summer, either — all of those bills died in subcommittee. So regardless of the season, go right ahead and whip up a batch of this spicy, nutritious lentil soup that chef and recipe developer Sher Castellano says is great to "eat along or with salad and bread" to make a full meal. 
Because this soup is made using reliably shelf- and fridge-stable ingredients, you can keep everything you need to make it on hand at all times. This spicy lentil soup can always be on the menu for those days when you're just not sure what to make for dinner. And as it keeps well for several days and re-heats to taste fresh, go ahead and make a big batch the next time you get in a spicy soup kind of mood. The fact that it's a healthy and budget-friendly dish? Just added goodness.
Lentils: a healthy, delicious legume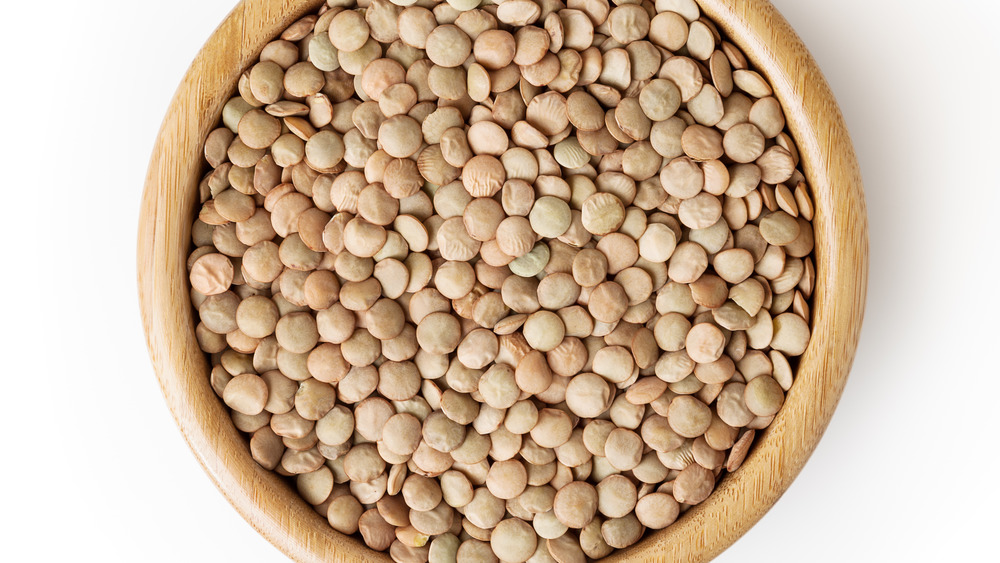 Shutterstock
Lentils are some of the healthiest little things you can put in your body. According to Healthline, a cup of lentils contains all kinds of valuable nutrients, like protein, folate, and manganese. They're also super high in fiber, which is great for your digestive system.
Lentils may improve heart health, they're good for reduction of inflammation, and they may help stabilize blood sugar levels and even improve your body's ability to fight off cancer. Also, they taste great, which is obviously a plus.
Gather your ingredients for this spicy lentil soup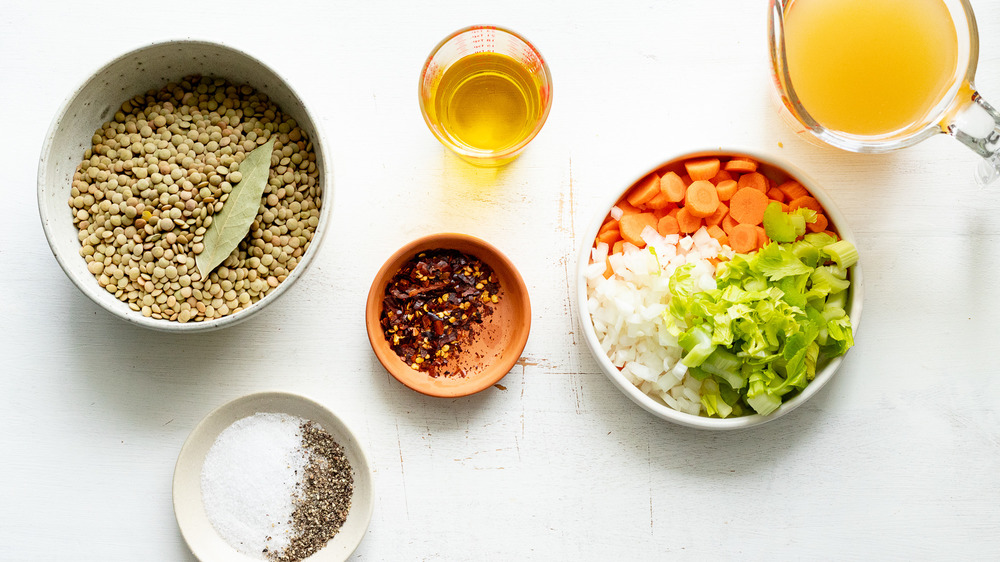 Sher Castellano/Mashed
To make a batch of spicy lentil soup that will yield four servings, you'll need olive oil, crushed red pepper, a yellow onion, diced small, celery, diced small, carrots, also diced small, apple cider vinegar (or lemon juice if need be), low-sodium vegetable broth (or chicken broth), dry green lentils, a bay leaf, fine sea salt, and black pepper.
"If someone doesn't want it spicy, the red pepper flakes can be left out altogether,"  says Castellano.
Time to start sautéing your spicy lentil soup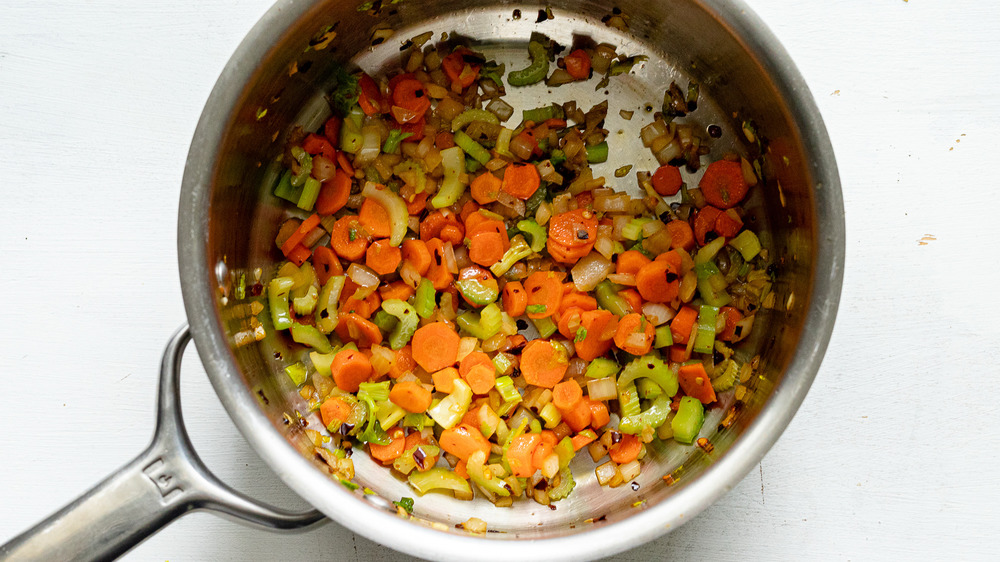 Sher Castellano/Mashed
Heat a large sauce pan over low heat, and then add in the olive oil and red pepper flakes and sauté for one minute, creating a delightfully spicy oil. Then add in the onion, celery, and carrot, and sauté for five minutes. The onions should just be starting to soften and turn translucent when the five minutes are up.
While it's a good idea to give your lentils a quick rinse before the next step, note that there's no need to have soaked them prior to moving ahead with the recipe.
Stir in the lentils, broth, and spices, and simmer your spicy lentil soup away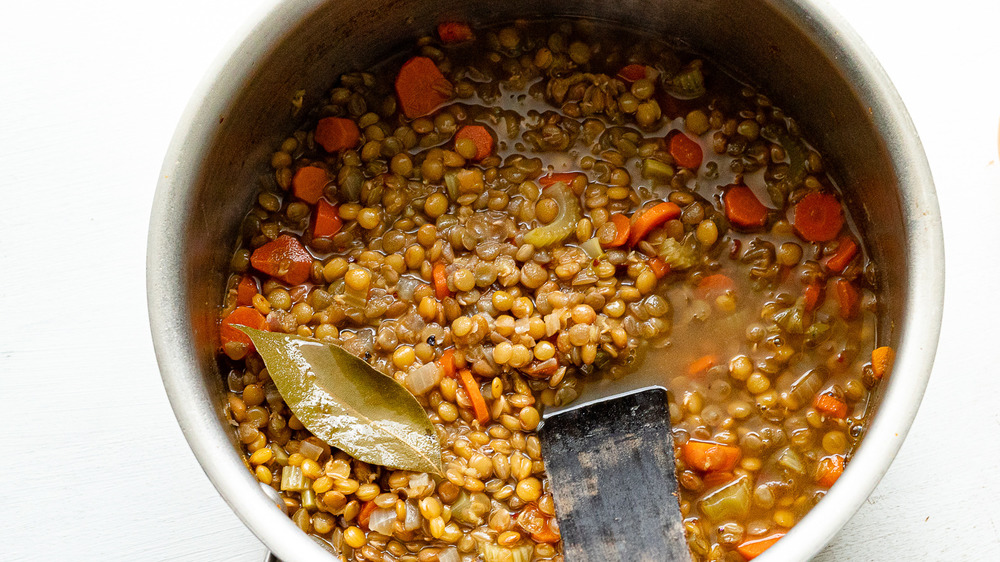 Sher Castellano/Mashed
Now, it's time to stir in the lentils, the bay leaf, and the salt and pepper and pour in the broth. Increase the heat to medium-high and bring the mixture to a lively simmer, and then let it cook at that low boil for about five minutes.
Then, lower the heat to medium-low or low to produce a simmer, and then cover the pot and simmer the soup for about 20 minutes or until the lentils are tender, but not so long that they begin to grow mushy and break apart.
Finish and serve your spicy lentil soup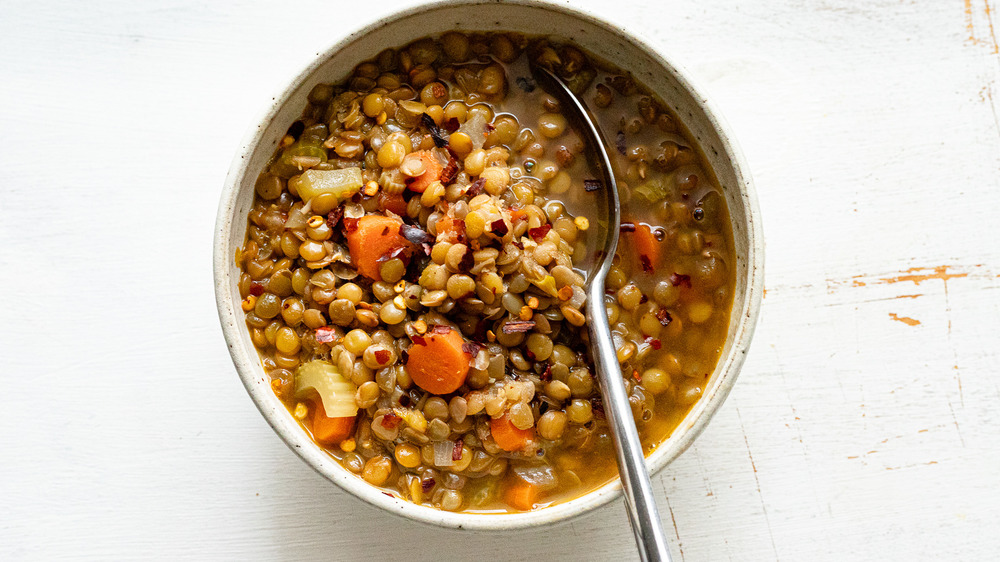 Sher Castellano/Mashed
When the spicy lentil soup is ready, cut the heat and then complete the all-important step in so many recipes: find and remove the bay leaf! (And yes, bay leaves really do add a bit of flavor and complexity—try making the same dishes with and without them if you doubt it.)
"Serve the lentil soup warm with a drizzle of olive oil and more crushed red pepper if desired," says Castellano. It goes great with bread or salad as mentioned, and in small portions, it also makes a great starter or side for a larger meal. But do keep such portions diminutive, as this is one filling soup.
Spicy Lentil Soup Recipe
If you're looking for the perfect warm, nourishing soup for a cold winter night, then you're looking in the right place with this spicy lentil soup.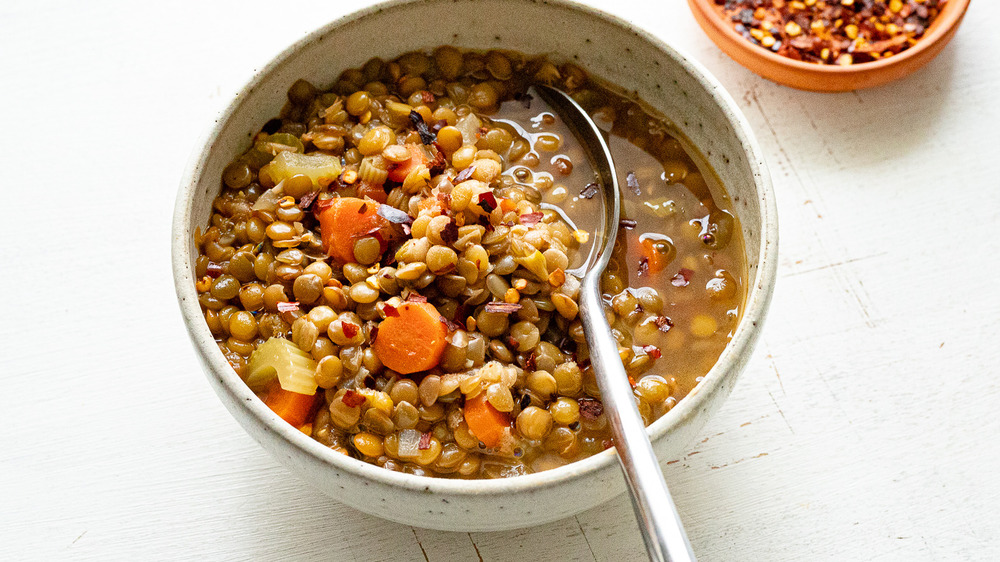 Ingredients
1 tablespoon olive oil
¼ teaspoon crushed red pepper (more or less if desired)
½ cup yellow onion, diced small
½ cup celery, diced small
½ cup carrots, diced small
1 teaspoon apple cider vinegar (or lemon juice)
32 ounces low-sodium vegetable broth
1 cup dry green lentils
1 bay leaf
½ teaspoon fine sea salt
¼ teaspoon black pepper
Directions
Heat a large sauce pan over low heat, and then add in the olive oil and red pepper and sauté for 1 minute.
Add in the onion, celery, and carrot, and sauté for 5 minutes.
Stir in the lentils, bay leaves, salt, pepper and broth and increase the heat to medium-high, bringing the mixture to a lively simmer for 5 minutes
Lower the heat, cover, and simmer for 20 minutes o until the lentils are tender, but not mushy
Serve the soup warm with a drizzle of olive oil and more crushed red pepper if desired
Nutrition
| | |
| --- | --- |
| Calories per Serving | 215 |
| Total Fat | 4.1 g |
| Saturated Fat | 0.6 g |
| Trans Fat | 0.0 g |
| Cholesterol | 0.0 mg |
| | |
| --- | --- |
| Total Carbohydrates | 33.8 g |
| Dietary Fiber | 6.1 g |
| Total Sugars | 2.4 g |
| Sodium | 345.8 mg |
| Protein | 12.3 g |