The Best Food Processors Of 2022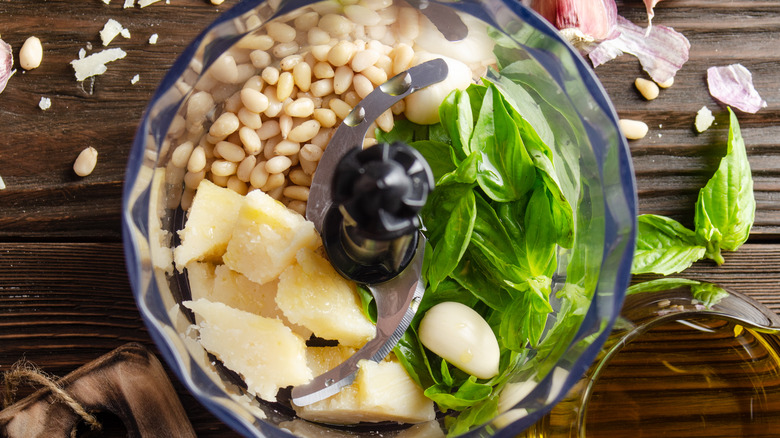 Mikhailov Studio/Shutterstock
We may receive a commission on purchases made from links.
Kitchen appliances and gadgets tend to have charmingly literal names that describe their chief functions precisely (we're looking at you, coffee grinder, blender, and salad spinner), but some are a bit more ambiguous. In the case of the food processor, the lack of total clarity is simply because the useful kitchen assistant accomplishes so many tasks that it would be wrong to name it after just one. Chopping, grinding, mincing, pureeing, blending, shredding, grating, slicing, and kneading — food processors handle a host of the mundane tasks involved in kitchen prep, making many recipes easier and, if you're not super steady with a knife, a lot safer. 
Whether you're a modest home cook or a TikTok culinary sensation, there are a few key features that will make or break your food processing experience, so take a few minutes to consider your personal needs before popping a processor into your cart. In this case, size matters, and it matters a lot. From the size of your kitchen storage space to the amount of food you're aiming to prepare, both the size of the machine and the volume of its processing bowl are critical. You'll also want to look out for the accessories included and the power of the motor. Your needs will vary depending on your cooking goals.
How we selected our top choices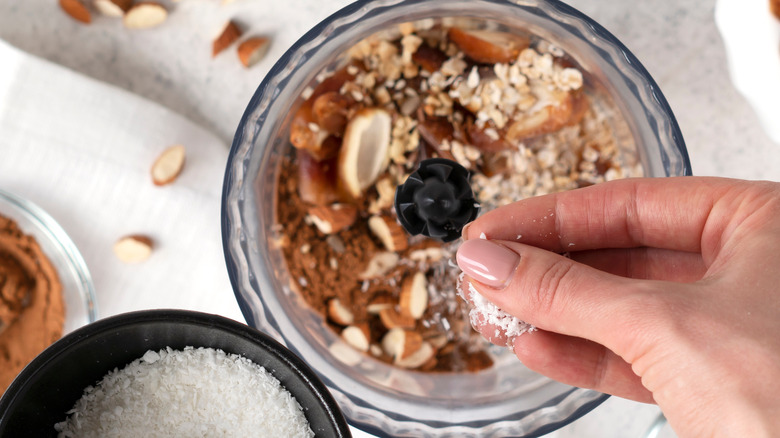 IrinaPhVideo/Shutterstock
The good news is that food processors are surprisingly customizable, from size and power to accessories and design. The bad news is that means there are countless food processors on the market today, and even more opinions on how good or bad each one is, so we understand that choosing the absolute perfect appliance for you is a daunting task. Fortunately, we've narrowed down the top choice in many categories to help you make the most informed decision based on your own individual goals in the kitchen.
We started with professional reviews and critiques of popular food processors to weed out the duds. With the surviving models, we dove deep into the good stuff — user reviews — to uncover the actual experience of everyday users because, let's face it, we're not all kitchen professionals with culinary degrees, and everyone should be able to use a product easily if it's going to be recommended as a top choice. Poring through user reviews also helped us determine which features were most helpful on each machine, cluing us in to each appliance's special advantage in the kitchen so we could properly rank it in the ideal category below. All the prices quoted in this ranking were accurate as of April 27, 2022.
Best overall food processor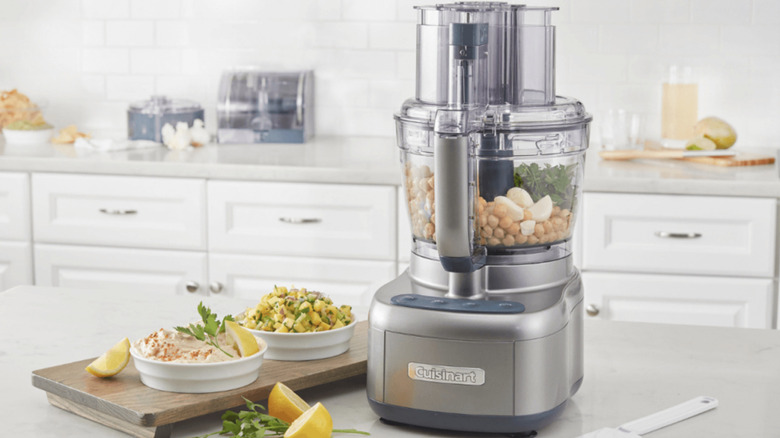 Cuisinart
Cuisinart is a force in kitchen appliances and its 13-Cup Elemental Food Processor has everything most home chefs will need without breaking the bank. Ideal for both large jobs and small, users love the two bowl sizes that comfortably accommodate both 4.5-cup jobs and 13-cup jobs with the same ease, taking the guesswork out of which size food processor to buy. The 550-watt motor provides consistent power for a variety of kitchen jobs and it comes with all the standard accessories, including a dough blade for pizza and bread prep along with a variety of additional slicing and chopping blades. Unlike many slicing blades, this one is adjustable, and Vegan Boss Lady's test of the thinnest setting yielded great results.
While some food processors come with openings too small for large produce, causing chefs to break out the cutting board and knife just to create small enough pieces for the appliance that was supposed to do the chopping in the first place, this Cuisinart comes equipped with an extra-wide mouth that Steamy Kitchen finds to be a major pro in the time-saving department. Perhaps best of all, despite the considerable number of parts and accessories, the equipment gets high marks from user reviews noting that it's easy to clean, and most pieces are dishwasher safe, too.
You can buy the Cuisinart 13-Cup Elemental Food Processor on Amazon for $200.
Best budget food processor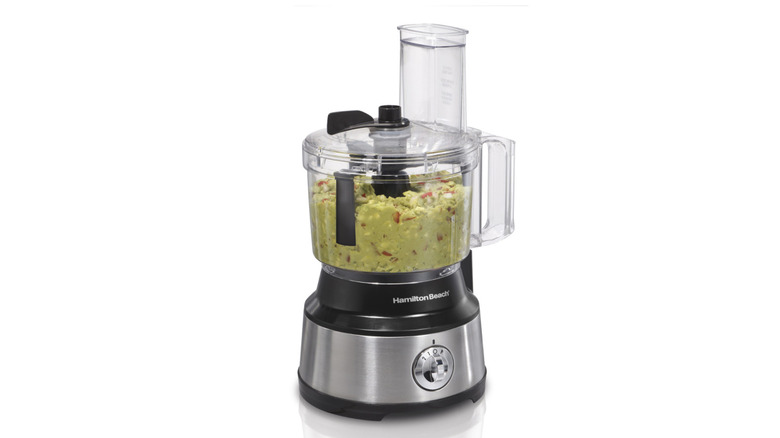 Hamilton Beach
The Hamilton Beach 10-Cup Food Processor with Bowl Scraper offers all the basic food processing functionality you need plus one very special bonus (more on that below, but you can probably guess from the name) without sacrificing the dependability that many lower priced products tend to forfeit. Coming in far below $100, it's the best budget food processor on the market, but it would be a category topper even if it weren't so inexpensive, leaving users applauding this great deal.
To keep the price down, this food processor doesn't come with a ton of extra accessories or settings, and users love the simplicity of this simple but effective machine. Still, as advertised, this handy appliance does come with a built-in bowl scraper, which means you don't have to pause every few second to manually scrape ingredients back down to the bottom of the bowl to meet the blades, and users are obsessed with how much time and hassle this simple feature saves.
You can buy the Hamilton Beach 10-Cup Food Processor with Bowl Scraper on Amazon for $58.
Best multi-use food processor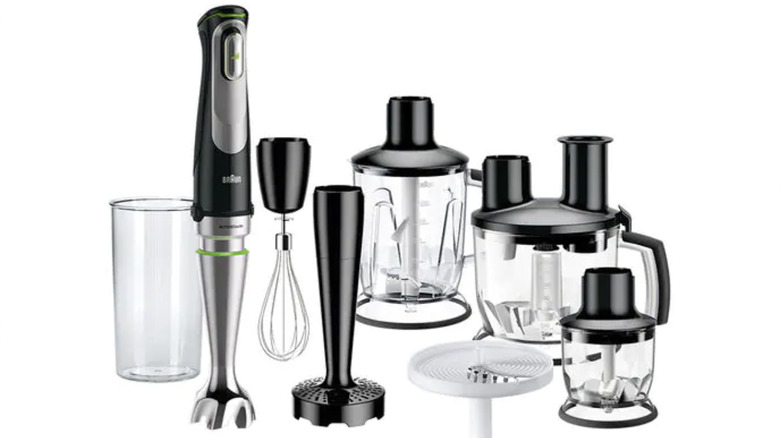 Braun
When you need a food processor for occasional chop jobs but don't think you'll be using it constantly, you may want to consider an appliance that handles more than one job before adding another gadget to your cabinets. If you spend a lot of time in the kitchen, look for something that tackles a ton of kitchen tasks with a single device and consider taking a less traditional approach to your food processor search. Enter the Braun MultiQuick 9.
This tool is primarily a blender, but it comes with a large assortment of attachments, including a generous 8-cup food processor bowl that handles dicing, shredding, grating, chopping, kneading, and more. Users rave about being able to complete several recipe steps with the MultiQuick, alternating between easy-click attachments from the whisk to the masher. And don't be fooled by the size of this hand-held device: The 700-watt motor offers more power than many other similar size appliances, leaving home cooks in awe of its performance.
You can buy the Braun MultiQuick 9 on Amazon for $195.
Best food processor for baby food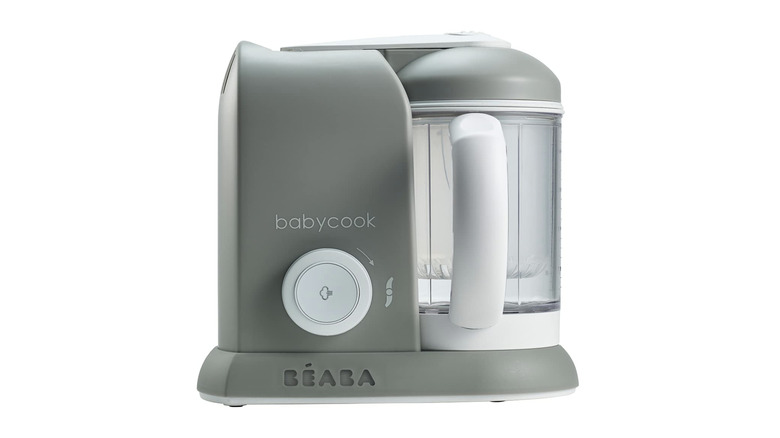 Beaba
For new parents looking to whip up their own homemade baby food from fresh, whole foods rather than purchasing commercially processed products, finding the right food processor is an essential first step. If baby food is the sole goal of your food processing journey, you'll want an appliance with a dependable motor to puree your produce to silky smoothness, but some food processors have too many unnecessary add-ons and power settings that you just won't need in your endeavors.
From fine to chunky, Babycook prepares all four grades of baby food to take your little one from newborn to toddler, and users are obsessed with its steamer function, which allows you to cook food directly in the processor without having to use a pan. You won't find this on traditional food processors meant for preparing grown-up food, and you won't find it on many other baby food processors, either. Perhaps Béaba's biggest blessing to parents of very young children is how easy to clean the Babycook is, especially when compared to a standard food processor.
You can buy the Béaba Babycook Solo on Amazon for $147.
Best food processor for big families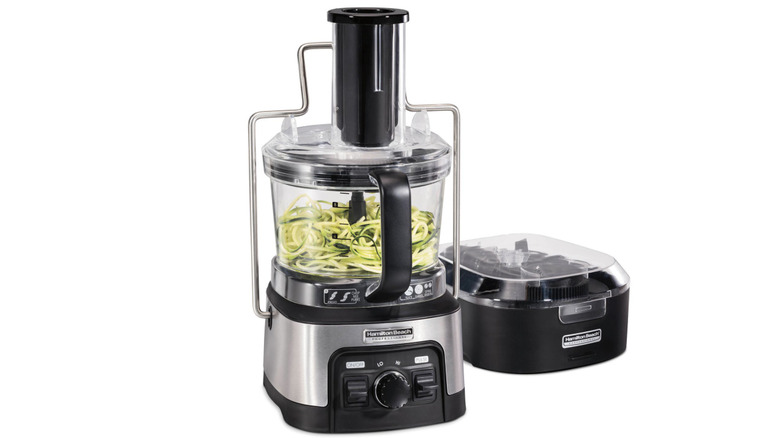 Hamilton Beach
Big families mean big meals, but that doesn't necessarily mean the first feature you need to check off your food processor must-have list is the largest possible bowl size. You'll definitely want to stick to the larger side, but Foods Guy advises that the very largest are intended for events and large gatherings, while big families will actually do best with food processor bowls in the 11­ to 13 cup range.
The Hamilton Beach Professional Spiralizing Stack & Snap comes with an ideally-sized 12-cup bowl and six blade attachments to slice and dice ingredients the way each and every member of the family prefers, including a pretty fun spiral slicer that makes veggie ribbons that could tempt even picky eaters. Aside from a powerful motor that will stand up to repeated use churning out meals for a big family, the Stack & Snap, as you'd hope, easily snaps together for foolproof assembly, and savvy users point out this even helps with seamless storage in the cabinets.
You can buy the Hamilton Beach Professional Spiralizing Stack & Snap on Amazon for $140.
Best food processor for small kitchens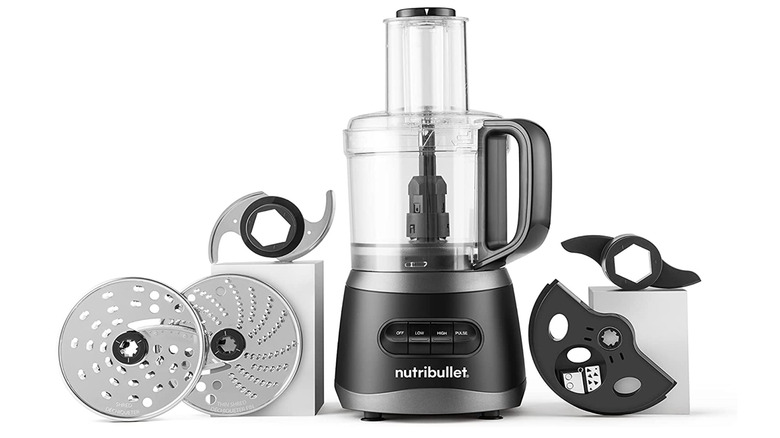 Nutribullet
If you have a smaller kitchen or even just a shortage of available counter space or cabinet space, there's no need to give up hope on improving your culinary prep life with the benefits of a food processor. While many are large and come loaded with countless capabilities, plenty are more compact with home chefs like you in mind, and they don't all sacrifice quality to achieve a small footprint.
Despite its smaller size, the NutriBullet 7-Cup Food Processor is still equipped to slice, chop, knead, and shred with the power of a 450-watt motor that some users say holds up better than the motor of larger machines. Reversible slicing blades offer twice the size options without doubling the number of accessories, helping the entire package remain as compact as possible for storage, too, which Homes & Gardens praises as a top draw for buyers with small kitchens.
You can buy the NutriBullet 7-Cup Food Processor on Amazon for $110.
Best food processor for dough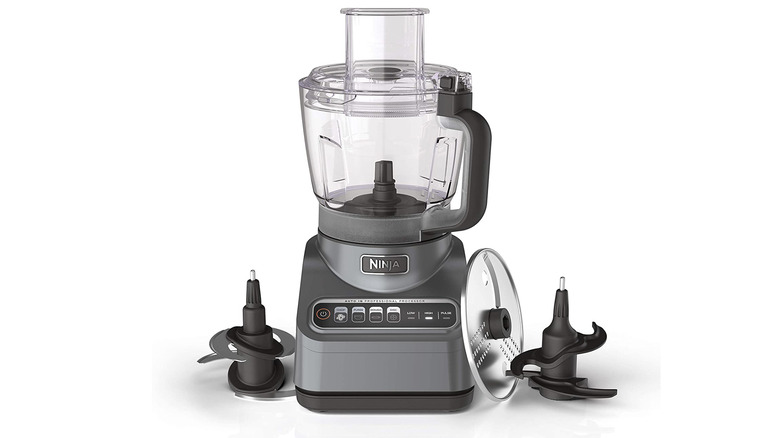 Ninja
It's possible no one takes kitchen science more seriously than bakers, and it's not uncommon to find bakers and chefs using entirely different specialty equipment. Still, if your primary baking goal is a great dough, you don't necessarily need to spring for a fancy (and often expensive) stand mixer, because plenty of food processors handle this task quite well on their own.
Kneading dough properly requires a strong motor, and the Ninja Professional Plus comes with impressive 1000-watt power that Foods Guy says will successfully produce two pounds of dough after a mere thirty seconds of processing with the push of a single button. Users aren't just impressed with the ease of making dough with the Ninja — they're also in awe of the sheer range of amazing doughs it can produce, including great pie pastry, perfect scone dough, pizza dough, and bread dough. Whatever type of dough you're after, you'll get it with the Ninja, and reviews show it has even converted at least one former hater into a baking regular thanks to how easy it makes the dough-making process.
You can buy the Ninja Professional Plus Food Processor on Amazon for $100.
Best food processor for meat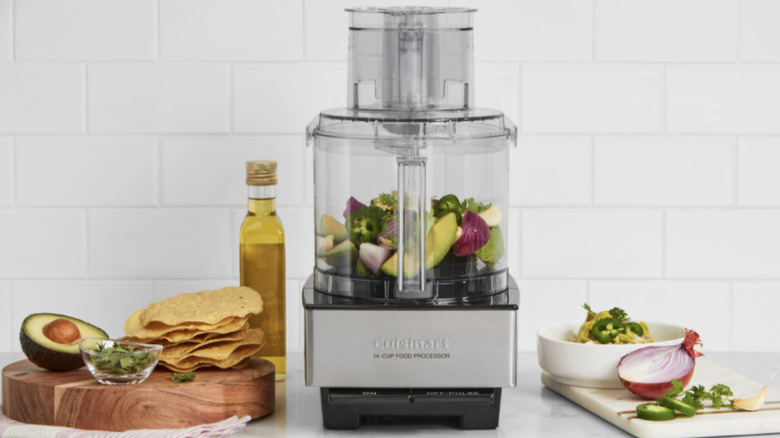 Cuisinart
Whether you're grinding beef for Taco Tuesday, making your own dog food, or even trying to achieve even slices of steak for a gorgeous salad, there are a surprising number of reasons home chefs turn to food processors for working with meat. After all, most of us don't have a kitchen full of butcher equipment at home, but we still find ourselves with occasional, or even regular, need for some assistance properly chopping meat.
If processing meat will be your food processor's main job, you'll definitely require a solid motor, and a large processing bowl wouldn't hurt, either. Cuisinart's Custom 14 comes with a whopping 14-cup bowl to handle large quantities of meat without stopping to unload, and the 720-watt motor is more than powerful enough to chop and mince your favorite cuts. Some users rate this machine's meat chopping capability as pro-level, and others are equally impressed with how easily it slices meats without wearing out.
You can buy the Cuisinart Custom 14 14-Cup Food Processor on Amazon for $200.
Best gourmet food processor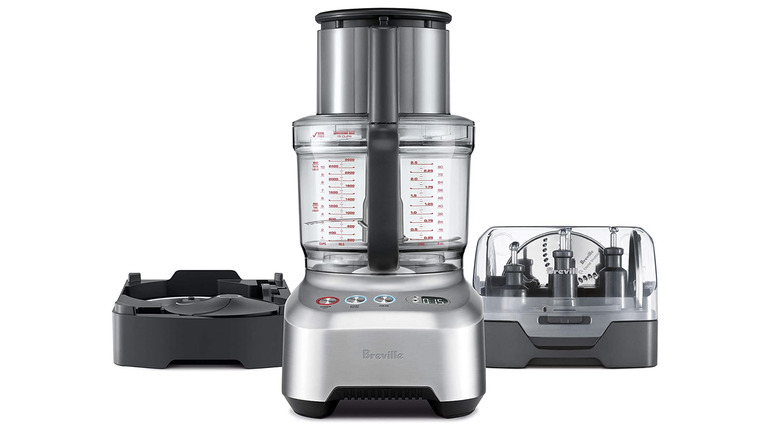 Breville
It never hurts to have the absolute best tool for the job, and if your luxury kitchen is in want of the best gourmet food processor on the market, turn to the Breville Sous Chef. It's as close as you'll get to hiring an actual sous chef to slice and dice your ingredients to perfection, making meal prep as seamless as possible.
While just about every food processor will slice, dice, and chop your vegetables, the Breville Sous Chef will even peel them first, and users are in disbelief at how well it performs this monotonous task. And while several of the fanciest food processors now come with two chute sizes for easy vegetable loading, the Sous Chef's three-size chute is a big hit with home chefs. Finally, when it comes to the seemingly simple task of dicing, the Sous Chef goes a step further here, too; eliminating any added prep work, this processor's two-step process first slices and then automatically dices ingredients for you, and users agree the two-step process works well and is super fast. Not only does the Sous Chef complete just about every step of meal prep imaginable, users say it operates much more quietly than other food processors on the market, making prep time that much more enjoyable.
You can buy the Breville Sous Chef Peel & Dice Food Processor on Amazon for $550.
Best food processor blender combo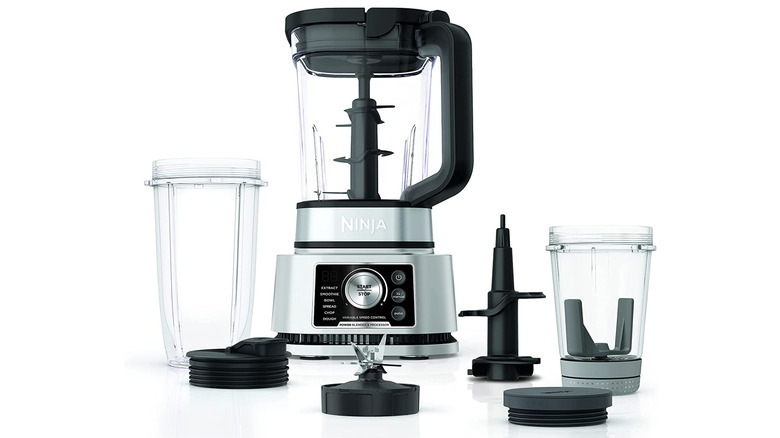 Ninja
Food processors and blenders are not the same appliance, and they're generally built quite differently in order to perfectly accomplish their respective tasks. Sometimes, though, you have an equal need for both, and savvy home chefs will prefer a single appliance that handles both jobs. If this describes you, take a look at the Ninja Foodi Power Blender & Processor System, specifically designed to handle both big jobs.
For both blending and processing, users are mega impressed with the serious sharpness of the Ninja Foodi's blades and even advise handling the blades with serious care because, well, they're next-level sharp. Adding to this workhorse's efficiency, the 1400-watt motor helps it power through ingredients at levels that leave some users shocked, and smoothie lovers claim they had no idea what they were missing by using other machines they previously thought were good until they met the Ninja Foodi. The one drawback some home users find with this mighty machine is that all that power comes with a noise that some liken to a jet taking off, and that may not be great for those living in apartments or shared spaces.
You can buy the Ninja Foodi Power Blender & Processor System on Amazon for $160.
Best smart food processor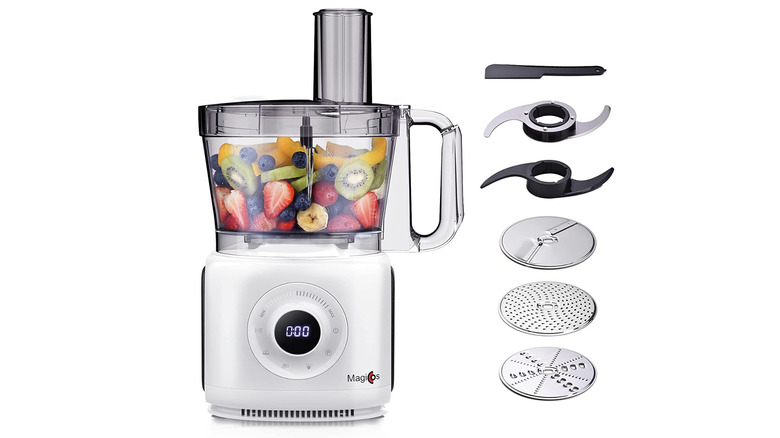 Magiccos
There are few household items that can't be made smart these days, and that includes just about everything in the kitchen from coffee makers to refrigerators. The food processor is no exception, but you may be surprised by how few smart options currently exist. Unlike crock pots and sous-vide machines, food processors are not set-it-and-forget-it appliances, but have functions (like chopping and slicing) that still require manual assistance between steps so there aren't many tasks that can be left to timers and programmable apps. Still, tech can assist a bit.
The 14-Cup Magiccos Premium Digital Food Processor introduces an LCD digital screen that adds a modern touch that users appreciate. Beyond simple appearance upgrades, the smart appliance comes with three pre-programmed task settings that activate with a light touch and complete the job from start to finish without requiring any human monitoring. Users say these useful settings can be applied to plenty of additional tasks beyond the three listed, making the machine even more valuable than advertised. While there are a couple of other smart food processors currently on the market, the Magiccos machine comes with a super powerful 1000-watt motor and a massive 14-cup bowl that set it a step above the competition.
You can buy the 14-Cup Magiccos Premium Digital Food Processor on Amazon for $175.