Dunkin's Spring Drink Menu Is Here, And So Are Its New Cornbread Donuts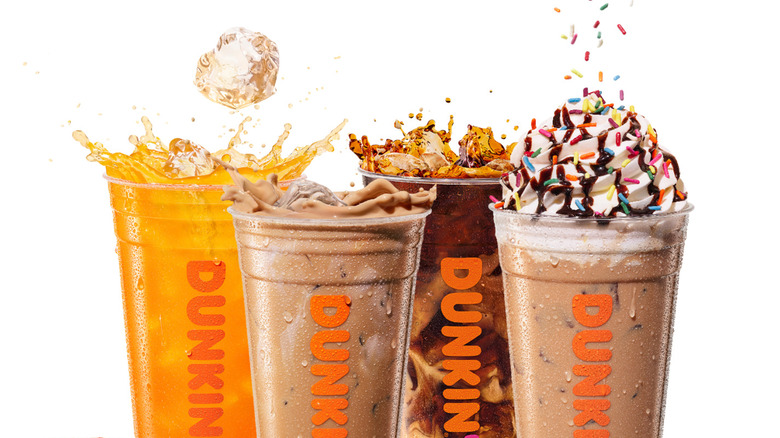 Dunkin'
When it comes to making donuts, bakers have found some tried and true pastry bases to make the actual dough from. According to Bon Appétit donuts usually fall into the cake or yeasted dough variety. A yeasted donut dough ends up with a lighter texture that some describe as resembling brioche, while cake donuts tend to exhibit a crumbly, tender texture that some liken to that of a muffin.
Inventive chefs have found ways to use all kinds of grains to create their own take on this classic morning pastry. Author Nik Sharma of A Brown Table developed a method for incorporating polenta and rice into a very refined take on a donut, while other bakers have looked to cornmeal for inspiration in dreaming up new and unusual pastries (per Two Sugar Bugs). Now, coffee and donut giant Dunkin' has released a cornbread donut and Munchkins as part of its spring 2022 menu, which also features a lineup of coffee and fruit drinks — including the return of an old favorite.
Cornbread in donut form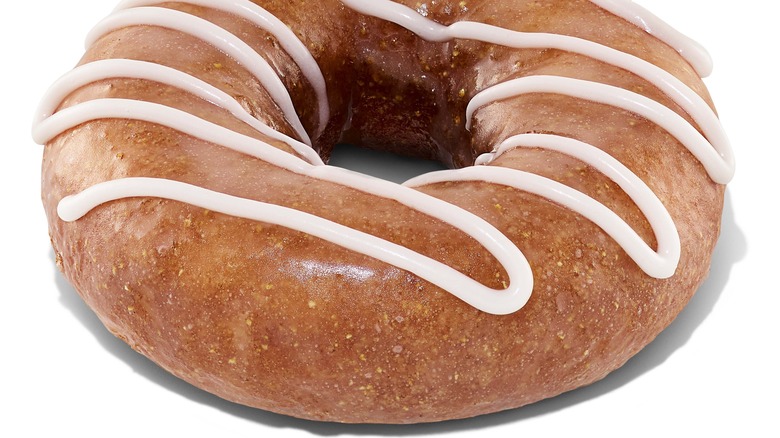 Dunkin'
Dunkin's recently rolled out spring menu, which also includes a Tomato Pesto Grilled Cheese, showcases the versatility of corn with cornbread-based donuts and cornbread Munchkins. These new glazed treats are drizzled with icing and intended for donut lovers who are looking for a "sweet and savory bite." 
Some people have already gotten to try the new offerings and shared feedback. A pair of food reviewers on YouTube noted that the new donut smelled and tasted distinctly like corn. One compared the new dessert to the flavor of a tamale, saying that it was reminiscent of masa. Both reviewers had positive reactions overall, noting how moist the donut was, though they did find that the icing wasn't necessary. Still, they felt that the donut was good enough that it could win someone over even if they didn't like cornbread. On Twitter, one user had a similar reaction, writing, "This new Dunkin' Donuts cornbread donut is wicked awesome. Seriously." While you might normally rely on an experimental bakery for these kinds of out-of-the-box baked goods, Dunkin' seems to be embracing its creative side wholeheartedly.