The Five-Minute Rule Steak 'N Shake Used To Have
What do you think a five-minute rule means? Is it an unspoken rule for how long you should let your food sit to cool completely? Is it some sort of controversial time limit to eat something after it fell on the floor? All good guesses, but to one burger company, it's a rule to achieve both speed and customer satisfaction.
Steak 'n Shake likes to market itself on a lot of things: for example, its burgers made from ground-up pieces of steak and top-grade cuts of sirloin, its thick milkshakes, and even narrowly avoiding bankruptcy back in 2021 (via Restaurant Business Online). Still, behind the ups and downs of Steak 'n Shake is the story of one man's dedication and willingness to go above and beyond to make his company rise above the rest.
According to the company's history, Steak 'n Shake started with Gus Belt, a resident of Normal, Illinois, in 1934. The McLean County Museum of History elaborates on the founding, describing how Gus originally ran a joint fried chicken shop and gas station before switching to steakburgers to stand out from the crowd.
Belt wasn't just a shrewd businessman, however. He was also a showman who knew what the people wanted. To him, customers didn't want to just hear about how fast their service was; they needed to experience it for themselves. Enter his five-minute rule.
The five-minute rule was how long a customer should wait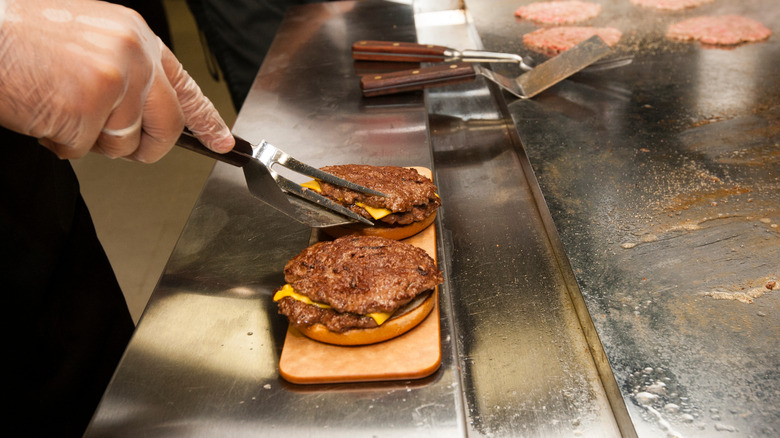 Andre Roque Almeida/Shutterstock
The average wait time at a restaurant, according to ImageHolders, is about 23 minutes. To Gus Belt, the time between you and your steakburger should only be five minutes. According to Thrillist, the "five-minute rule" referred to Steak 'n Shake's policy regarding the amount of time a customer should wait for their food from the moment they ordered their meal. Therefore, there was a five-minute time limit between when the customers ordered their food and when the customer received their hot order at their table.
The whole goal, apparently, was to have a 20-minute cycle in which the customer would come, sit down, eat, and leave. So dedicated to this "rule," Thrillist claims, Gus was that he encouraged his employees to walk in a "swift trot," in a manner much like a horse.
If seeing galloping employees wasn't enough, customers could also enjoy the sight of Gus marching into the restaurant with a wheelbarrow full of sirloins and T-bones during full lunch rushes and, directly in front of his patrons, grinding the meat into patties to be grilled and served immediately (via Restaurant News). It's probably safe to say that the burger chain doesn't currently employ the five-minute rule, though.
Belt was a showman, and his tactics worked, as Steak 'n Shake went on to become a nationwide restaurant chain. Perhaps his antics were just what made Steak 'n Shake's burgers so delicious, too.