Why Trisha Yearwood Cried After Making Her Mother's Potato Salad For The First Time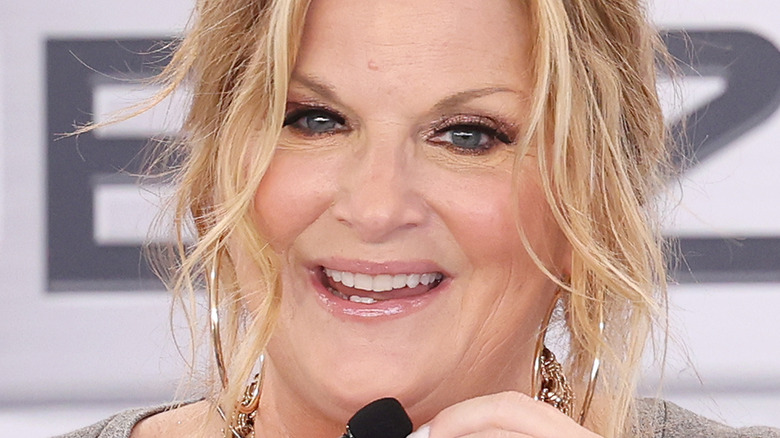 Alexander Tamargo/Getty Images
Grammy Award-winning country singer Trisha Yearwood made it look like a piece of cake when she pivoted from recording albums and performing all over the world to writing best-selling cookbooks and hosting Food Network's long-running "Trisha's Southern Kitchen."
You wouldn't know it from watching her, but there was a time when the celebrity chef — famously married to country music superstar Garth Brooks — didn't know a darn thing about cooking. Yearwood grew up in Monticello, Georgia, and her mother worked outside the home as a schoolteacher. As Yearwood recalls, her mom's first order of business when she got home was to make sure her husband and family sat down to a home-cooked dinner every night (per Lincoln Journal Star).
Yearwood's own apprenticeship in the kitchen didn't begin until she left Georgia for Belmont University in Nashville and started taking steps to break into music. She has called cooking her "second career," and admitted she started making her way into the kitchen for a taste of her mother's cooking. So much so, that it even makes her emotional sometimes. 
Potato salad delivered a comforting taste of home for Trisha Yearwood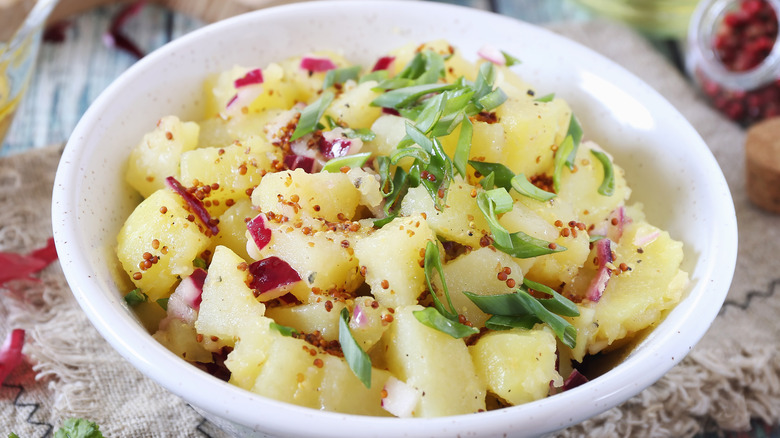 photosimysia/Shutterstock
"I learned to cook after I moved to Nashville," the TV chef told Southern Living. "I was homesick and missed my mother's cooking, so I tried to make her potato salad. I cried when it tasted like hers. That reminder of home was comforting."
There are as many ways to make potato salad as there are cooks. Some are creamy, rich, and loaded with mayonnaise. Others are light and tangy, dressed with vinaigrette instead of the heavier mayonnaise. Some lean gourmet, with additions like sweet corn, sun-dried tomatoes, shallots, fresh herbs, and bacon.
We're not sure if Trisha Yearwood's recipe for potato salad on the Food Network is her mother's, but it sounds comforting — not surprising for a home cook at heart whose latest cookbook is titled "Trisha's Kitchen: Easy Comfort Food for Friends and Family." It calls for just six ingredients: potatoes, hard-boiled eggs, mayonnaise, sweet pickle relish, salt, and pepper.
Replicating family recipes remains a driver for Yearwood. She told the Tallahassee Democrat, "When you make something your mom made and it tastes the same, there's a connection."