Lemon Drop Shot Recipe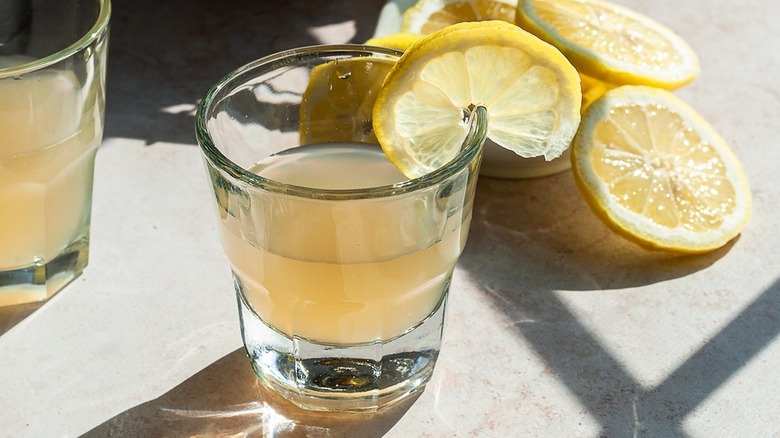 Christina Musgrave/Mashed
If you had the classic college experience that entailed going to the bar with friends on weekends (and some weeknights, too), then you or one of your friends have likely gone up to the bartender and asked for a lemon drop shot. If you can't handle the hard stuff, this citrusy shot is perfect for those of us who want to do a shot but doesn't want to wince in agony after like you do with the hard stuff. One of the best parts about this recipe is that it requires only a few ingredients and it's really easy to make. That's right, you can make it yourself, instead of having a bartender make it for you and subsequently paying an outrageous price for it.
Recipe developer Christina Musgrave came up with this refreshing lemon drop shot recipe, and luckily for those of us who don't love a straight vodka shot, this is super easy to take. "You taste the lemon and sweetener the most," Musgrave shares. As for her favorite part? "I like how easy this is — and the shot is really easy going down. It's smooth, and a great combination of sweet and tart," Musgrave raves. This truly is the perfect shot or cocktail for summer — and hey, no one said you couldn't simply sip it, either.
Gather the ingredients for a lemon drop shot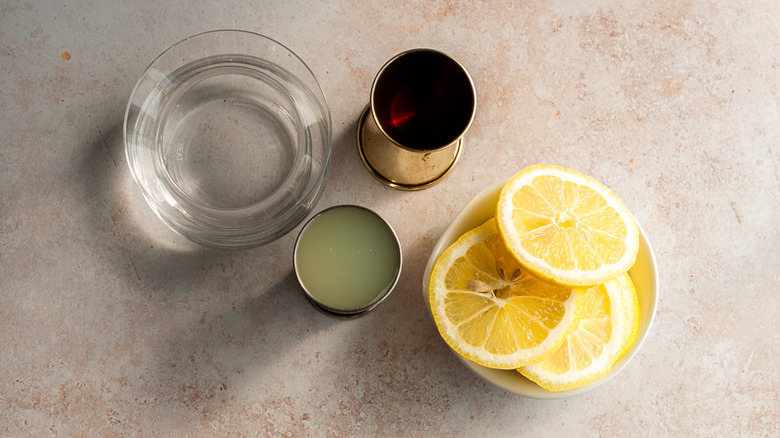 Christina Musgrave/Mashed
This recipe only requires a handful of ingredients, including vodka, lemon juice, simple syrup or agave, and lemon for garnish. That's all you need to make a delicious lemon drop shot!
Add the ingredients to a cocktail shaker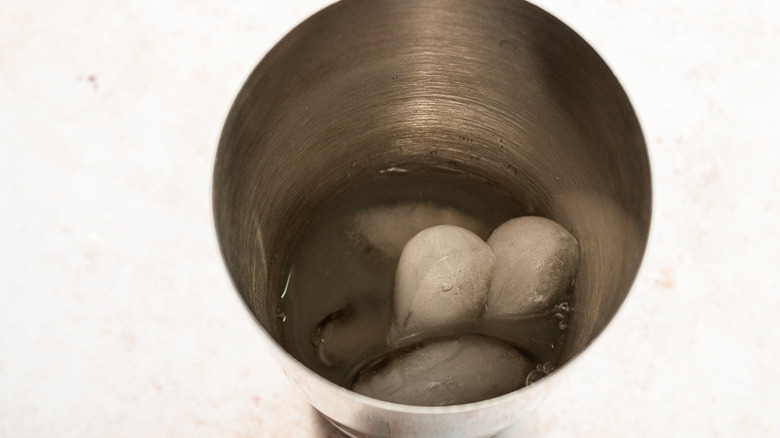 Christina Musgrave/Mashed
Begin by filling a cocktail shaker with ice cubes. Then, add all your ingredients aside from the lemon wedge. This includes vodka, lemon juice, and simple syrup or agave. Place the lid on the cocktail shaker and shake vigorously to mix the ingredients.
Why do lemons and vodka pair so well together?
Christina Musgrave/Mashed
Some cocktail pairings go really well together, and lemon and vodka is one of them. Those two items are the main stars in this drink, and Musgrave explains why she loves the pairing so much. "Lemon and vodka is a classic pairing. Vodka takes on the flavor of what it's paired with, so adding citrus is a great way to balance the strong alcohol taste," she says.
Strain into shot glasses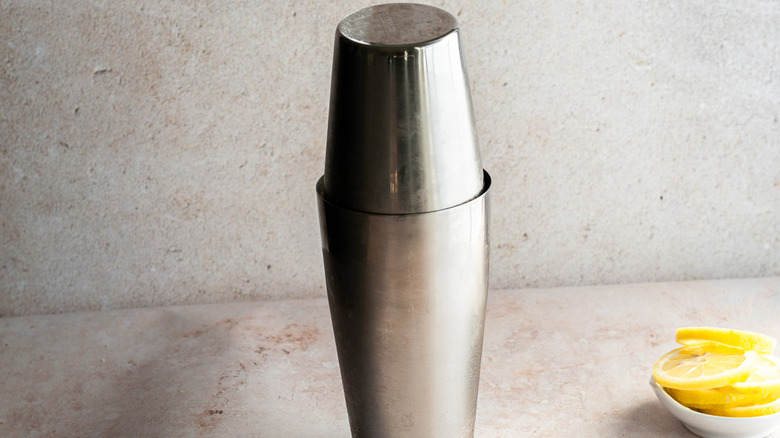 Christina Musgrave/Mashed
The cocktail shaker should have a strainer to strain into the glasses. If you don't have one, place a strainer over the shot glasses when you pour the liquid into the shot glasses. "Straining helps remove tiny bits of ice that get broken up while shaking," Musgrave notes. "If you leave them in, it will water down the drink and change the flavor." The flavor of this shot is so light and refreshing, and you definitely don't want any ice cubes ruining it.
Serve your lemon drop shots and enjoy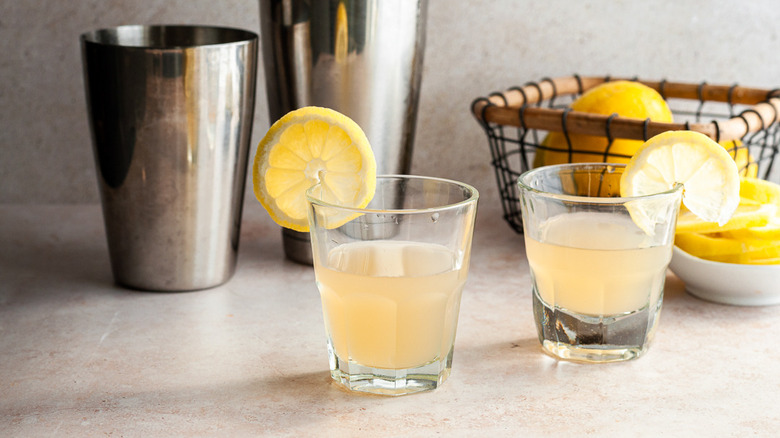 Christina Musgrave/Mashed
The best way to serve this drink is with a lemon wedge on the side. This little shot of happiness is excellent on its own, but there are also a few great foods you can pair it with. "This would be excellent with a lemon pie or a lemon bar," Musgrave suggests. We hope you enjoy this shot on your next night in with friends!
Lemon Drop Shot Recipe
If a straight shot of liquor is a bit too much for you, then you'll likely enjoy the sweetness in this lemon drop shot!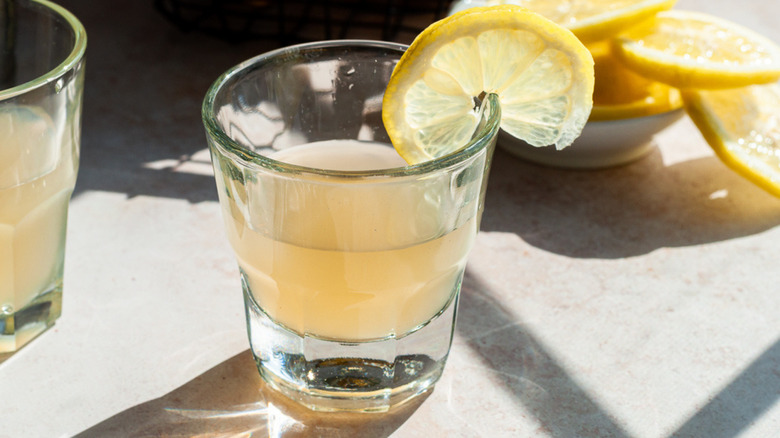 Ingredients
2 ounces vodka
1 ounce lemon juice
½ ounce simple syrup or agave
2 lemon wedges, for garnish
Directions
Fill a cocktail shaker with ice cubes. Add 2 ounces of vodka, 1 ounce of lemon juice, ½ ounce of simple syrup, and shake well.
Strain into shot glasses.
Serve the shots garnished with a lemon wedge.
Nutrition
| | |
| --- | --- |
| Calories per Serving | 90 |
| Total Fat | 0.1 g |
| Saturated Fat | 0.0 g |
| Trans Fat | 0.0 g |
| Cholesterol | 0.0 mg |
| | |
| --- | --- |
| Total Carbohydrates | 6.8 g |
| Dietary Fiber | 0.2 g |
| Total Sugars | 5.7 g |
| Sodium | 4.7 mg |
| Protein | 0.1 g |