The Best Things To Eat In Universal's Wizarding World Of Harry Potter
You don't have to be a theme park fan or even a faithful admirer of the blockbuster film franchise to appreciate The Wizarding World of Harry Potter. A true marvel in theme park innovation and design, the immersive lands can be found at Universal Orlando Resort in central Florida. Here, J.K. Rowling's wildly imaginative world comes to life as guests step directly into the whimsical pages of the beloved book. The streets of London, the buzz of Diagon Alley, the liveliness of Hogsmeade, and even the eerie corners of Knockturn Alley come to fruition in movie-quality sets that are incredible feats of artistry.
This downright magical experience is manifested in not only the sights and sounds, but in the tastes. Here, you can sip on iconic Butterbeer, toast a pint in Hog's Head Pub, or gather with your Hogwarts crew over fish and chips in The Leaky Cauldron. The potions and nibbles found in Wizarding World are not only delicious but executed with great theming.
Throw on your robe, brush off your quidditch stick, and join us for the best things to eat in Universal Orlando's Wizarding World of Harry Potter.
Beef Pasties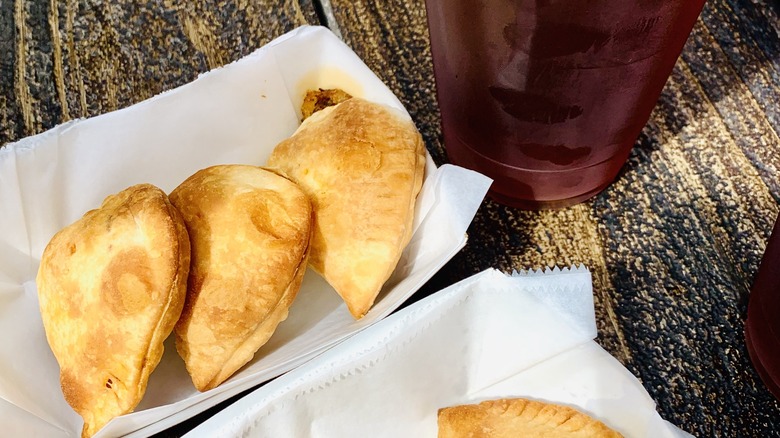 Carly Caramanna/Mashed
The Wizarding World of Harry Potter is home to several dining experiences amongst its two lands: Diagon Alley in Universal Studios Florida and Hogsmeade Village in Islands of Adventure.
Tucked away in a corner Diagon Alley's Carkitt Market, The Hopping Pot is for all intends and purposes a purveyor of beers and other wizardly beverages. Named after the cauldron used to brew potions and antidotes for muggles, this fast casual spot serves Butterbeer, Pumpkin juice, and Fishy Green Ale, among other sips, but it's their beef pasties that draw us in time and time again to this unassuming counter-service spot.
These traditionally executed pasties are made with a buttery and flaky crust that's filled with a savory mix of spiced beef — and a thematically fitting snack fit for Diagon Alley's setting of London. Pair these with the Wizarding World original beer, Wizard's Brew (a dark stout), and you have the makings of a perfect day.
Vegans can get their hands on their very own portable piece of scrumptious heaven as well. The vegan shepherd's pasty pie is available at the Magic Neep cart in Island of Adventure and is made with a blend of meatless beef crumbles and vegetable stew.
Chocolate Chili Ice Cream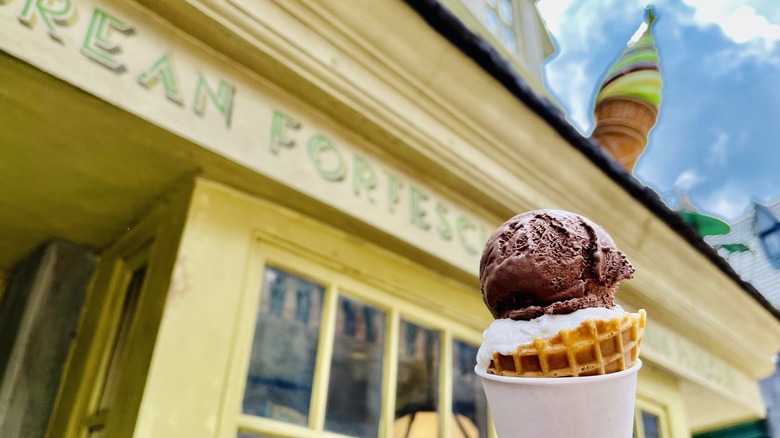 Carly Caramanna/Mashed
The mind may wander to an uninspired, pre-packaged cone when thinking of theme park ice cream — but magic has been bestowed upon the desserts at Florean Fortescue's Ice-Cream Parlour. Located in Diagon Alley, this ice cream shop is scooping and dishing out what very well may be some of the best ice cream we've ever had. The secret may be kept deep in the hallowed halls of Hogwarts (or some mystical theme park flavor lab), but what we know is that both their soft serve and hard pack ice creams have that desired level of perfect creaminess that we'd gladly wait in the streets of Diagon Alley for.
On top of the perfect texture, Florean Fortescue's is serving inventive flavors like apple crumble, sticky toffee pudding, and earl grey & lavender. Our personal favorite? The chocolate chili ice cream. Served hard-pack style, this decadent scoop has a sweetness that first hits your tongue before notes of heat make an appearance. The slight tingle of spice cuts the richness just at the right moment making for a magical ice cream moment. You'll swear someone cast a vanishing spell on you because this dessert will disappear in minutes.
Traditional English Breakfast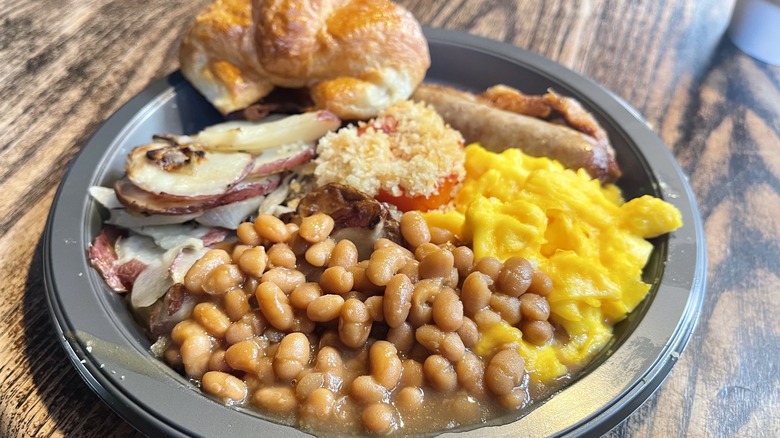 Carly Caramanna/Mashed
Sadly, theme parks are often associated with humdrum interpretations of American fare, like hamburgers and hot dogs. In the Wizarding World of Harry Potter, the culinary team leaned hard into the vast and infinite possibilities that came along with the theming — and no stone (or spell) was left unturned. Given Potter's English roots, traditional British delicacies can be found on menus across the land's dining options with the premier spots being Hogsmeade's Three Broomsticks and Diagon Alley's Leaky Cauldron — stunningly detailed dining halls that serve as mere attractions in themselves.
Serving up British specialties all day, their standout breakfast offerings will have you up and out the door before the sun even rises. The Traditional English Breakfast is their take on the "across the pond" staple that is known as a full English. Their version is true to the original with fresh scrambled eggs, sausage links, English bacon, savory baked bean, grilled tomato, sauteed mushrooms, breakfast potatoes, and of course, black pudding. Muggles and wizards alike can agree this is the best way to begin their wizarding day.
Sticky Toffee Pudding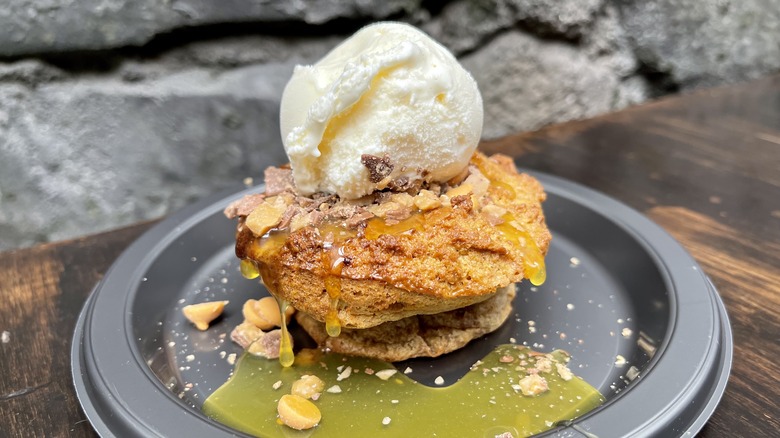 Carly Caramanna/Mashed
Diagon Alley's Leaky Cauldron serves as the grubby-looking pub and inn from the movies with an ornate cathedral ceiling as its focal point. It would be easy to full up on the restaurant's serious lineup of delicious foods — like bangers & mash, cottage pie, and scotch eggs — but we are urging all you muggles to conjure up some self-control and save room for dessert.
Their sticky toffee pudding is worth a trip to the theme parks alone — and that is something we stan. This positively sinful dessert is perfect in every way. The base is incredibly moist and served warm with overarching notes of butterscotch that is then filled with a sticky toffee sauce — it's like an American bread pudding but with a more-dense quality. A fresh scoop of vanilla ice is added on top and then finished with a toffee syrup that ties the dish together as it cascades over its entirety and into a blissful bite.
Bertie Bott's Every-Flavour Beans
It's not every day that a prepackaged edible item makes a 'best eats' list but this memorable snack is a colorful must have. Bertie Bott's Ever-Flavour Beans were a popular snack for students at Hogwarts and now muggles too can get their hands on them. "A risk with every mouthful," is part of the allure with this goodie and you never know just what "flavour" you are going to get. The options range from the accessible and familiar, like orange and cherry, to the downright baffling, like ketchup, earwax, and the most undesirable of them all: vomit. Ew.
You can live out your ultimate Harry Potter fantasies by picking up your very own pack from Sugarplum's Sweet Shop in Diagon Alley and Honeydukes in Hogsmeade. Don't say we didn't warn you! Each box of these gourmet jelly beans comes in 20 flavors and is adorably packaged in a colorful box making for the perfect souvenir from your journey.
Fish & Chips
Fried foods are often associated with theme parks, but this next decadent dish lives in a category all of its own. We're back at Diagon Alley's Leaky Cauldron not to meet up with Hermoine to formulate our plot against "he who must not be named," but for their version of fish & chips. Your mind may wander to images of frozen fish sticks thrown into an oil-laden deep fryer, but you would be vastly mistaken. Universal Orlando pulls out all of the stops for this traditional British dish by using freshly flown-in North Atlantic cod. Once reaching the Wizarding World, they are hand-dipped in beer batter and fried to golden-brown perfection.
This is excellent and will have you in shock and total disbelief that this is served in a fast casual setting. The tender, flaky fish holds up perfectly to its salty, crisped exterior. This dish redefines everything we thought we knew about "theme park food." Mic drop.
You'll be so mesmerized that you'll not even notice the cacophony of sounds roaring in the distance from the train — the very one that kept Potter up late at night when he called the inn his home one summer.
The Great Feast
We now have a one-way ticket aboard the Hogwarts Express with only one destination in mind: Three Broomsticks in Hogsmeade Village. Our journey left us famished with just one dish mighty enough to satisfy our roaring hunger — the great feast. Inside the cozy, snow-capped roof of Three Broomsticks, the students of Hogwarts have been enjoying delicious fare — like shepherd's pie and smoked chicken — for centuries. In the same room where Potter took his first sip of Butterbeer, you can order the most extravagant meal, perfect for fueling up before a game of quidditch or a spin on Hagrid's Magical Creatures Motorbike Adventure.
The great feast will set you back a cool $69.99 and kicks off with a crunchy fresh garden salad tossed in the restaurant's signature dressing. That's just the beginning as the feast continues on with rotisserie smoked chicken, spareribs, corn on the cob, and roast potatoes. Enough to feed four (or one in Hagrid's case), the dish is massive in size and absolutely delicious with tender chicken and meaty spareribs.
Chocolate Frog
There are many snacks and potions now made famous by the Harry Potter books but few moments are as iconic and memorable as Harry's first experience with the chocolate frog box. Sugarplum's Sweet Shop in Diagon Alley and Honeydukes in Hogsmeade are your one-stop shops for all your candy needs when visiting the Wizarding World of Harry Potter — it's also where you can get your hands on your very own chocolate frog.
These are beautifully presented, just like in the film, in an ornate blue and gold box. The chocolate frog inside is solid chocolate, but we promise you it won't be jumping out. Collectible trading cards can be found in each box depicting an image of a famous witch or wizard. It may be difficult to narrow in on your purchase from the legendary sweet shop, but we recommend bypassing the fizzing whizzbees and exploding bonbons for the now iconic edible amphibian.
Butterbeer Potted Cream
Once Potter had his first sip of butterbeer, he was hooked (much like most students of the school of wizardry). In the Wizarding World of Harry Potter, the flavor that combines sweet butterscotch and toffee sees itself in many forms, from a decadent fudge to creamy ice cream. We are always down for all things butterbeer, but one of our favorite versions can be found at both Three Broomsticks in Hogsmeade Village and the Leaky Cauldron in Diagon Alley.
After enjoying the savory main courses, a welcomed sweet finish can be found with their Butterbeer potted cream. Presented in a downright adorable small jar, the dessert nails the butterscotch meets toffee hybrid flavoring but also features welcomed notes of vanilla and even marshmallow. It is somehow simultaneously sweet, buttery, and even a bit salty — think of this flavor combo as the cousin of salted caramel. A dollop of whip cream ties together this all-around smash of a dessert.
Shepherd's Pie
There are few British dishes that Americans embrace more than the shepherd's pie. The ultimate in comfort foods, this savory dish traditionally combines mashed potatoes with minced meat and vegetables — and it is most certainly something one would not expect from a theme park. At Three Broomsticks in Hogsmeade, they are dishing out a perfectly executed shepherd's pie. Their version combines ground beef and lamb with vegetables and a generous crowning of mashed potatoes. The dish hits all the right notes with the savory veggies holding their own to the saltiness of the juicy meats and creamy, luscious mashed potatoes.
Our vegan friends haven't been forgotten with their own interpretation of the dish. The mushroom pie comes with a stewed jackfruit that would even fool any of you carnivores out there. The notes of sweet and savory stray from the traditional presentation but it's worthy of a try. On the side, you'll find a salad with a tangy lemon-thyme vinaigrette that holds its own.
These dishes are rather filling and not recommended before a spin on Harry Potter and the Forbidden Journey.
Butterbeer Ice Cream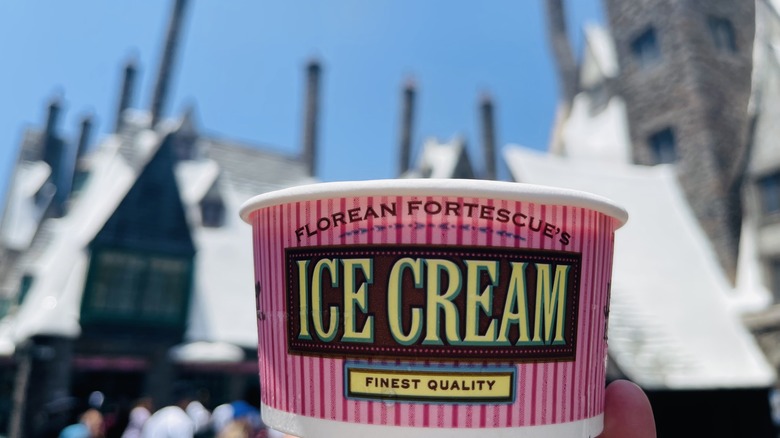 Carly Caramanna/Mashed
Butterbeer is most certainly a rite of passage for any hardcore Potterhead. The drink itself — available cold, warm, or frozen — is (tbh) cloyingly sweet ... the kind of sweetness that sticks to your teeth and has you filled with instant regret. It's worth a try once (just to say you had it) and makes for a great photo opp. But, if you want to get your fix without the overwhelming flavors of butterscotch and toffee forever seared on your tongue, their ice cream is the best execution of the dish in our humble opinion.
We are back at Floreon Fortescue's Ice-Cream Parlour for Butterbeer soft serve ice cream. With a base of vanilla, the ice cream is swirled with toffee and butterscotch and the result is wonderfully flavorful without being overly sweet. The treat offers just the right amount of Butterbeer flavor we do desire without going overboard. Butterbeer ice cream is often available in hard-pack cups, but we still prefer the soft serve variety.
Toad In The Hole
Diagon Alley's Leaky Cauldron is no stranger to whipping up beloved British delicacies, like fisherman's pie, Scotch eggs, and Guinness stew. A toad in the hole is a popular English dish not commonly found in America, and certainly not something often found at American theme parks. Their version of toad in the hole bakes two English sausages right into a Yorkshire pudding and served with onion gravy, minted peas, root vegetables, and roasted tomato.
The sausage is the star of this savory dish here, deep in flavor and with a perfect amount of crunch, while the Yorkshire pudding acts as the creamy balanced accompaniment. The flavors of the caramelized onion gravy tie both the sausage and pudding together, while the veggies on the side are a welcomed addition (especially in a theme park) and cooked just perfectly. While the flavors are balanced, we love pairing this with the sweet and tart flavors of a tongue-tying lemon squash to cut through some of the savoriness.
Cauldron Cake
Our favorite part about visiting the Wizarding World of Harry Potter, is that one bite can instantly transport us into the films, and the cauldron cake is no different. The iconic dessert is depicted in the films as a beloved cake mix adored by Potter himself and feasted upon by his crew aboard Hogwarts Express. At Universal Orlando, you can get your hands (and sink your teeth) into the real deal. Served in a reusable silicone cauldron, their version is a mini chocolate cake that is topped with a flame-like frosting of brightly hued yellow and orange buttercream.
Available at Honeydukes in Hogsmeade and Sugarplums Sweet Shop in Diagon Alley, this treat is one of the most Insta-worthy creations you'll find in the lands with flavors that live up to the hype. We love the reusable cauldron cup that allows us to whip up our very own mini version once we're back home and missing our Potter-filled adventure. Sweetness adverse and witches be warned, this is some seriously spellbinding sugariness that oozes from the buttercream and when combined with the rich cake base, it may be overpowering for some.
The Ploughman's Platter
The Ploughman's Platter can best be described as the British equivalent of a charcuterie board. The British lunch staple is typically served in pubs and consists of a loosely defined combination of cheese, bread, and other accompaniments that are generally served all cold. It's an utterly simple meal, but a delicious and hearty way to fuel up for the rest of your day.
At Diagon Alley's Leaky Cauldron, their interpretation of the Ploughman's platter is meant to serve two hungry park-goers. The generously sized dish features crusty bread, English cheeses, a green salad, roasted tomatoes, cornichon pickles, an apple beet salad, branston pickle, and scotch eggs. The portions are large, easily shared by over two people, and we appreciate the freshness of each and every one of the elements. This is a wonderful dish to try for the non-adventurous eaters looking to dip a toe into the British delights offered by the Leaky Cauldron without being weighed down by all the fried goodness found on the menu.