This Might Be The Most Important Tip For Top Chef Contestants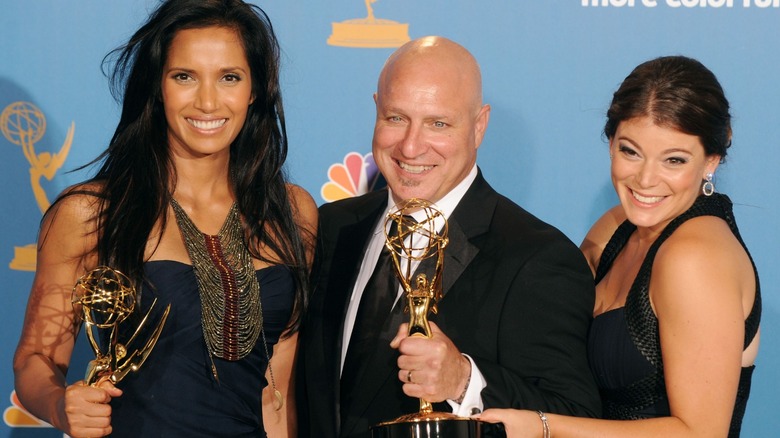 Jason Merritt/term
Even the most seasoned chefs have been taken down by the chaos of the near-impossible challenges on "Top Chef." One notoriously difficult challenge that appears on the show every season, Restaurant Wars, has sent home considerably strong contestants. Kristen Kish, who was a fierce competitor on Season 10 of "Top Chef," was eliminated as the leader of her team in Restaurant Wars — but came back via Last Chance Kitchen to win the season (via Entertainment Weekly).
After winning several challenges on Season 17 of the reality show, Kevin Gillespie was sent home after Restaurant Wars since he created the concept for his team's losing restaurant, per Bravo. The "Country Captain" honorably went down with his ship instead of trying to throw his partners under the bus, and he later made a valiant return after winning Last Chance Kitchen, just like Kish. Although it can clearly be tough for anyone to prepare for the twists and turns on "Top Chef," the people who know the show best have a few tips for future "cheftestants" to avoid an unwanted fate.
Co-executive producer Hunter Braun recommends thoroughly researching the host city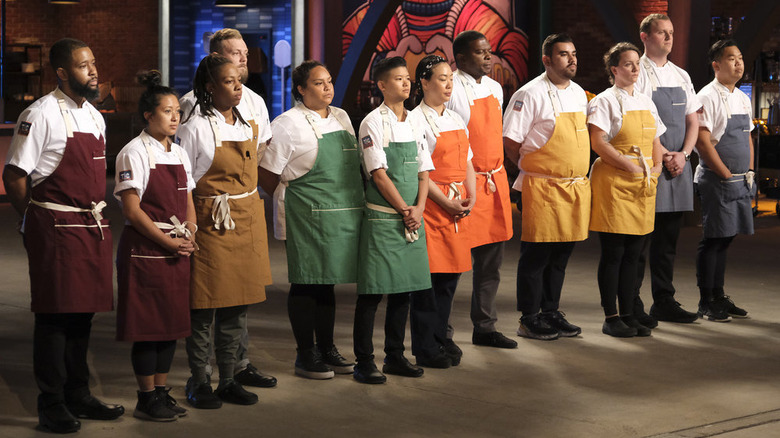 David Moir/Bravo
Although there are several chefs who have competed on "Top Chef" multiple times, no one knows the show better than its producers and crew. The challenges on the show can be unpredictable, but co-executive producer Hunter Braun shared a few tips on Bravo's website for succeeding despite the chaos. First of all, Braun recommends that competitors strategically plan the limited items in their knife roll, as well as commit some basic bread and pastry recipes to memory. On the easier side, he suggests bingeing the show to get a feel for potential challenges and getting comfortable navigating Whole Foods, as it's often where contestants are asked to shop for ingredients on the show.
Braun emphasizes that the most important way to prepare for the show, though, is for the chefs to familiarize themselves with the host city. "Learn everything you possibly can about the culinary trends" and local cuisine, he told Bravo. "Check out important local restaurants, check out trendsetters in the area." "Top Chef" Season 19 is taking place in Houston, so Braun explained that it would behoove the chefs to brush up on their barbecue and Tex Mex chops. Naturally, though, they should expect a few surprises to be thrown in.