Anne Burrell Talks The New Celebrity Season Of Worst Cooks In America - Exclusive Interview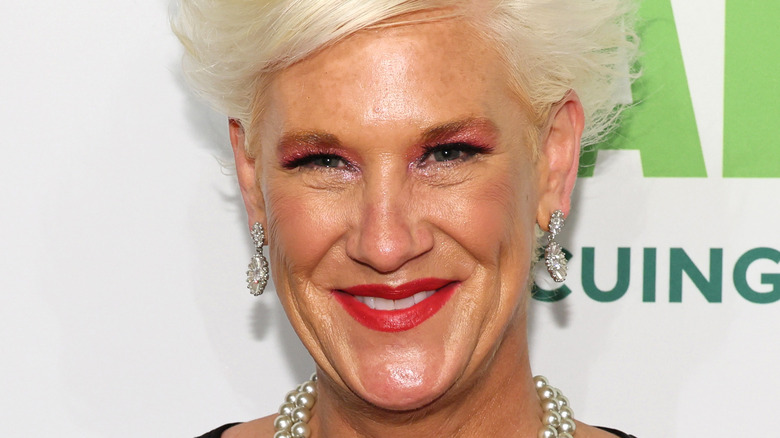 Dia Dipasupil/Getty Images
If you could recall the worst dish ever made on television, what would it be? You may not be able to answer that question right away, but Anne Burrell sure can. Known for her spiked white hair and humorous television personality, the "Worst Cooks in America" host is on her 24th season, and it sure is a fun one. The new season is named, "That's So 90's: Celebrity Edition," which features your favorite '90s sitcom television celebrities like Jodie Sweetin (Stephanie from "Full House") and Matthew Lawerence (Jack from "Boy Meets World").
Although the first episode premiered on April 24th, Burrell herself ensures that the season is full of exciting twists and turns. During an exclusive interview with Mashed, Anne explained what surprises her most about celebrity seasons, the worst dish a contestant has ever made, and the foods she is most excited for as summer rounds the corner. The "Chef Wanted" star also did a deep dive into her upcoming projects, and gave some simple advice for newbie cooks.
Anne recaps what's in store for Season 24
Congratulations on the 24th season! That's really exciting.
Thank you. I'm super excited about it too. Who knew there were so many worst cooks around still?
Can you give me an overview on what this season is all about?
This season, I am delightfully co-hosting with my very good friend, Jeff Mauro. I was super psyched to work with him. I've been wanting to work with him on something for a long time, and I was really glad we got the opportunity. He's lots of fun and added so much to kitchen stadium or, sorry, boot camp this season. He gets right into the kookiness of it all. On the first episode every single season, when I get a new co-host, my favorite thing is when they see how bad the people actually are, look at me and they're like, "Oh my God, Anne, are you kidding me?" There's no way to prepare a newbie for what they are about to witness. I always say, "I hope you'll still be my friend after this."
A celebrity season is hilarious, because it's like, "Oh look, celebrities. They're just like us. They don't know how to cook either." It's funny that a lot of them know food fairly well from getting through their travels and being celebrities and all that stuff, but to see what they actually don't know or don't know how to do is really mind blowing. You see that they're very talented in one direction, but very much not in others.
I love doing the celebrity seasons. I love doing all the seasons, but celebrities bring a little something extra to the party because they're used to being on camera and they're used to being hams and so it brings in so much more energy and rambunctiousness.
Why Anne thinks a celebrity season is so unique
When it's a celebrity season like this one, what is the process behind finding the absolute worst cooks for this show?
A lot of them want to do it. The hardest time we had casting for it was the very first season of "Worst Cooks in America, Celebrity Edition." Since we've done a few seasons of Celebrity, they see that they actually really get to learn a lot. They're super psyched to be there. What we ask them to do is not any easier than what we ask what we call "civilians." We put them through the same rigors of all of that. The days are long, the challenges are hard, and we do not take it any easier on them than we would for civilians.
Are there any unexpected twists that fans can expect to see this season?
Always but I can't give those away.
That's fair. Is there anything that you are most excited about because this is a "That's So 90's: Celebrity Edition" season?
I'm showing my age here, but I did not know who all of the celebrities were. I had a quick introduction to a lot of them as well. Sometimes, it surprises me with celebrities that it almost seems like they're a little bit more hesitant or reticent to dive into things, or ... celebrities maybe put more pressure on themselves because they know this is going to be in the public eye. I feel like with celebrities more than with civilians that I have to tell people, "Relax, calm down, get into it," because they're used to being masters of their craft. Now, they're learning a whole new craft and they forget how it is [whhen] starting out and having to learn stuff from the beginning.
Anne reveals the worst dish a contestant has ever made
This might be a hard question. It's a bit more general, but if you could recall one of the worst dishes a contestant has ever made, what dish would it be?
You're asking me to dig back through the years into the annals of terrible dishes. There's one that Rachael Ray and I always laugh about because it happened on a season with Rachael. It was this guy that, on the first day of what we call the "baseline challenge" took a can of tuna fish, and I don't even think he really drained it, and mixed it with about two cups of mayonnaise and a jar of ... Rachael and I dispute this, she thinks it was grape jelly. I think it was raspberry jelly — regardless, gross. 
[He] put about half of this ... [skin color, peachy, beige-y colored ]slop into the bottom of a loaf pan and then put two pieces of American cheese on top of that and then put the rest of it on and two more pieces of American cheese and baked it. He turned it out and it was this splat of really disgusting, runny, tuna fish with jelly in it. [He] then broke off some pieces of iceberg lettuce on the side. That was a really gross one.
Then, there was this other woman named Jetta. Oh my gosh. This one is even worse, actually. She took two blocks of frozen okra. They were still frozen solid, and I remember this because she dropped them into the skillet from high up. You heard this ice cube crash in the pan. We're like, "What the heck is that?" It was frozen okra, and then she mixed in cans of sardines that still had all the bones and everything in them. It was this really watery, dark green/gray mixture. She put a whole bunch of egg noodles in it and then topped the whole thing with two hot dogs that she cooked in the toaster oven until they were  shriveled to nothing.
Oh my gosh. I'm very impressed that you were able to get through that.
I did not try that one. There was no getting me even close to that. I was like, "How can you even possibly... What? I don't..." Things that people do to food, it still shocks the heck out of me.
Anne gives tips to beginner cooks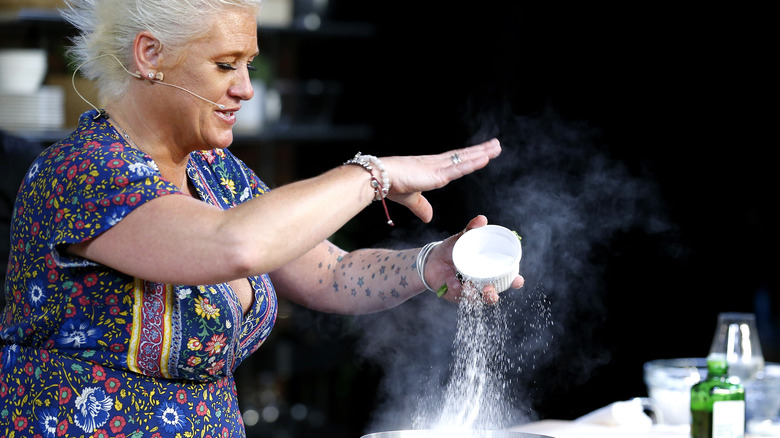 John Lamparski/Getty Images
Do you have any advice for people who are just learning how to cook?
I do. One is, whatever you're deciding that you want to cook, find a recipe for it. It's so funny. Whenever I ask people on Worst Cooks, "Well, what happens when you follow a recipe?" They look at me like I'm absolutely insane, which I might be. I'm like, "Well, what do you mean 'What do you mean?'" When I know I don't know how to do something or I don't know how to get somewhere, I find directions for it. That's what a recipe is. It's a set of directions. Find a recipe, read it all the way through so you don't run into something like, "All right, put the short ribs in the oven for three hours when you have people coming for dinner in 15 minutes." 
There's also the things like, "add the remaining flour," and you're like, "Oh, what remaining flour?" Make sure that you have all the ingredients before you start cooking because that can also lead to problems [like], "Huh. I wonder if I could use powdered sugar instead of regular sugar?" Or, "I wonder if I could use bread instead of bread crumbs?" That leads to trouble. Do all of your prep work ahead of time before you start cooking. Get all your cutting done, get all your measuring done, all that stuff, and then cooking becomes much [easier] and much less frantic where you're like, "Oh my God, where's this?" Then you can clean as you go and you don't have a mountain of dishes at the end and things can wind up to be pretty fun. People feel like they're cooking on The Food Network.
I like that advice. It's as simple as following the directions.
I'm all about a low tech solution. They're not the sexiest tips of advice that I have, but for basics, they work every time.
Anne divulges the most important kitchen tools
 I actually interviewed you once before for the partnership you did with PepsiCo and their Cheetos-inspired cookbook. Do you have any upcoming projects or partnerships coming up? I saw that you will be making an appearance in "BBQ Brawl" with Bobby Flay.
We filmed "BBQ Brawl" last March in Austin, Texas, and it was so much fun. That was probably one of the most fun work trips I've ever had because it was so nice to be back working and outside cooking again. The cast and the crew and working with Bobby and working with Carson Kressley and Rodney Scott and Jet Tila was so delightful. Austin's such a fun city. That was really an amazing trip and I loved it.
Summer is just around the corner. Are there any food or cocktail recipes that you are most excited to make?
I can't wait 'til we start getting all kinds of summer produce. That's when summertime is one of the easiest times to cook because all the local produce is so good and it's so readily available. Do the least amount you can to it and let it be. Summer is always a great time to cook.
Is there one cooking tool that you think is the most important to have in the kitchen at all times?
There's a couple. You definitely need a set of decent knives that you can keep sharp and keep an edge on, and also a good set of pans. You need to have the right sizes of pans. There's the non-stick pan or that stuff. Start off with a couple of basic pans and then always, for your birthday or for holidays or whatever, you can always ask for those to add to your collection.
Anne names her favorite fast food order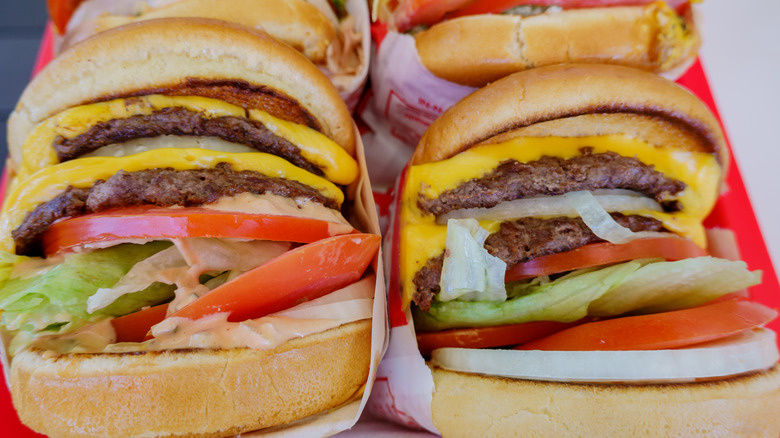 Kit Leong/Shutterstock
What would you say is your favorite or most frequent meal that you cook at home currently?
My husband actually could qualify for "Worst Cooks." We've been working on cooking together, so we've been starting off with the basics and we've been cooking a lot of chicken around here recently.  
I remember when I talked to you last time you were cooking for your whole family or something and you were saying how much you were cooking all day. 
Anytime there's a holiday or a family gathering, who gets to do the cooking? I love that. [It] makes me super happy. I love to be the hostess. I love to entertain. I love to, and people want to get involved, which I certainly always hope they will. I always have jobs for people; otherwise, I'll get it done.
It's a good way to spend time with everyone too. It's fun.
Exactly.
What is one food you could never live without?
I would say bacon or pasta or eggs.
Pasta is a good answer. What is your go-to fast food order and which restaurant?
I don't eat fast food that often, but every single time I arrive in LA, I go straight from the airport to In-N-Out Burger. I get a double-double, animal style. I really do enjoy it.
Check out "Worst Cooks in America's" website for more kitchen failures. New episodes of "Worst Cooks in America Celebrity Edition: That's So 90's" air Sundays at 9 p.m ET on Food Network.