Aldi Shoppers Are Loving The Comeback Of A Fan-Favorite Fish
Just like Costco and Trader Joe's, Aldi seems to accumulate something of a cult following, too. Think about it, how many stores do you know of that have their own fan accounts? Instagram pages like Aldi Favorite Finds have hundreds of thousands of followers, who live for the thrill of finding hidden-gem products.
One such product was (is?) the Deutsche Küche herring fillets. Herring are pretty small compared to most other fish we eat, but according to WebMD, they are also an "excellent source" of protein, omega-3 fatty acids, and vitamin D.
Unfortunately, the Ain't Found A Good Title blog notes that these fillets are a perennial product, meaning they come and go depending on the time of year. So why bring the herring up now? Well, because the herring fillets are back! That's right, it's herring season again, and Aldi fans across the internet couldn't be more excited. 
Aldi herring fillets are taking Reddit by storm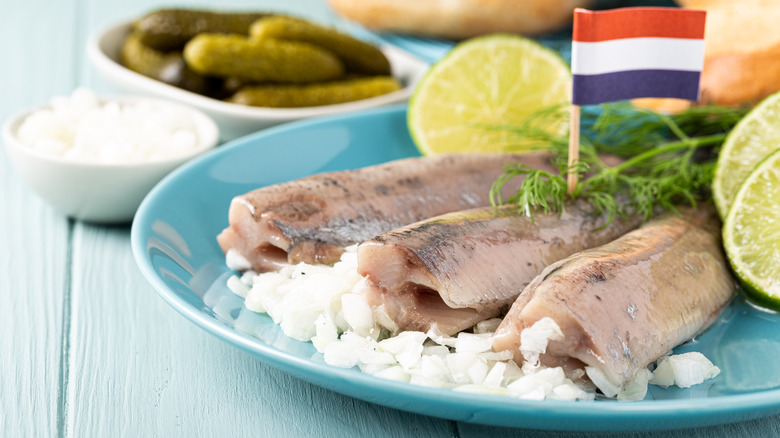 Iryna Melnyk/Shutterstock
On May 1, Redditor Magicite shook the internet with news of the herring fillets' return to Aldi shelves. According to the Reddit post, the fillets are back, priced $1.69 apiece, the same as before. The fillets come in three different sauces: mango pepper, curry pineapple, and tomato.
Several Redditors offered suggestions for eating each variety. One person recommended the mango pepper herring on Triscuit crackers, while another said they like it best over white rice. Yet another Redditor recommended adding hot sauce –- like sriracha -– to the tomato sauce herring. Some Redditors confessed to eating the herring just straight out of the can.
A few commenters were uncertain of trying the herring, and asked how they compare to other fish, like tuna and sardines. Magicite explained that the herring is "similar to canned sardines, if you've had those, except generally way fewer bones. They are actual fillets, so I guess more like a premium canned tuna, and also way less dry/mealy."