What Dinner At The 2022 Met Gala Really Looked Like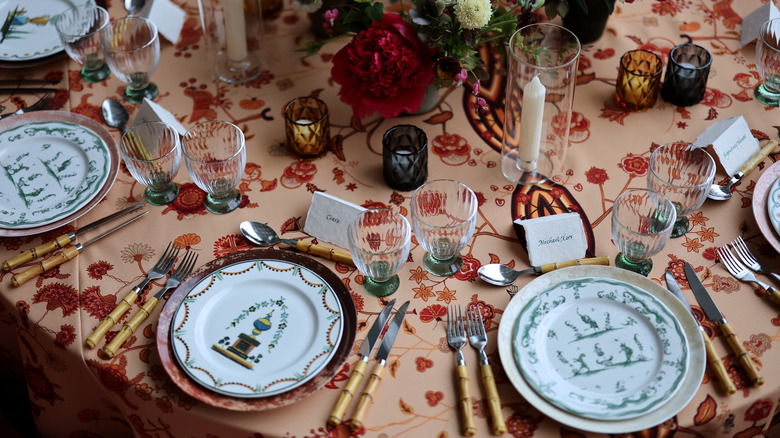 Matt Winkelmeyer/mg22/Getty Images
The New York Times' Vanessa Friedman seized an enviable word-play opportunity when she summed up the theme of this year's Met Gala as "gilt without the guilt." Critics read the "Gilded Glamour and White Tie" dress code for the star-studded soirée as a tone-deaf move amidst widespread inflation in the U.S., reports The Guardian, which explains that the theme "pays homage to the period of rapid prosperity, industrialization, and growth in the U.S. from 1870 to 1890." Nevertheless, celebrities strutted down the red carpet on Monday sporting digital-age spins on 19th-century opulence in support of the Metropolitan Museum of Art's Costume Institute, where a sea of light-reflecting jewel tones met a shore of sharp black and white. 
From a layperson's perspective, it looks as though the primary duty of a Met Gala attendee is to pose for photos. But all that smiling and schmoozing is bound to work up an appetite, and no proper ball is complete without a feast. Those who lean more foodie than fashion connoisseur might be curious to know what the Met chefs had cooking for their sparkly guests, and thanks to Vogue's Elise Taylor, folks at home got to see what celebrities like Riz Ahmed, Danai Gurira, and even New York City Mayor Eric Adams ate for dinner last night. 
Plant-based hors d'oeuvres, Hamachi, and chocolate cake for the stars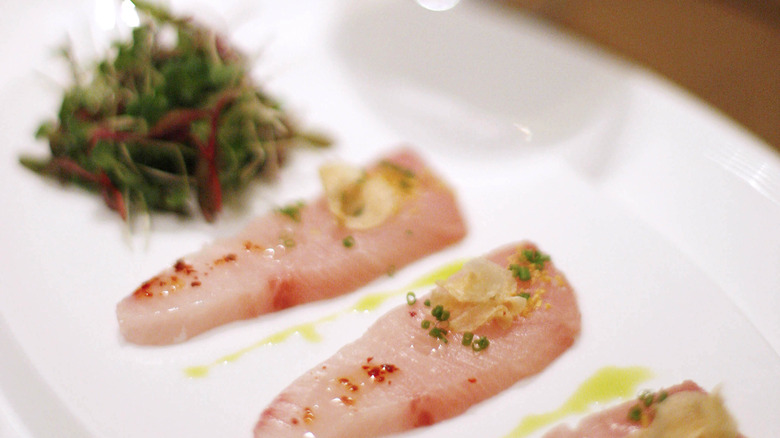 Bloomberg/Getty Images
While it may have been lost in execution, the message behind this year's sartorial Met Gala theme was inspired by curator Andrew Bolton's Costume Institute exhibition "In America: An Anthology of Fashion," which "explores the origins of American fashion," per The Guardian. Likewise, celebrity chef Marcus Samuelsson, who helmed this year's Met Gala feast, teamed up with an eclectic trio of chefs to "dream up the United States's wide-ranging ideals" and turn them into a four-course meal, says Vogue. "This menu is a celebration of three amazing American chefs at this moment," Samuelsson told the magazine. "It's the present/future for me."
On tables laid with romantic floral linens and arrangements of wild blooms, vegan chef Lauren Von Der Pool — who's served as a personal chef to the likes of Stevie Wonder and Patti Labelle, per her website — kicked things off with a plant-based approach to hors d'oeuvres like deviled eggs and ceviche, focusing on "the vegetables that give America its flavor," per Vogue. "Top Chef" vet Melissa King swooped in for the first course: a culture-spanning dish composed of Hamachi with citrus, olive, and Sichuan chili. Then came an "Americana"-inspired barbecue striploin with carrots, crispy rice, and "cornbread crumble," courtesy of Samuelsson, followed by a teacup-shaped layered chocolate cake from the mind of "Foodtastic" host Amirah Kassem. All in all, we'd call it a superior Monday night dinner.