The Real Reason Lime Goes So Well With Chili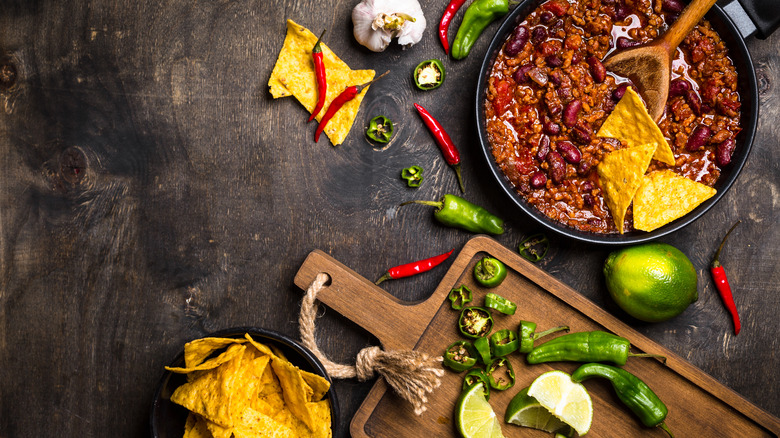 Elena Eryomenko/Shutterstock
Chili is a versatile dish that is simple to make and fun to experiment with tweaking different versions. You can tinker with varying spice levels or switch up the meat, beans, or peppers to find the flavor and heat balance that's just right for you. Some styles of chili, like Texas chili, even skip the beans altogether. Others, such as 3-bean vegetarian chili, omit the meat part.
Once you've figured out your signature recipe, you can combine those ingredients into a slow cooker and leave that bad boy to simmer on low heat while you leave for work and go about your day. Since chili is also convenient to cook in large batches, you can have plenty of leftovers to eat either by itself or to use in supplementing another meal such as a topping for hot dogs or blended into a pasta sauce.
If you're looking for a healthy addition to your next chili concoction that will further enhance the flavor, consider a squeeze of lime. It delivers a little tang and zest that tastes great and is good for you.
'You put de lime in de chili'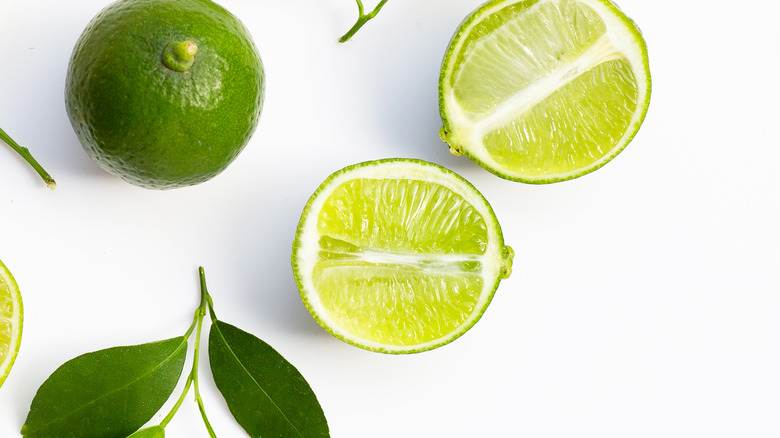 Bowonpat Sakaew/Shutterstock
According to the Boston-based food blog Pixelated Crumb, which features a recipe on its website for tequila and lime turkey chili, one of the reasons why lime pairs so well with chili is its acidity. This quality brightens and opens up all the flavors in the chili, boosting the overall elements in the dish and improving taste and freshness (via Taste of Home).
One slow-cooker lime chicken chili recipe calls for using lime juice in lieu of a squeeze of lime. A cilantro lime and beef chili recipe also lists lime juice as an ingredient. Whether you opt for fresh lime or bottled lime juice is up to you — just another detail to hash out in preparing one's own specific brand of chili.
Another bonus of incorporating lime into chili is its numerous health benefits. The Nutrition Twins, Tammy Lakatos Shames, RD, CDN, CFT, and Lyssie Lakatos, RD, CDN, CFT, told Real Simple that limes are "packed with antioxidants that mop up damaging free-radicals, protecting the body from chronic diseases like cancer, heart disease, and diabetes." Limes are also packed with vitamin C and other nutrients so mixing a little lime in your chili is a win-win for your taste buds and your body.