Simple Garlic Butter Recipe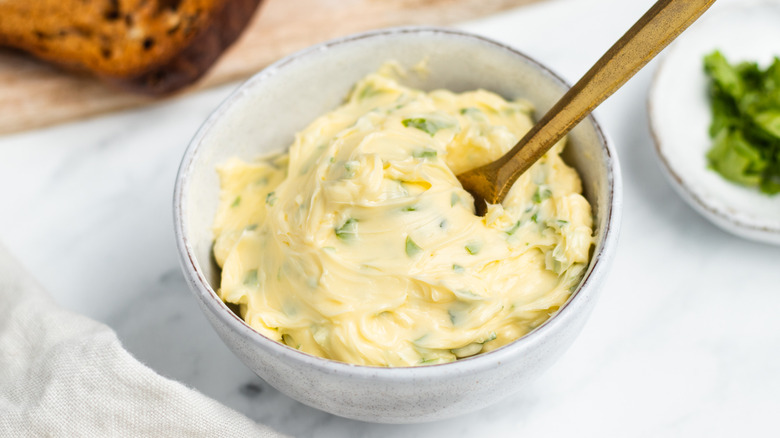 Catherine Brookes/Mashed
Compound butters are one of the simplest condiments to make, and yet they're nearly always a slam dunk. Butter, on its own, is pretty darn tasty, particularly the salted kind, which is what you'll want to use for a compound preparation. It gets even yummier, though, when you add herbs, spices, and other flavorings.
Some of the better-known compound butters include beurre maître d'hôtel (or, as the Pioneer Woman calls it, cowboy butter), brandy butter, honey butter, and cinnamon butter. We'd be willing to guess, though, that the best-known compound butter may be the mixture that gives garlic bread its flavor. Recipe developer Catherine Brookes gives us her take on garlic butter with this basic recipe. As she describes this butter, it's "rich, creamy and herby with a delicious strong garlic flavor." The recipe itself, she says, is "quick and simple but the perfect way to elevate simple butter to something a little more fancy." Slather this garlic butter on a dinner roll, use it while you're cooking steak, make homemade garlic bread with it — you really can't go wrong here.
Assemble the ingredients for simple garlic butter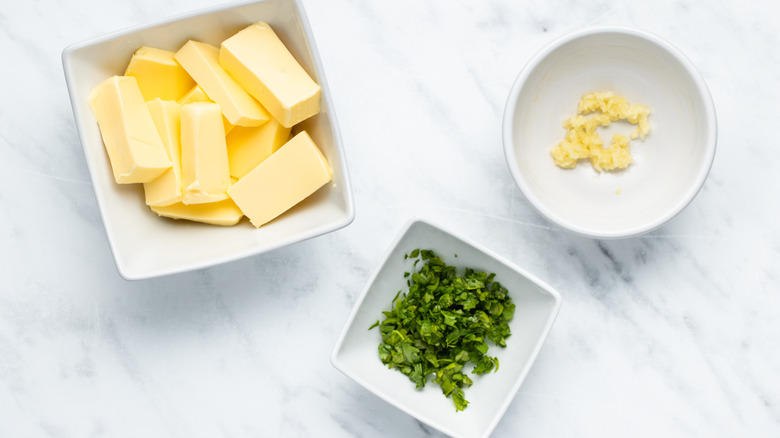 Catherine Brookes/Mashed
This garlic butter recipe couldn't be much easier. All you need is a stick of salted butter, plus some fresh garlic and maybe some parsley for color. Brookes says she uses parsley because she prefers to avoid "anything super strong that will overpower the garlic," but she does say that "chives could be another good option."
Prepare the ingredients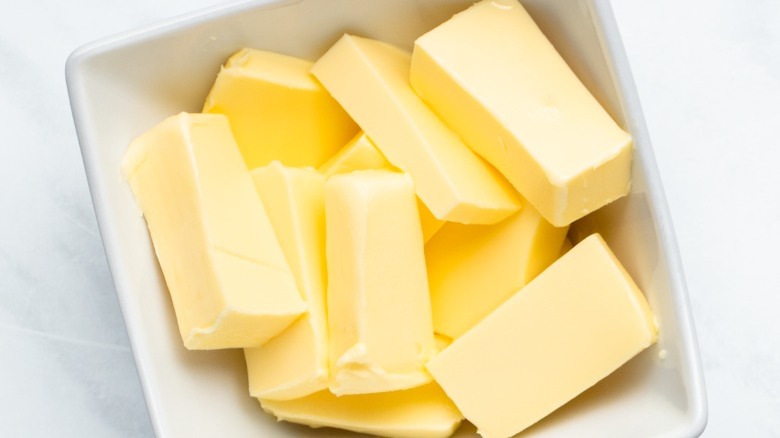 Catherine Brookes/Mashed
If you keep your butter in the fridge, you'll need to take a stick out and put it on the counter at least an hour before you plan to make this compound butter. While you're waiting for the butter to soften, you can peel and mince the garlic and chop the parsley. That should take maybe a minute or two, so you'll only have about 58 more to go before the butter is soft. If you cut the butter into chunks, though, it should soften a bit faster.
Combine the ingredients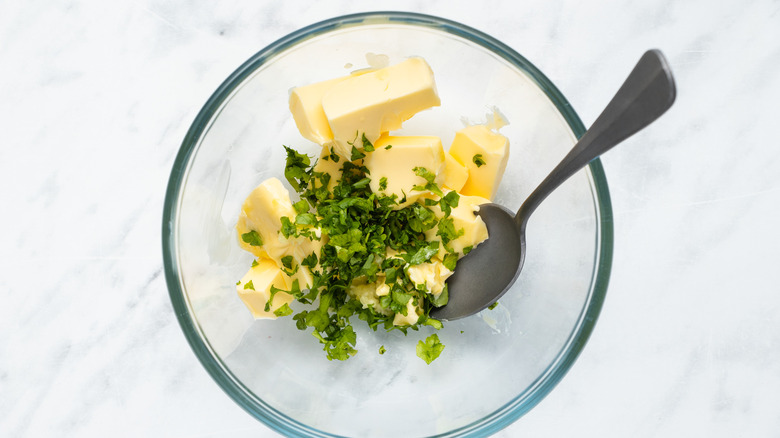 Catherine Brookes/Mashed
This recipe requires softened butter, so be sure to take the butter out of the fridge to give it plenty of time to reach room temperature. Once the butter is soft, remove it from the paper wrapper if you haven't already done so. Put it in a bowl, smash it up a bit, and mix in the garlic along with the parsley, and/or any other spices or herbs you care to add. Taste and adjust the seasonings as necessary.
Use or refrigerate the garlic butter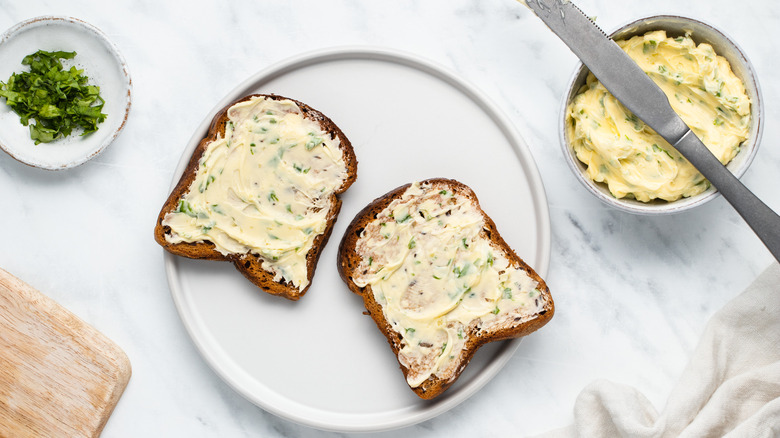 Catherine Brookes/Mashed
One classic way to use garlic butter is to spread it on sliced French or Italian bread, then warm the bread in the oven to make garlic bread. You could sprinkle the bread with some Parmesan, too, if you like your garlic bread cheesy. Brookes suggests that this butter could be "melted on top of cooked greens such as broccoli or green beans," or you could mix it right into some mashed potatoes. You could also use it to flavor a baked potato or to top steaks or other roast meats. Maybe even make some garlic butter pasta...the possibilities are endless.
The butter itself should last a good long while in the fridge, as butter tends to do, but Brookes advises using this garlic butter up in 2 weeks just to be on the safe side. She does say, though, that you could freeze it. If you refrigerate this garlic butter, you should make sure to store it in an airtight container since that'll keep it from imparting any unwanted aromas to your milk and yogurt.
Simple Garlic Butter Recipe
This garlic butter is incredibly easy to make, but it will seriously upgrade your dinner roll or garlic bread.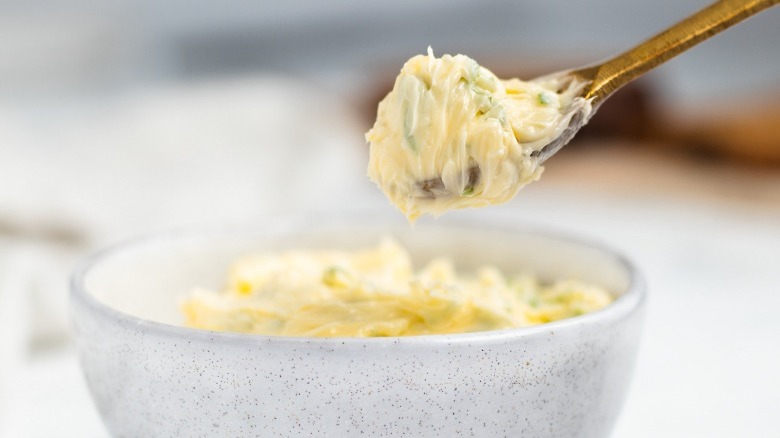 Ingredients
½ cup (1 stick) salted butter, softened
1 large clove garlic, crushed
1 tablespoon fresh chopped parsley
Directions
Combine the butter, garlic, and parsley in a bowl and thoroughly mix them together.
Serve the garlic butter on your favorite bread, otherwise refrigerate if not using immediately.
Nutrition
| | |
| --- | --- |
| Calories per Serving | 51 |
| Total Fat | 5.8 g |
| Saturated Fat | 3.6 g |
| Trans Fat | 0.2 g |
| Cholesterol | 15.3 mg |
| | |
| --- | --- |
| Total Carbohydrates | 0.1 g |
| Dietary Fiber | 0.0 g |
| Total Sugars | 0.0 g |
| Sodium | 45.8 mg |
| Protein | 0.1 g |