The Worst Brand Of Canned Tomatoes, According To 23% Of People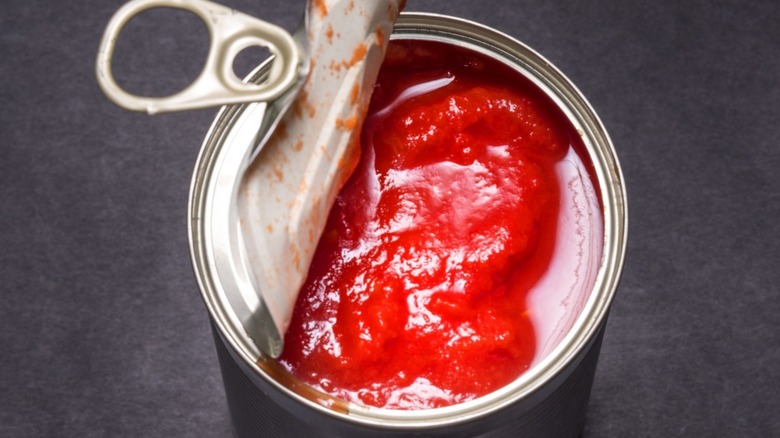 mdbildes/Shutterstock
There's a reason that canned tomatoes are such a staple in the average American's pantry: They're incredibly versatile and serve a lot of different uses, especially when you're in a pinch. You can use them to make pizza or spaghetti sauce; mix them into a stew, chili, or soup; whip up homemade salsa or ketchup; or add on top of pasta or meat for extra flavor (via The Kitchn). Plus, Food Network reports that canned tomatoes are just as good for you as the fresh stuff.
If you've ever walked down your grocery store's pasta or canned vegetable aisle, you're well aware of just how many canned tomato brands there are, from name brands like Hunt's and Bianco DiNapoli to store brands like Good & Gather and Whole Foods 365. Not all of them are created equal, either — some are better than others. To find out which ones are worth buying — and which aren't — Mashed polled 562 people across the United States on what they would consider the worst canned tomato brand, and there was one company that almost a quarter of respondents said is their last choice.
Hunt's canned tomatoes aren't a customer favorite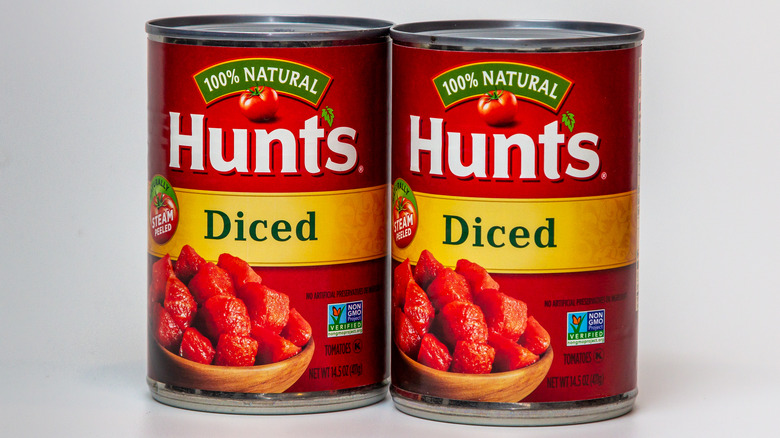 Ken Wolter/Shutterstock
Hunt's may be one of the most popular canned tomato brands you see at the grocery store, but according to Mashed's poll results, it's the worst one to buy. Nearly 23% of people dubbed it the brand they're least likely to grab. Hunt's offers a wide variety of canned tomatoes: diced, stewed, whole peeled, crushed. Some come with added flavorings, too, like Basil, Garlic, and Oregano or Fire Roasted. Surprisingly, many of the reviews of Hunt's canned tomatoes on Target's website are positive. However, of the negative reviews, many people claim that the cans were full of skins, peels, and cores that people had to pick out before using.
How did other major canned tomato brands stack up in comparison to Hunt's? Cento and Target's Good & Gather were both close seconds in terms of peoples' least favorite, earning 20.82% and 20.64% of the votes respectively. The Whole Foods 365 brand received 15.66% of respondents' votes, followed by San Merican with 14.06%. The canned tomatoes that were the best of the bunch based on the results were Bianco DeNapoli, which only 5.87% of people deemed the worst.