Why Kim Kardashian Is Getting Backlash Over Her Met Gala 'Diet'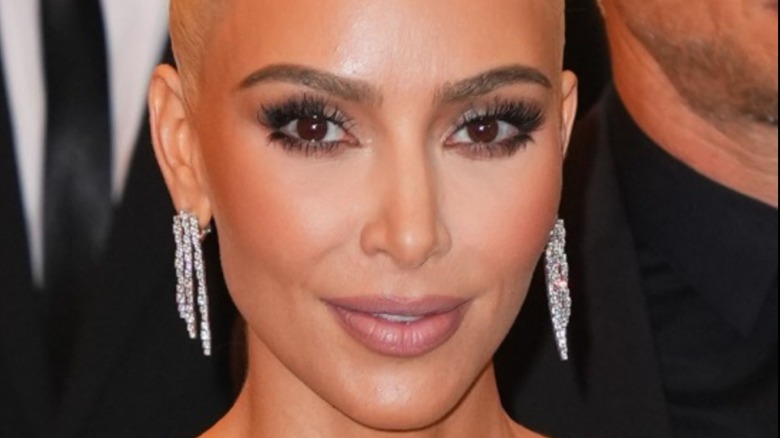 Credit: Gotham/Getty
The body positivity movement continues to grow — a refreshing departure from centuries of crushing pressure on people to be "perfect" at all costs. While Kim Kardashian has at many turns celebrated her own curves, she's currently under fire by many experts who are unhappy with how her recent exploits at the Met Gala might affect others. Kim's boyfriend, Pete Davidson, has struggled with emotional eating in the past, which makes the situation more concerning.
The crux of the problem is this: Kardashian wore a dress made famous by the also curvy Marilyn Monroe when she sang "Happy Birthday" in 1962 to President John F. Kennedy. The sheer stunner has since been kept under lock and key, most recently by Ripley's Believe it or Not! in Orlando, Florida, says Glamour. Although some are peeved that she would dare to wear this iconic piece of fashion history, most of the agitation comes from how she got into the gown in the first place.
Apparently, Kardashian considered herself similar in physical proportions to Monroe and was shocked when the dress didn't fit at first. "So when it didn't fit me I wanted to cry because it can't be altered at all," she said in an interview with Vogue. Not fitting into an outfit is a problem that many people can relate to, especially when it's for a special occasion. However, experts are unhappy with the reality star's methodology for getting into the gown.
How Kim Kardashian fit into Monroe's dress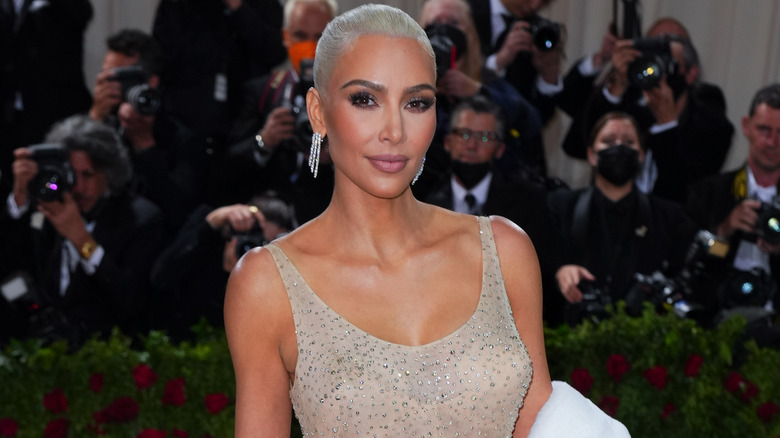 Gotham/Getty Images
Kardashian has only three weeks to lose 16 pounds, which she likened to an acting role and there are many examples of actors, including Jared Leto and Beyoncé, who've adjusted their weight for a part (per Glamour).
It's likely, however, that these actors had far more time to reach their weight goal. Since the SKIMS founder had a paltry three weeks to work with, she told Vogue that she turned to extreme measures. She "completely cut out all sugar and all carbs," wore a "sauna suit" twice a day, and ran on the treadmill. She ate "the cleanest veggies and protein," adding, "I didn't starve myself, but I was so strict." 
For perspective, the CDC recommends losing weight at a rate of one to two pounds per week, which would have required an eight-week lead time for Kardashian to achieve her goal.
Kim's extreme pre-Met Gala diet has caused alarm in the disordered eating community, especially since many people look up to her. In the words of one Glamour writer, "For those of us who have suffered through any form of disordered eating or are well versed in the undeniable and profound impact these stunts can have on the mental and physical health of millions, this is serious."
Interestingly enough, the internet is loving Kardashian's post Met gala meal.
If you are struggling with an eating disorder, or know someone who is, help is available. Visit the National Eating Disorders Association website or contact NEDA's Live Helpline at 1-800-931-2237. You can also receive 24/7 Crisis Support via text (send NEDA to 741-741).