Here's What Kentucky Derby Guests Will Be Eating On Race Day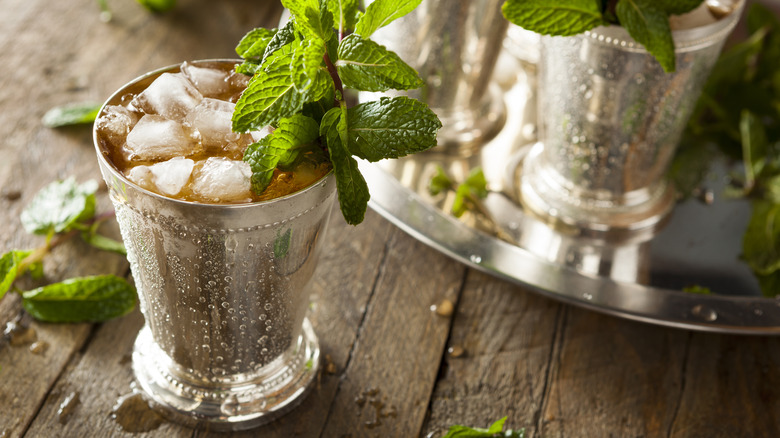 Brent Hofacker/Shutterstock
It's a horse person's dream to don a floppy hat and sip a mint julep in the stands as their auspiciously named steed of choice barrels around the track at Churchill Downs. The Kentucky Derby is by far the most well-known horse race of the year, as it sets the stage for the three-part American Triple Crown, per the event's website. Experts at ESPN are already narrowing down the top contenders ahead of this Saturday's 148th Derby — some of whom have positively Herculean names like Zandon, Pioneer of Medina, and Ethereal Road. (We're intimidated by the one called Cyberknife).
Unfortunately for the millions of racing fans out there, only around 150,000 people get the chance to watch "the most exciting two minutes in sports" in the flesh each year, and those who aren't able to snag tickets often host watch parties at home. This year, the lucky recipients of the racetrack's "Kentucky Derby At Your Door" sweepstakes will get a taste of the Derby's official menu without leaving their living rooms, but for everyone else, there's still time to plan a meal inspired by the dishes that will be served to Derby guests during tomorrow's big event.  
Benedictine, buttermilk, and plenty of pimento
"When creating this year's official on-site menu, I felt inspiration from the historical flavors rooted in the culture of Derby Day," said Chef Kenneth Hardiman in a press release. "Beyond the gates of the racetrack, I hope fans across the country can take these dishes to inspire their own at-home spreads." 
The 10-dish menu doesn't stray far from Southern tradition, but each dish features elements that elevate them beyond their picnic versions. To start, there's a lemon green bean salad with red onion, goat cheese, and lemon herb vinaigrette; a charred broccoli salad with cranberry, almond, and apple cider vinaigrette; a kale carrot salad with chickpeas, cucumber, and tomato ginger dressing; and a signature salad with butter lettuce, pear, roasted walnuts, and basil buttermilk dressing. 
On the heartier side, there's a bourbon sweet potato casserole with spiced pecan; creamed spinach with pimento cheese; butternut squash with baby kale and farro risotto; pan-fried chicken breast with pancetta, onion, and fennel cream; and braised short rib with an onion-y demi-glace (a rich brown sauce often used in French cuisine). If that's not enough for Derby goers, there's also a snack plate with pimento cheese, benedictine dip (the chef's favorite), flatbread crackers, and a charcuterie board.
Folks at home may not be inclined to make the whole menu for their Derby watch parties, but it might be fun to recreate a few dishes alongside a batch of juleps.