Kentucky Derby Chef Kenneth Hardiman Names His Favorite Classic Foods - Exclusive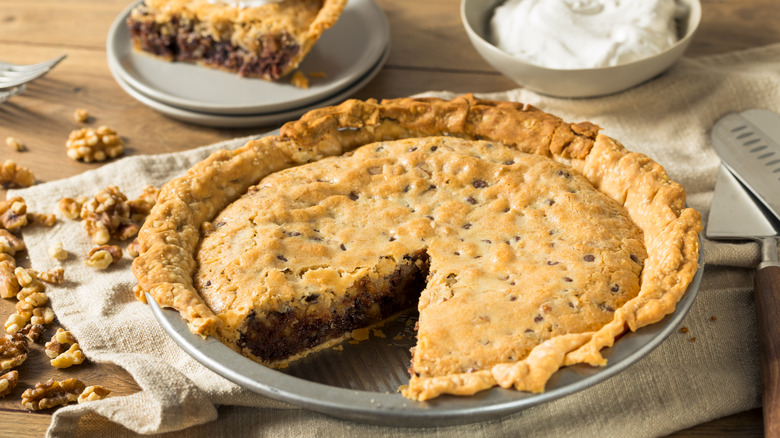 Brent Hofacker/Shutterstock
While there's no doubt that people come to the Kentucky Derby to watch the horse races (and perhaps win some money), there's also no question that they stay for the food and drinks. From burgoo to barbecue, bourbon to beer cheese, and Hot Browns to ham biscuits, the culinary tradition of the Kentucky Derby runs deep. Just ask Kenneth Hardiman, this year's lead chef, in charge of creating the official menu for Churchill Downs. Hardiman noted the food "goes hand-in-hand" with the Kentucky Derby experience.
The annual event known as "the most exciting two minutes in sports" is rooted in history, tradition, and mint juleps, of course. And, as Hardiman shared, at the end of the day, "it's entertainment." People travel far and wide, "coming from all across the world and United States, to get a sampling of what we can do and show off here in Kentucky," said the chef, adding that "guests are here to be seen, and having great drinks and food goes along with it." As he put it, "Every single year, there's a memory of something with the Kentucky Derby for those guests, and food is definitely attached and associated with that."
So what exactly does the Kentucky Derby's official chef like to munch on when the races begin? In an exclusive interview with Mashed, Chef Hardiman revealed his favorite classic Kentucky Derby treats, including savory snacks and decadent desserts.
Bourbon and Benedictine top the list of favorites for the Kentucky Derby Chef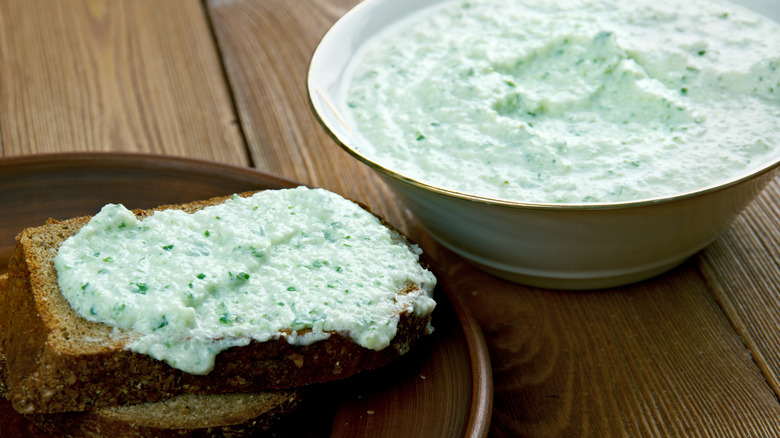 Fanfo/Shutterstock
Chef Kenneth Hardiman's Kentucky Derby favorites include both sweet and savory classics. When the horses hit the starting line and the big hats come out, Hardiman shared he can't get enough "pimento cheese," a southern staple made from shredded cheddar mixed with mayonnaise (preferably Duke's) and pimento peppers. This may sound like a strange combination to those who have never tried it, but any true southerner will swear by how delicious it is.
Another Kentucky classic that Hardiman loves is Benedictine, which is sure to make an appearance at the Derby every year. Invented by Louisville's culinary legend, Jennie C. Benedict, around the turn of the 20th century, Benedictine dip is originally made with cream cheese, the juice from grated cucumbers and onion, a little salt and cayenne pepper, and some food coloring to give it a signature green hue (via Louisville Courier-Journal). Modern iterations of the dip include adding in chopped veggies and herbs (via Southern Living), and even sour cream (via The Southern Lady Cooks).
As for sweets, Chef Hardiman said he prefers the Derby desserts with a Kentucky-style bourbon kick. His favorites include "bourbon balls," which are essentially no-bake chocolate truffles spiked with the liquor, and good old Derby Pie. The traditional dessert is basically "a pecan pie with chocolate and bourbon that's infused in it," explained Hardiman, adding, "Derby Pie is one of those traditions that comes every single year ... It's a great, luxurious dessert."
​​Check out recipes from the 2022 Kentucky Derby menu and more on the official website. TV coverage of the 2022 Kentucky Derby begins on NBC Saturday, May 7, at 2:30 p.m. ET.