Why You're About To See A Lot More Papa John's Locations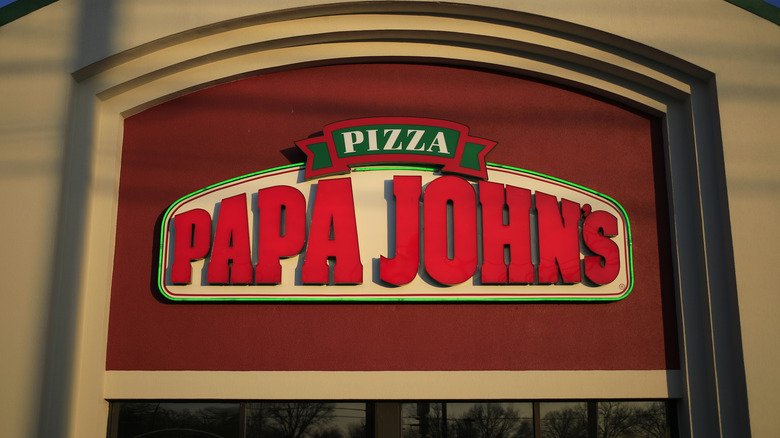 Bloomberg/Getty Images
Papa John's pizza lovers are about to get a whole lot happier. Carry-out and delivery pizza has been quietly having a moment since COVID-19 swept through the country. In fact, according to The New York Times, 2020 saw people eating a lot of pizza from Domino's and Papa John's. The media outlet goes on to explain that the two pizza chains experienced some serious revenue growth and eye popping sales. The growth was equal to the two chains selling 30 million more large cheese pizzas than they did in 2019. That's a lot of pizza boxes. In fact, the overall pizza industry saw a 4% increase in 2020, and it's still going strong. But what's driving this demand?
Maybe it's the convenience of this food, or, perhaps, it is just because we can't get enough of all that melted cheese, sauce, and chewy crust that has prompted us to order our favorite pepporoni, sausage, veggie, and cheese pizzas with great frequency. Now, with pizza sales going strong, Papa John's is ready to satiate our appetites and make it easier to gobble up those slices of 'za. Per Yahoo! News, 2021 saw Papa John's enter an agreement with Sun Holdings to open 100 new stores in Texas by 2029, and now, the data suggests we are about to see even more Papa John's franchises in the not-so-distant future.
Food delivery apps may be fueling growth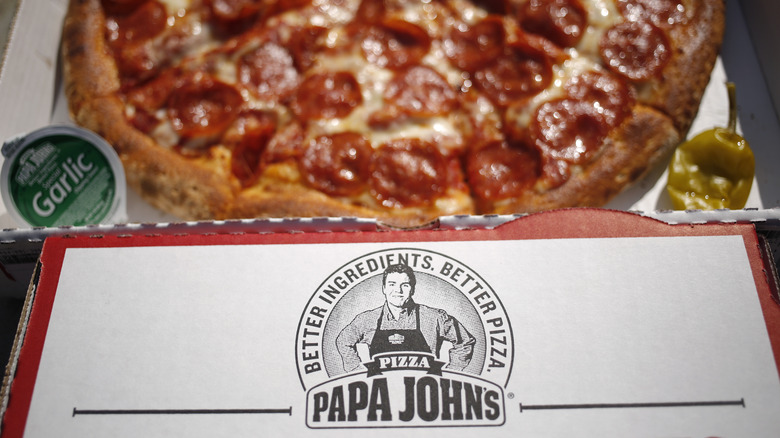 Bloomberg/Getty Images
Papa John's International, Inc. reported a blockbuster first quarter, according to a Businesswire press release. The pizza chain saw total company revenues up by 6% to $542.7 million. Same-store sales were en fuego, up 1.9%, and now, Papa John's is planning to open up anywhere between 1,400 and 1,800 new stores worldwide, according to CEO Rob Lynch. So, what's helping drive this increase in revenue, beyond the fact that most Americans like to eat pizza?
The answer could be as simple as the food delivery apps, like GrubHub and DoorDash, on your phone. In 2019, Papa John's decided to lean into third-party delivery services and embrace their power. Per QSR, Lynch noted in an earnings call that these delivery aggregators may be the differentiator. The pizza chain signed a deal with DoorDash, and as QSR reported, in 2020 alone, the company saw growth from these delivery services increase by "a factor of over three times." 
Furthermore, in a CNBC interview, Lynch explained that, unlike its competitors, Papa John's sees food delivery apps as an opportunity, saying, "Disruption obviously creates opportunity for those willing to dive in." Clearly, it's working, and we are about to see more Papa John stores pop up because of it.