Little Caesars Fans Want To See This Pizza Come Back More Than Anything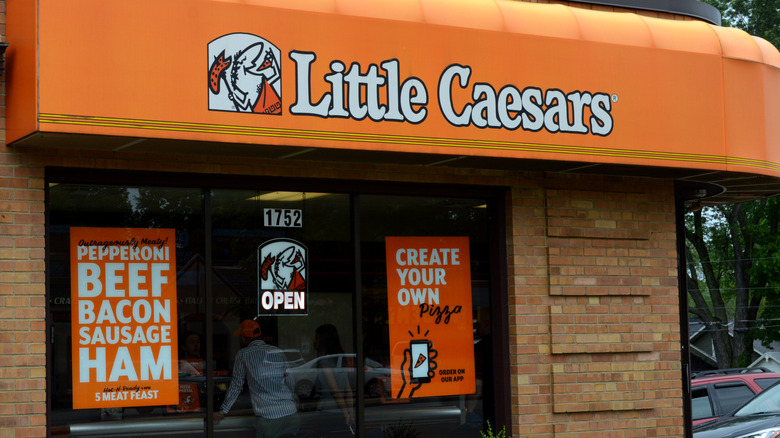 Eric Glenn/Shutterstock
You don't have to be a business major in college to know that scarcity creates demand, and trust us, the fast food industry knows that more than some others. If the customers had their way, the McRib would be a permanent staple of McDonald's menu, and Taco Bell's Nacho Fries would be a full-time item. But maybe the reason we covet these otherwise commonplace items so much is because of their limited-edition nature. To put them on the menu full-time would surely ruin the allure and the hype that's been painstakingly built around them, wouldn't it? To some Little Caesar's fans, it doesn't matter if their prize is limited-time or not; they just want it back.
In a May 5 tweet, the pizza chain said, "The day we bring back ___ should be a national holiday." Obviously, this tweet is meant to be filled in by its followers, who would tell them what they think the company should bring back. Naturally, there were some who wanted back items such as the BBQ Smokehouse Pizza or the monstrous "Pizza by the Foot," which, as its name implies, was nearly three feet of pizza. There's a wide selection of items Little Caesar's pizza fanatics could choose from. 
But most of the comments rallied for the return of one treasured item that's both salty and cheesy. 
Fans are demanding for the Pretzel Crust Pizza
For those who may not know what the pretzel crust pizza is, it's a "buttery-flavored" soft pretzel crust topped with cheddar cheese sauce, mozzarella, muenster, and pepperoni (via Chew Boom). The pizza, aside from its unique crust, is most notable for being a limited-time offer. In fact, it never stays around for more than a few weeks at a time. The last time the pizza was offered was back in February, according to Thrillist. Now, fans came out in droves in response to Little Caesar's tweet to let the chain know that they want it to return again.
"C'mon now, I'm barely hanging on, please don't tease me with this, you know we KNEAD the pretzel crust pizza back," said one user. "I'm dying over here waiting with such anticipation!!!"
"Pretzel pizza. Hands down best thing y'all ever dropped," proclaimed another user. "You know what you're doing and you know we need the pretzel crust pizza back ASAP!!!!" exclaimed a third user. "Just put it on your menu permanently already!!!!!"
Strangely, Little Caesar's responses to these comments bordered on enigmatic. One of their responses, for example, was simply "Maybe one day...." followed by a thinking emoji and a pretzel emoji. Another response announced that the Pretzel Crust Pizza will "always have a 'slice' of [their] heart."
While it's unclear if the Pretzel Crust Pizza is coming back in the near future, it is clear that there is a large fan demand for its return.