Ina Garten Is Back In Paris And Instagram Is Loving It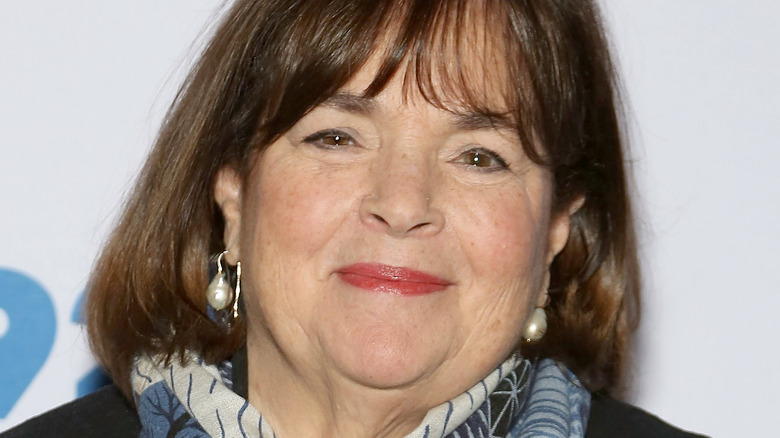 Manny Carabel/Getty Images
Many people likely associate Ina Garten with the Hamptons, not only because the posh New York beach town was the location of the specialty food store she purchased after leaving her White House job in the late 1970s, per her website, but also because it's where her "Barefoot Contessa" show is filmed. According to Showbiz Cheat Sheet, Garten and her husband, Jeffrey, have lived in the area for nearly half of their lives. However, as die-hard fans of the lovable home cook likely know, the couple has long considered Paris, France, to be their second home.
Per Insider, the Gartens once shared with MSNBC that they made their first trip to the City of Light in 1971 — though their visit looked much different then than it does now. Back then, they had just $5 to spend for each day of their four-month vacation and camped out in a "Day Glo orange tent that you couldn't stand up in." These days, on the other hand, they stay in the pied-à-terre in the city's 7th Arrondissement that they purchased in 2000, according to Food Network. Since then, the couple has regularly retreated to their property across the pond several times a year, including on their anniversary. But when the coronavirus pandemic began in 2020, their visits were quickly put to a halt. Today, however, Garten revealed on her Instagram page that she and her hubby have finally made their way back to their home away from home, and fans are more than happy to hear about their long-awaited return.
This café was the Gartens' first stop on their Paris vacation
Ina and Jeffrey Garten are back in the French capital for the first time since the pandemic began, and what better way to mark the occasion than with a post to Instagram? Taking to her account on May 9, the Barefoot Contessa wrote: "OMG back in Paris after 2 ½ years in the rabbit hole! Granted, it wasn't a terrible rabbit hole but when you can't safely leave home, anywhere starts to feel a little claustrophobic. It's so good to be here and everyone is so happy!" Fans and friends of the cookbook author seemed happy, too, as many took to the comments section of her post to send the couple well wishes for their first Parisian adventure in nearly three years. "How great! We will all live vicariously through you! Have a wonderful time!" wrote filmmaker Nancy Meyers, whose past work has been inspired by the Food Network star. "How fabulous is that?!" quipped another fan.
Garten's note was also accompanied by a photo of her longtime love, which she snapped while the pair dined on chips and rosé at Café de Flore. The meal is slightly different than their typical order, which the cookbook author once explained on her website was "an omelet, a green salad, and a glass of Champagne." However, being that the couple will be in the city for two weeks, we wouldn't be surprised if they venture back to their favorite place for their go-to bite to eat.