Roasted Brussels Sprouts Recipe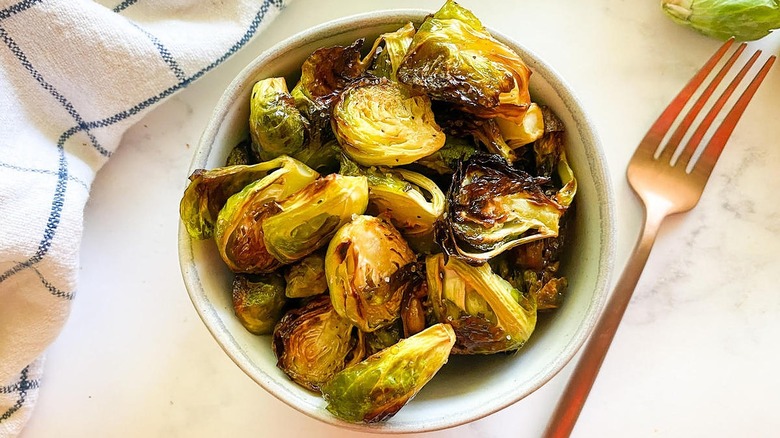 Miriam Hahn/Mashed
Some people love Brussels sprouts. Others hate Brussels Sprouts. And a small margin of people fall into the "meh" category. For whatever reason, Brussels sprouts have become one of the most polarizing vegetables, but there's really no denying how well they fit on a dinner table next to steak, fish, or chicken. It's tempting to dress your sprouts up with an abundance of oil or seasoning, but a simple preparation is perhaps the best way to go. Take, for example, recipe developer Miriam Hahn's roasted Brussels sprouts recipe; it only requires a handful of ingredients, yet the result is simply delicious.
"My favorite thing about this recipe is the blend of savory and sweet flavors," Hahn describes. "That [and] the crispy texture make these a delicious side dish!" And, as the name suggests, these sprouts are roasted, which adds lots of flavor and texture. "I love oven roasting these because they get tender on the inside and crispy on the outside," Hahn explains. While she notes that you could pull out the air fryer to roast the sprouts, she keeps things easy by using an oven. But the results will speak for themselves.
Gather the ingredients for roasted Brussels sprouts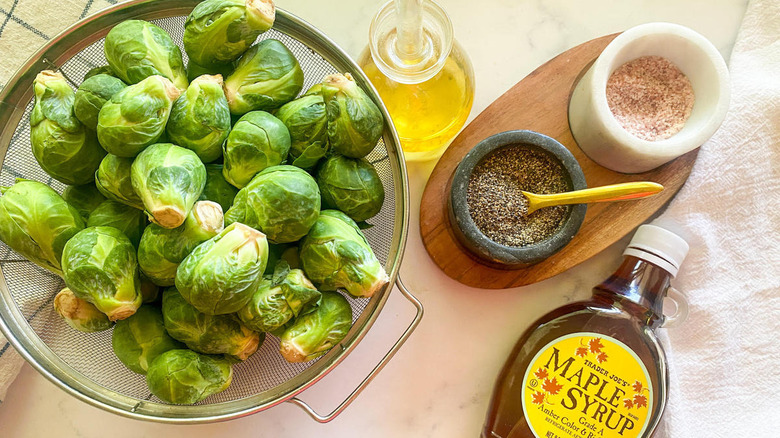 Miriam Hahn/Mashed
As we've already mentioned, this recipe requires only a few ingredients, including 2 pounds of Brussels sprouts ("when you first look at 2 pounds of sprouts it feels like a lot, but they shrink down quite a bit," Hahn notes), cooking oil, salt, pepper, and maple syrup. While those first four ingredients seem pretty standard, you may be questioning what maple syrup is doing on this list. According to Hahn, however, it has a solid reason: "The maple syrup adds the hint of sweet but also coats the Brussels sprouts, helping them crisp up."
Wash and chop the Brussels sprouts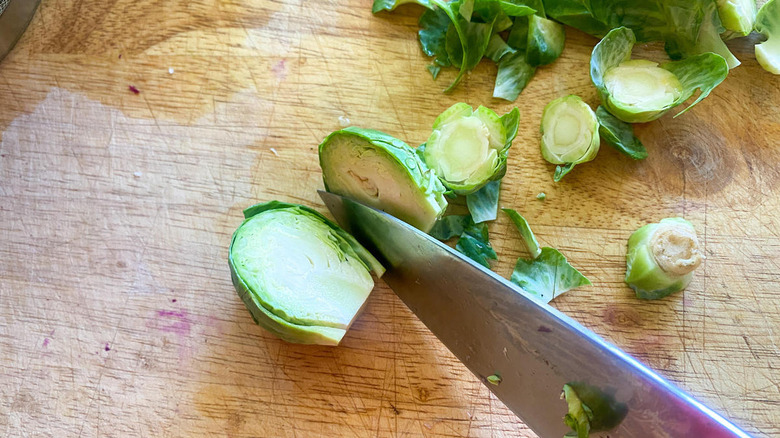 Miriam Hahn/Mashed
To get started on this recipe, you'll first want to preheat your oven to 400 F. Now, it's time to focus on the Brussels sprouts themselves, so wash them thoroughly. Cut the ends off each sprout, then cut them in half lengthwise. Pull away the outer leaves of each sprout, which will likely already be falling off anyway.
Season and arrange the sprouts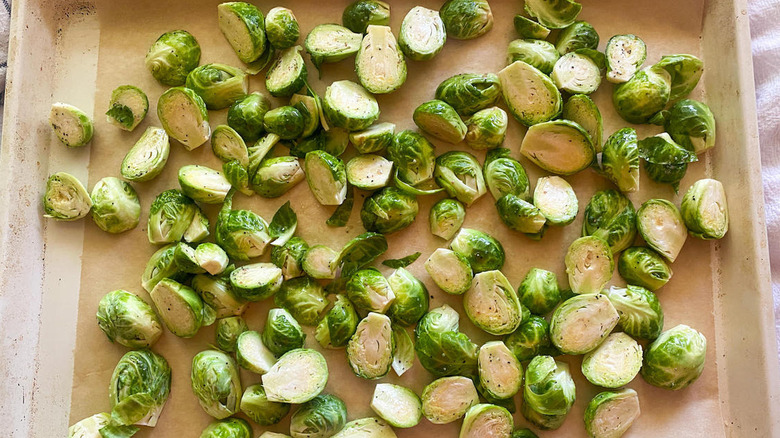 Miriam Hahn/Mashed
Once all of the sprouts are trimmed and chopped, put them in a large bowl. Drizzle in the oil along with some salt and pepper. Stir the sprouts so that they're evenly coated. Line a baking sheet with parchment paper (or spray it with cooking oil) and lay the sprouts out in an even layer across the sheet.
Bake the sprouts and drizzle on the maple syrup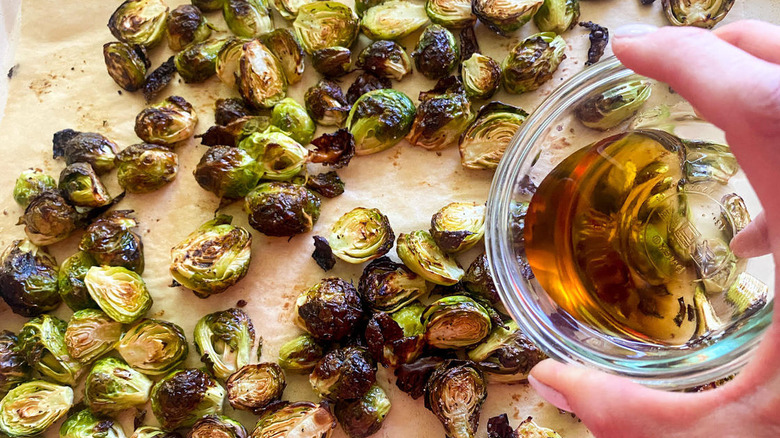 Miriam Hahn/Mashed
Bake the Brussels sprouts for an initial 15 minutes, then pull them out of the oven, stir, and bake them for 8 more minutes. At that point, take them out of the oven once again and drizzle on the maple syrup. Toss the sprouts so they each have an even coating of syrup, then sprinkle on a bit more salt. Return the sprouts to the oven, this time for 3 to 5 minutes, depending on your desired level of crispiness. 
Serve and enjoy your roasted Brussels sprouts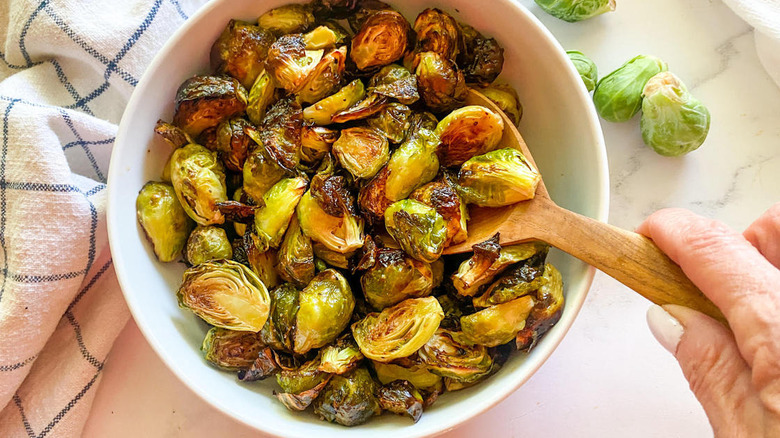 Miriam Hahn/Mashed
Now that the Brussels sprouts are crispy and roasted, there's nothing left to do besides serve and enjoy them. "You can pair these with anything off the grill, pasta, lasagna, sandwiches, or wraps," Hahn suggests. "If you have leftovers they are great to add to a buddha bowl, veggie scramble, or an omelette." Speaking of leftovers, you can easily reheat them in the oven or in an air fryer.
Roasted Brussels Sprouts Recipe
Some claim to hate Brussels sprouts, but maybe they just haven't had them like this. This recipe yields crisp, sweet-and-salty sprouts sure to win anyone over.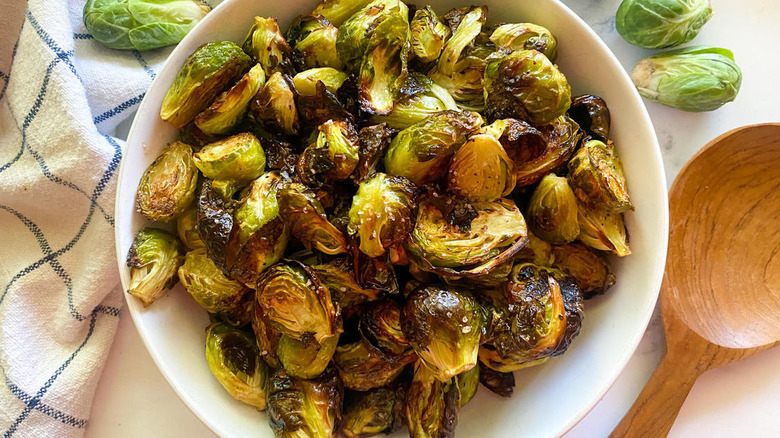 Ingredients
2 pounds Brussels sprouts
3 tablespoons cooking oil (e.g. canola, vegetable)
1 teaspoon salt, divided
¼ teaspoon pepper
3 tablespoons maple syrup
Directions
Preheat the oven to 400 F.
Wash the Brussels sprouts.
Cut off the sprouts' stems, then cut each sprout in half lengthwise. The outer leaves from each half should pull away easily; discard them.
Put the sprouts in a large bowl and add the oil, ½ teaspoon salt, and pepper. Stir to combine.
Lay the Brussels sprouts on a baking tray that has been lined with parchment paper (or has been sprayed with cooking spray). Bake for 15 minutes, stir, and bake another 8 minutes.
Remove from the oven. Add the maple syrup and remaining salt. Toss to coat, then put back in the oven for 3 to 5 more minutes (depending on how crispy you want them).
Serve and enjoy.
Nutrition
| | |
| --- | --- |
| Calories per Serving | 153 |
| Total Fat | 7.5 g |
| Saturated Fat | 0.6 g |
| Trans Fat | 0.0 g |
| Cholesterol | 0.0 mg |
| | |
| --- | --- |
| Total Carbohydrates | 20.3 g |
| Dietary Fiber | 5.8 g |
| Total Sugars | 9.4 g |
| Sodium | 391.4 mg |
| Protein | 5.1 g |