25% Agree This Seafood Restaurant Has The Worst Side Dishes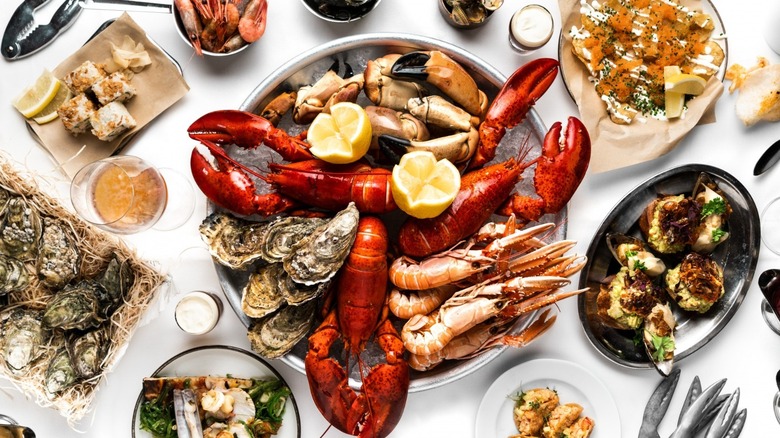 Kristi Blokhin/Shutterstock
When you're heading out to a nice seafood restaurant, there's a good chance that the first thing on your mind is the main dish itself, whether you're craving a steamed lobster dripping in melted butter, a fluffy crab cake, or a filet of fresh tilapia. However, the side dishes can just as much make or break your meal. According to What's For Dinner, certain dishes complement certain seafood better, based on the textures and flavors. It recommends eating salmon with grain-based sides such as quinoa with kale and eating crabs with leafy veggies and citrus-infused salads — you get the idea. 
While there are some staple sides at almost every restaurant — like steamed veggies, rice, French fries, or baked potatoes — many places also have their own signature sides. Red Lobster has its creamy lobster bisque, for instance, while Bonefish Grill has its indulgent bacon mac and cheese. Which popular seafood restaurant has the worst side dishes on the menu? To get a sense of what the public thinks, Mashed polled 562 people across the United States. Here's which chain a quarter of respondents probably wouldn't visit for the side dishes alone.
Arthur Treacher's was the least favorite pick for sides
According to Mashed's poll results, respondents named Arthur Treacher's Fish and Chips as the seafood restaurant with the worst side dishes. Some 25.09% of people dubbed it their least favorite of the choices available. The fast food chain once had more than 800 locations around the country, but now only has one location remaining in Cuyahoga Falls, Ohio (via News 5 Cleveland). Known for its fried fish, its side dish offerings include chips (which we know in America as French fries), hush puppies, coleslaw, onion rings, or mozzarella sticks. Customers can also opt for a side of clam chowder if that's more their style.
As for how the other popular seafood restaurants compared to Arthur Treacher's? In second place for the worst sides was Red Lobster, receiving 21.53% of the votes. It was followed by Bubba Gump Shrimp with 16.01%, Bonefish Grill with 14.23%, and Joe's Crab Shack with 12.99%. Ocean Prime earned just 10.14% of respondents' votes, making it the spot with the best sides from Mashed's poll.