US Aldi Customers Will Be Jealous Of The Supermarket's British Ice Cream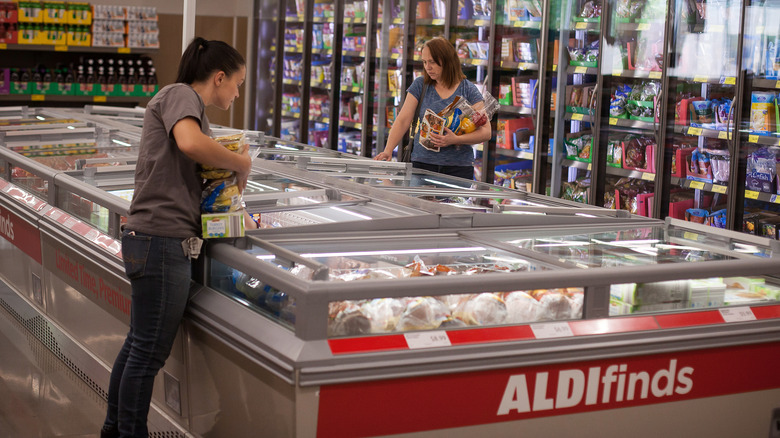 Bloomberg/Getty Images
Summer is almost here, and that means that many of us have one thing on our minds: the cooling, sweet, and delectable powers of a good ice cream treat. There are those who fawn over the gourmet, super-premium ice creams like Jeni's Ice Cream, but the nostalgia of ice cream novelties you wouldn't be surprised to find served from an ice cream truck is sometimes stronger than the desire for something gourmet. But you don't have to flag down an ice cream truck to get your hands on one of those nostalgic treats — just go to Aldi.
Aldi, the affordable European grocery store chain that's now in the U.S., always seems to have at least some ice cream novelties in its frozen aisle. Aldi fans practically melted over this Instagram post of holiday ice cream pops the chain sold in December, and now it's selling a new seasonal ice cream novelty that's bound to get fans hungry: Gianni's Doughnut Ice Creams (via Instagram).
Aldi's doughnut ice cream lollies sound so good
The Gianni's Doughnut Ice Creams at Aldi appear to come in three flavors: milk chocolate, white chocolate, and pink chocolate (via Instagram). The ice cream itself is vanilla, shaped into a ring and dipped in chocolate. The chocolate is covered in sprinkles, and the whole treat is served on a stick so that your hands don't get sticky. Each package comes with two milk chocolate-covered bars, and two of either pink or white chocolate. They're sort of like the new Klondike Donuts that everyone was talking about but on a stick. The only catch? This fun summer sweet is only available in the U.K.
The Aldi Doughnut Ice Creams are sold in a four-pack for £2.29, but customers in the U.S. who are interested in trying them will have to add the hefty price of a transatlantic flight ticket to their total. There weren't many reviews of the product on social media yet that we could find to help determine if the journey is worth it, but one Instagram commenter did say, "They are tiny but the kids liked them!" Maybe someday Aldi stores in the U.S. will start selling doughnut ice cream treats, but a trip to the U.K is sounding pretty delicious right about now.