Why You Should Make The Mint Julep Your Go-To Memorial Day Cocktail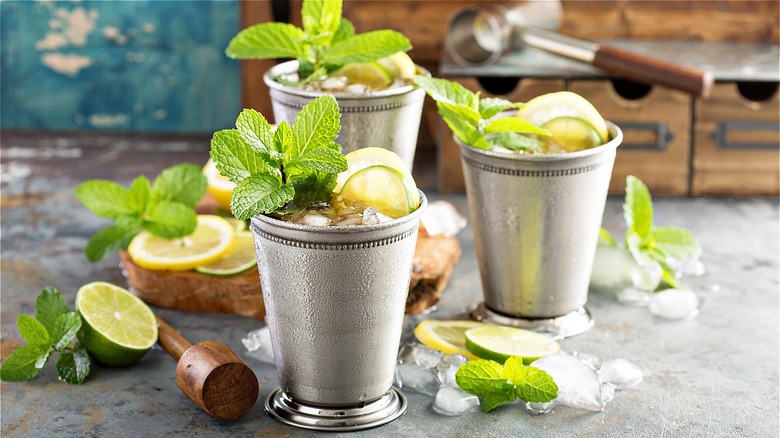 Elena Veselova/Shutterstock
If you missed out on drinking your annual mint julep on derby day this year, there's no reason to worry. Of course, drinking the bourbon cocktail has become as synonymous with celebrating Kentucky's most famous horse race as wearing one of those extravagant, frilly hats. It turns out the drink's connection with the race goes back decades. Sarah Brown Meehan, the director of lifestyle communications at Churchill Downs, explained to Good Morning America the association between the julep and the derby became official in 1937 when Churchill Downs offered the iconic drink in a souvenir cup.
But, the roots of the mint julep are much deeper. John Douglass, beverage director at Kitchen Table on the campus of James B. Beam Distilling Co., told Food and Wine that references to juleps of the medicinal variety go as far back as the year 900, and the drink may have originally descended from another cocktail called the Sling. 
If you enjoy sipping on mint juleps, get ready for some good news. Another excuse to mix one up is right around the corner!
National Mint Julep Day is May 30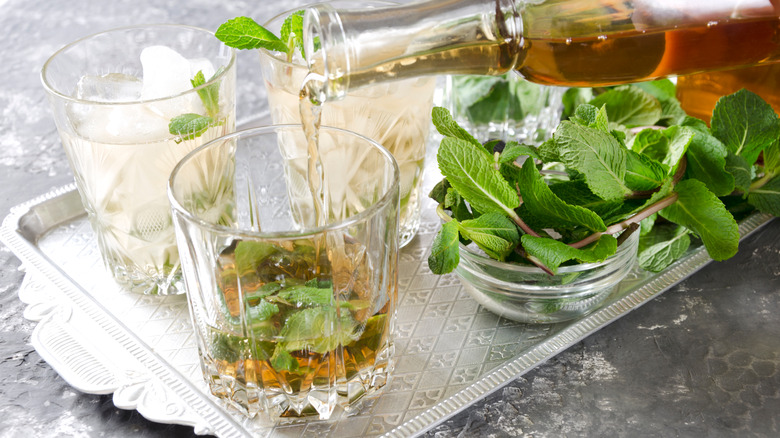 Piece of Cake/Shutterstock
This year, National Mint Julep Day falls on May 30, and if you're looking at a calendar, you already know that Memorial Day is on that same day this year. According to National Day Calendar, National Mint Julep Day is exactly what it sounds like, a whole day dedicated to enjoying the refreshing cocktail! The festive occasion even has its own hashtag — #MintJulepDay.
If you're looking to get in on some mint julep-making action this Memorial Day, there are some ingredients you'll need to gather first. Mashed spoke to recipe developer Michelle McGlinn to find out what goes into her classic version of the iconic drink, and she recommends using spearmint leaves, simple syrup, bitters, and bourbon. Of course, if you really want to impress your guests, you'll also need to get your hands on some silver cups that a mint julep is traditionally served in. 
If, on the other hand, you'll be taking advantage of the long Memorial Day Weekend to do a little traveling, Southern Living, along with the help of Yelp, has put together a list of the best mint juleps you can find on your travels from sea to shining sea.