The Real Reason Mint Juleps Are Traditionally Served In Silver Cups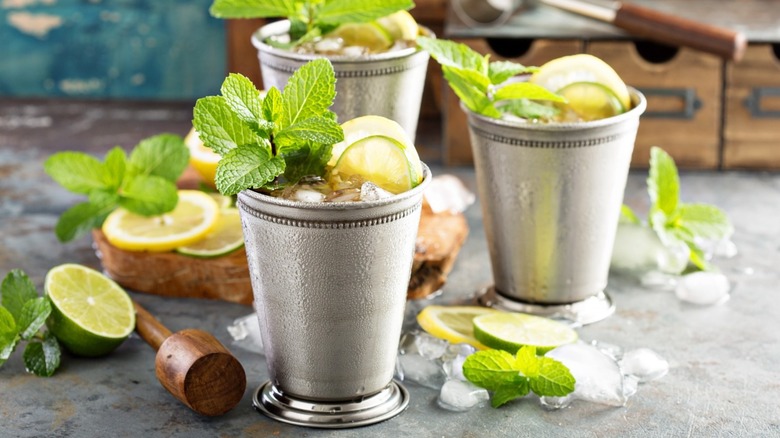 Elena Veselova/Shutterstock
When it comes to cocktails, sometimes the type of glassware a drink is served in is just as important as the drink inside it. A Moscow mule should always be served in a copper mug, which allows it to stay ultra cold even on hot days (via Home Wet Bar); a classic martini glass adds pizzaz to a drink that's basically just straight gin or vodka with a kiss of vermouth; and even a cheap bottle of red wine will taste better in a proper wine glass that enhances its aromas before you take a sip than it would from a red plastic cup.
If you've ever ordered a mint julep before, then you might have noticed that it's traditionally served in a shiny silver cup. The classic mint julep recipe, which is made with fresh mint, sugar, and bourbon or rum and served over crushed or shaved ice, is a favorite at the Kentucky Derby each year. What Kentucky Derby guests will be eating on race day pales in importance to what they're drinking. In fact, it turns out that the reason why the mint julep cocktail is served in a silver cup to begin with has more to do with the race itself than making the drink taste better.
The silver cup goes back to the Kentucky Derby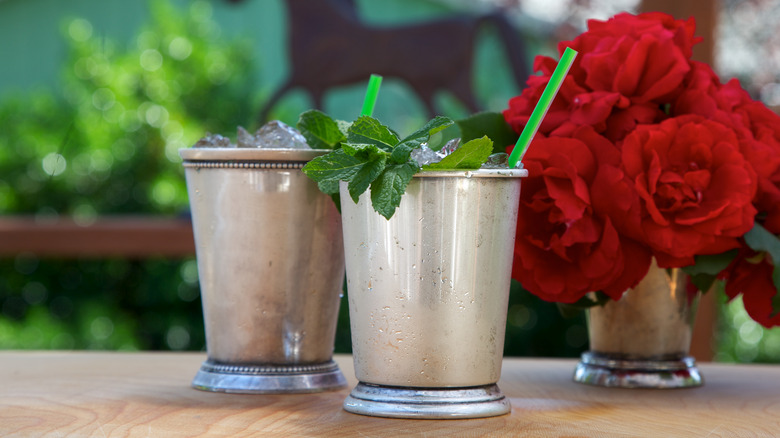 Julie Vader/Shutterstock
For those not in the know, the Kentucky Derby is a yearly horse race that takes place at the Churchill Downs Racetrack in Kentucky. Everyone dresses up in fancy outfits, and the elaborate hats worn by those in the stands are actually legendary (via Forbes). It can be quite hot in Kentucky on the first Saturday in May when the race takes place, and what better way to beat the heat than with an ice-cold mint julep served in a silver cup?
But there's another, dare we say even more important, silver cup in play during the derby: the one the jockey who wins the race will be awarded. Apparently, the silver cup trophy directly influenced the way the mint julep cocktail is served. "It stems from the tradition of jockeys winning silver cups as trophies, which started around the same time the mint julep was becoming popular at the Kentucky Derby," Elizabeth McCall, the assistant master distiller at Woodford Reserve, shared with HuffPost. 
Whether it's due to winning a horse race or ordering a cocktail from the bar, it sounds like anyone holding a silver cup at Churchill Downs during the Derby is bound to be in a good mood.