Why You Should Never Ask For An In-N-Out Burger With Everything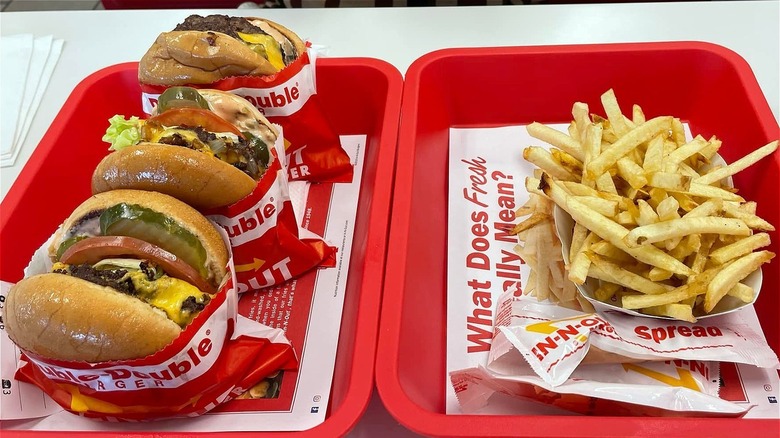 Credit: Gail Tobe
You're probably drooling over the thought of a perfect In-N-Out cheeseburger with fries right now. It's understandable; In-N-Out is a classic burger and milkshake joint on the West Coast that serves up all different kinds of cheeseburgers, hamburgers, fries, and shakes. It's a joint you have to visit when you're on the West Coast and it's the perfect meal for those of us lucky enough to already be near one.
In-N-Out's website says they have provided us with mouth-watering burgers since the 1940s. Its first burger was served in California by husband and wife duo, Harry and Esther Snyder. Ever since then, In-N-Out has been satisfying all our cravings when it comes to a good old fashion juicy burger.
Although In-N-Out started out with a simple burger and fries order, things have changed since the 1940's and the restaurant has expanded to have not just a short menu with plain cheeseburgers and hamburgers as your only option. It also has what they call a "Not So Secret Menu" and countless options for what goes on your perfect burger and fries.
Because they have expanded their menu, it can become a bit confusing when it comes to ordering that perfect burger. Contrary to popular belief, a burger with "everything" doesn't necessarily give the right connotation.
Confusion from the word everything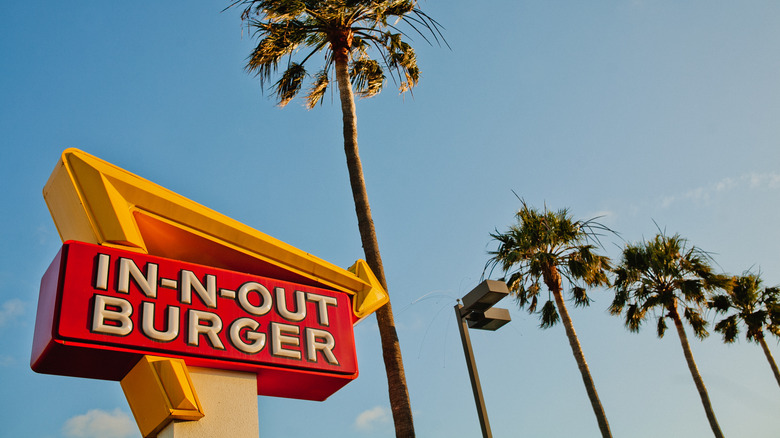 Ganna Tokolova/Shutterstock
According to an In-N-Out employee on Reddit, ordering a burger with "everything" can be a little confusing for the people taking the orders. The user writes that asking for a burger with everything "might confuse your order taker since we can't know for sure if you are including onions, pickles, chiles, etc, or not."
Even though the burgers are shown with different toppings on their menus and photos, according to In-N-Out's website, the standard toppings for an In-N-Out burger are spread, tomatoes, and lettuce. Employees always ask if you also want onions on the burger, since that is also shown as a topping on the menu.
In-N-Out's menu is so expansive that they could include countless toppings when it comes to "a burger with everything." Your idea of "everything" may be very different from our idea of "everything" which is different from the employee's idea. 
Our advice when it comes to ordering your ideal In-N-Out burger is to read the menu and have an idea of what toppings would make your burger the best burger. Then when it comes to ordering that burger, be ready to be specific about what you do and do not want on it. No one is going to be upset by someone who knows what they want.
So study up the In-N-Out menu, figure out what toppings are best for you and your In-N-Out experience, and don't forget to try their animal-style fries and a chocolate milkshake while you're there!