Popeyes Is Celebrating National Buttermilk Biscuit Day With A Sweet Deal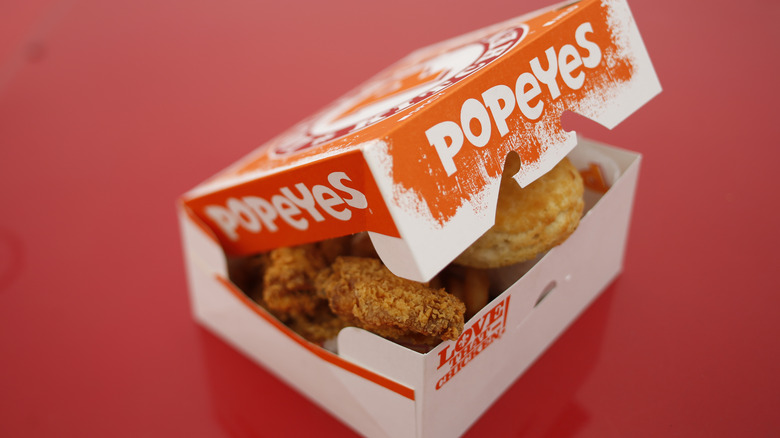 Bloomberg/Getty Images
Popeyes' famous jangle might say "Love that chicken from Popeyes" (via YouTube), perhaps somewhere out there, a person is singing the praises of another item on the Lousiana Kitchen's menu. Ahat unofficial jangle might go something like this: "Love those biscuits from Popeyes." Popeyes' buttermilk biscuits debuted in 1983, and according to the chicken chain's Twitter account, "In some ways, the world has never been the same again."
We'll leave it to biscuit historians to evaluate how accurate that tweet is in general. But if history had gone differently, maybe we wouldn't live in a world where a person can have biscuits and chicken stuck to their head like edible hair to form the so-called "Popeyes biscuits cut" (via Instagram). Maybe it wouldn't be a world where Popeyes confuses U.K. customers by offering "biscuits," which Brits would understand to mean what Americans know as "cookies." And maybe Popeyes wouldn't be celebrating National Butter Milk Biscuits Day with a deal for some of the world's biscuit lovers.
Certain GrubHub orders will get a free biscuit with purchase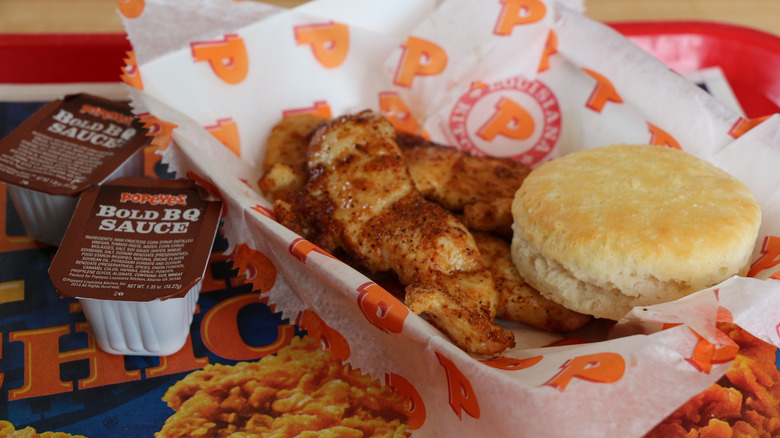 Deutschlandreform/Shutterstock
May 14 is National Buttermilk Biscuit Day. While some sources simply call it National Biscuit Day, others, like the site Days of the Year, say "National Biscuit Day falls on May 29. Either way, Popeyes is marking this occasion with a promotion focusing on the food that it implied has changed the world. According to Eat This, Not That! the chain will be giving out a free biscuit with a purchase of $15 on GrubHub. But the deal grows with the price tag – to a point — orders of $18 or more get six free biscuits and orders of $25 or more get 12 free. 
Something that has changed is the shape that Popeyes biscuits might take for the holiday. Back in 2019, the chain's flaky baked side seemed to embody the idea of a biscuit love, coming in the shape of a heart (via People). It's not quite the same as singing, "love those biscuits from Popeyes," but the Popeyes head chef, Amy Alarcon, explained, "With our buttermilk biscuits at the heart of our menu, it only made sense to celebrate with heart-shaped biscuits." But whatever shape it takes, it appears Popeyes continues to heart its biscuits.