Ina Garten Gives Fans Sweet Glimpses Of The 'Best Specialty Food Store In The World'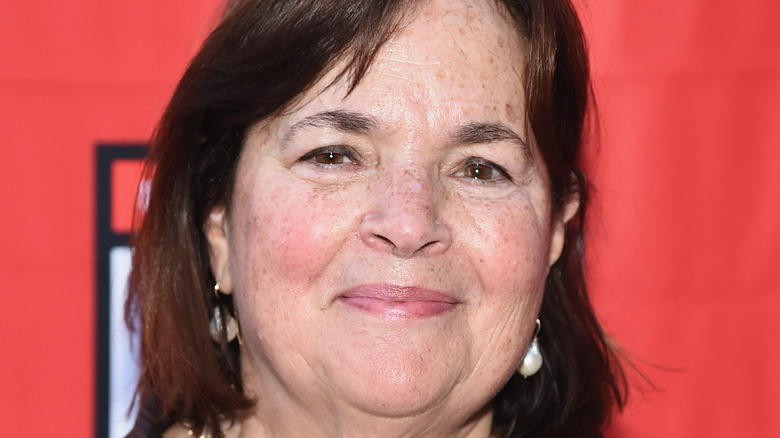 Michael Loccisano/Getty Images
After having to spend more than two years away from her home away from home due to the coronavirus pandemic, Ina Garten is back in Paris. The French capital holds a special place in the Food Network star's heart, not only because it's where she and her husband Jeffrey have celebrated a number of wedding anniversaries, but also because it's where she realized she wanted to learn how to cook. Garten knew she wanted to recreate dishes like the French classic, coq au vin after she and Jeffrey first visited the city in 1971. "I heated it up on my little camping gas stove and I thought, this is the most delicious thing I've ever eaten in my life. I need to know how to make this," the Barefoot Contessa recalled during an interview with MSNBC, according to Insider.
Upon returning home from the trip, the celebrity chef began learning her way around the kitchen, and the rest, as they say, is history. She has become a beloved figure in the culinary world, releasing 13 cookbooks along with hosting her wildly popular Food Network show, "The Barefoot Contessa." Of course, Garten and her hubby have continued to visit Paris over the years as well, and now that they've made their long-awaited return, they're making sure to hit up all of their favorite spots in the city, including La Grande Épicerie, which Garten declared in an Instagram post that it's "the best specialty food store in the world."
Here's what Ina Garten picked up for lunch from La Grande Épicerie
As the former owner and operator of a specialty food store herself, we certainly trust Ina Garten when she says that La Grande Épicerie in Paris' 7th Arrondissement is the best in the world. However, even if she didn't have the experience to back up her claim, the photos she snapped during her recent visit to her "local grocery store" in the French city could have easily been enough to convince us of her glowing review in which she claimed the shop has "every imaginable wine and food you could want." In an Instagram post on Saturday, May 14, Garten shared four images showing off the various goodies she spotted at La Grande Épicerie, including one of the scrumptious-looking tomato tarts she had for lunch. Excuse us while we go catch the next plane to France.
Fans of the Barefoot Contessa showed love on the Instagram post from her two-week-long Parisian vacation, which has amassed over 128,000 likes and nearly 1,880 comments thus far. "You are making this irresistible," one user wrote. "I would've skipped the tomato tarts and gone straight for dessert!" quipped another fan. Several other followers tagged their friends to clue them in on Garten's favorite specialty food store abroad, while Instagram user @ramtanj incited one of Garten's famous lines from her culinary career in their comment, writing "store bought's fine too indeed!" In the case of La Grande Épicerie, it certainly appears so!