Why You Should Put Cheese In Your Waffle Maker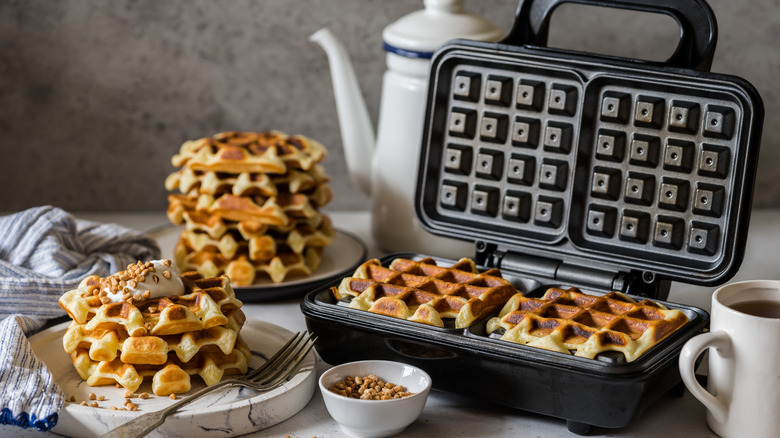 Tatiana Vorona/Shutterstock
Waffle makers are pretty useful tools when it comes to breakfast. Whether they're sitting on your counter by your microwave or you've just seen one in the hotel lobby during complimentary breakfast time, you can't deny that they're great at making crisp, fluffy, and buttery waffles. Granted, they can be a bit of a mess if you don't know what you're doing — especially if you took a crack at making Homer Simpson's Patented Space Age Out-Of-This-World Moon Waffles — but once you get the hang of it, you'll be making waffles all the time.
Nowadays, waffle makers aren't just good for making Saturday morning breakfast. You can make a wide variety of "waffle-fied" snacks and meals. Food Network, for example, suggests preparing a Waffle Brownie Sundae or maybe a dish of Waffled Biscuits and Gravy for breakfast. According to Pillsbury, you can even make a pizza tucked inside a big, fluffy waffle. There are a lot of things you can "waffle" if you have both the skill and the creativity to make it. 
One thing, however, that you probably didn't expect you could "waffle" is cheese, but you definitely can.
Cheese waffles are easier than you may think
Now, we know what you're thinking. "Melt cheese on my waffle maker? That sounds like I'm just making a mess." Melted cheese isn't exactly the cleanest thing in the world, but according to Lifehacker, making a cheese waffle is both easy and delicious.
The main reason for "waffling your cheese," Lifehacker explains, is that it both melts the cheese and forms a crispy outer crust around the soft interior. You'll want a cheese that either has a rind such as brie or something that's hard, "squeaky," and low-moisture, as a high-moisture cheese that melts at room temperature will ruin the inside of your waffle maker. A good cheese for this purpose is halloumi, a semihard Greek cheese that remains firm when heated.
To begin "waffling" the cheese, set your waffle iron to medium heat, then place one to two slices of cheese onto the iron. Close the lid of the iron and press down firmly, checking every 30 to 60 seconds depending on the type of cheese. Once the cheese is browned and melted, remove it from the iron. To do this, Lifehacker suggests using chopsticks to prevent scratching on the iron's surface and for lifting the cheese waffle out. You're then free to top your cheese waffle with anything from honey to nuts and fruits.
Cheese waffles can also come in the form of waffles that are savory by nature and have cheese in their batter rather than solely consisting of cheese, as explained by Love & Olive Oil. Still, in case cheese waffles aren't your thing, you can still enjoy using your waffle maker to make waffles with all sorts of incredible secret ingredients.