Instagram Adores Duff Goldman's Sweet Musical Moment With His Daughter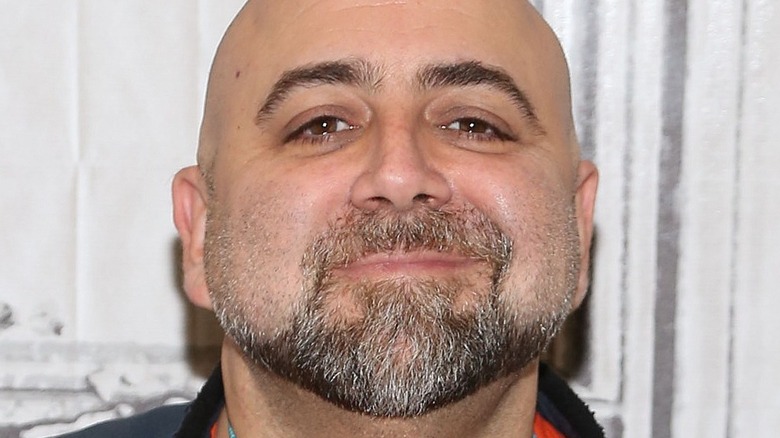 Manny Carabel/Getty
As a chef and renowned pastry whiz, it should come as no surprise that Duff Goldman has been spoiling his daughter, Josephine, with some of the yummiest food around. As seen on the "Ace of Taste" host's Instagram page, the 1-year-old has already had her fair share of pizza, cookies, and chocolate cake, the latter of which we're especially jealous of because her daddy let her eat it at breakfast time.
Getting his daughter hooked on sweet treats and other scrumptious goodies hasn't been Goldman's only mission during his first year of fatherhood; he's also been teaching Josephine a few things from his rockstar background as well. Just one day after her birth last year, the Food Network star revealed to fans that his first child was already infatuated with music. "Her first song was 'I'll Fly Away' by Allison Krauss," Goldman shared in an Instagram post on February 1, 2021, though noted that she'd also shown interest in a few other crooners including James Brown, Led Zeppelin, and the Barcelona Gipsy Klezmer Orchestra. "So we'll see where her musical tastes go," he added.
One place where Josephine's musical tastes — or rather, her dad's — have taken her is to Carter Vintage Guitars. Per another post to Goldman's Instagram page in mid-May, the youngster accompanied her pops to the Nashville-based guitar shop, where they had a sweet daddy-daughter moment that was captured on camera, much to fans' delight.
Fans are gushing over Duff and Josephine's guitar store trip
Duff Goldman's 1-year-old daughter Josephine appeared to have added another musician to her list of favorites recently. Her newest musical obsession? Her dad. During a recent trip to a Carter Vintage Guitars in Nashville, Tennessee, the youngster was snapped staring attentively at her father as he strummed on a bass guitar. We're no experts, but we have a feeling this is only the beginning of a lifetime of musical moments between the pair, especially since Goldman shared in the caption of his Instagram post that Josephine "had a blast" helping him pick out helped him pick out his newest stringed instrument — which, for those interested, was an "'82 p-bass."
In the comments section of the post, several people shared their appreciation for Goldman's music purchase. However, it was the aww-worthy snap of the baker and his daughter that truly captivated his followers. "This is absolutely adorable. I love it," one Instagram user wrote. "Oh such a cute moment in time. Cherish every minute," gushed another fan. Perhaps when Josephine is a bit older, we'll get to see her and her dad team up to play a few tunes. If they do, we think Ace of Taste of Cakes of Bass would be a perfect name for their band.