You've Been Making Tomato Soup Wrong This Whole Time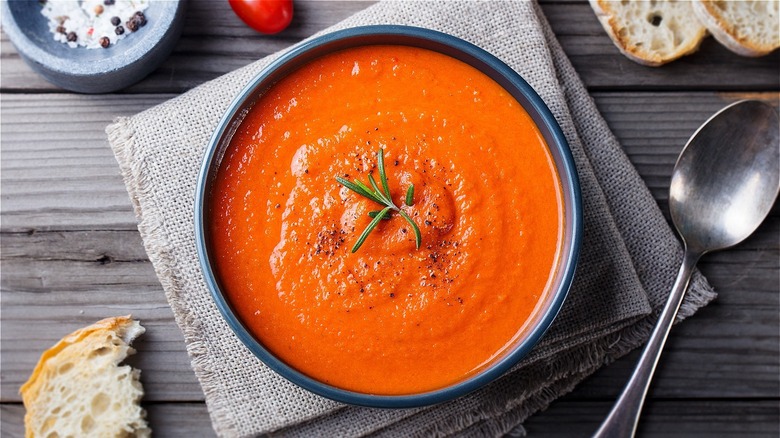 Anna_Pustynnikova/Shutterstock
There are few foods as comforting in the colder months as a bowl of tomato soup — extra credit if a crusty, buttery grilled cheese accompanies it for dunking! Though Campbell's helped make condensed and canned tomato soup a kitchen staple, solidified in American pop culture thanks to Andy Warhol, many home cooks may prefer to make it from scratch.
Tomato soup can be served hot or cold (gazpacho), smooth or chunky, as is or filled with pasta or meat. It can be made with fresh or quality canned San Marzano tomatoes, readily available at most supermarkets. Even Martha Stewart sanctions the use of canned tomatoes, which are a staple in her pantry. The nostalgic dish (or bowl, technically) can be prepared in no time at all by pureeing canned tomatoes with a few herbs and half-and-half; a 15-minute tomato soup recipe is gently heated on the stove before serving. 
Bobby Flay, on the other hand, takes a little more time to prepare his creamy roasted tomato soup recipe, served with a modern grilled cheese featuring fontina and mushrooms (yum!). Flay, the Food Network star known for his Southwestern cooking style and hit series, including the popular "Beat Bobby Flay," has been a fixture on food television for 25 years. Typically, he elevates comfort foods with a few tricks up his sleeve, and his ultra-creamy tomato soup is no exception.
Reduce the cream before adding it to tomato soup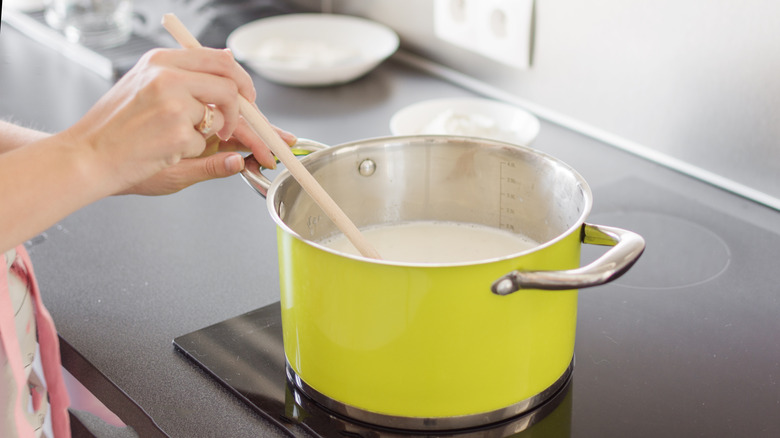 Inna Dodor/Shutterstock
The first thing Flay does in his tomato soup recipe that makes it stand apart from others, per Food Network, is roast the tomatoes. The Mediterranean Dish explains that roasted tomatoes are more concentrated and flavorful than raw tomatoes, making it an ideal cooking method, especially in winter months when tomatoes are out of season and flavorless. Roasting the fruit brings out their sweetness, too, and if that wasn't convincing enough, data suggests that cooking tomatoes actually increases the availability of an antioxidant called lycopene, rendering them even more nutritious.
Flay also thickens his tomato soup with cream, which isn't a new concept; however, he reduces the cream by simmering it beforehand, resulting in a luscious, thick soup that doesn't dilute the tomato flavor. Molly Stevens of Fine Cooking explains that cooking down heavy cream to half its volume causes the water to evaporate, creating a soft, rich texture. Flay's use of this technique sets his tomato soup recipe apart and may convince home cooks that this is the only way to make it from here on out. Now the only decision left to make is deciding if you want to go classic with a simple grilled cheese or try Flay's modern version with fontina and mushrooms. Life is tough!