We Tried Cheez-It's New Puff'd Scorchin' Hot Cheddar. Here's How It Went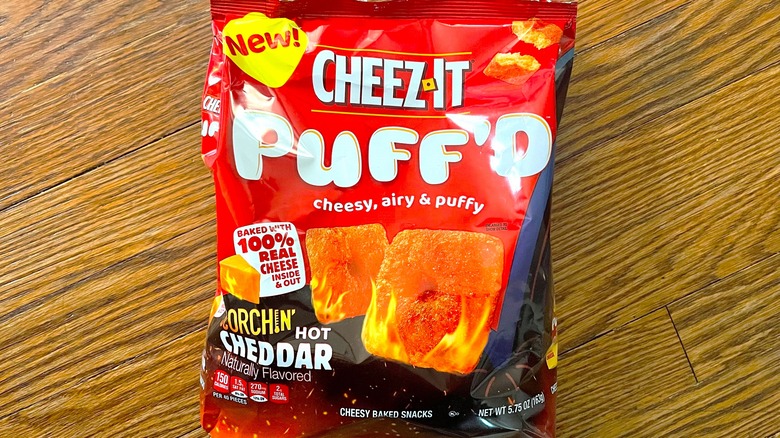 Amy Boyington/Mashed
We may receive a commission on purchases made from links.
If you're a fan of the Cheez-It brand and you like things a little spicy, then we've got just the snack for you to add to your pantry. The new Cheez-It Puff'd Scorchin' Hot Cheddar gives a new take on the original crackers, perfect for those who love a little airy crunch mixed with some tongue-tingling flavor.
Cheez-It surely has come a long way since its beginnings, turning 100 years old in 2021. The original baked treat was born from the Green & Green cracker company. It was originally called a "baked rarebit" to let consumers know that they could expect cheesy flavor from the new offering (via Smithsonian Magazine).
Today, the Cheez-It brand is so much more than its first beloved snack. It's given us some really out-of-the-box stuff like the Stuffed Cheez-It Pizza at Pizza Hut and a whole line of products that push the boundaries of what counts as a Cheez-It, like its Snack Mix and Grooves. But the Puff'd line — launched in early 2022 — offers a whole new way to enjoy Cheez-It. Are you dying to know how the Scorchin' Hot Cheddar variety stacks up? We've got the breakdown.
What's in Cheez-It Puff'd Scorchin' Hot Cheddar?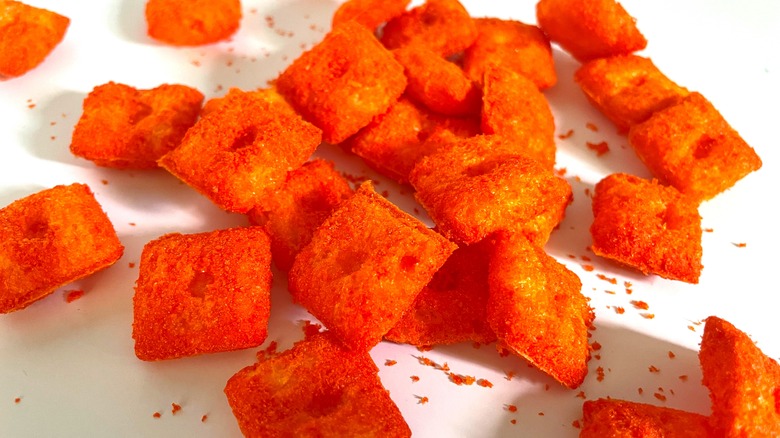 Amy Boyington/Mashed
The Cheez-It Puff'd bag states that the Scorchin' Hot Cheddar variety is "naturally flavored" and "baked with 100% real cheese, inside and out." What does that mean, exactly?
A look at the ingredients label shows that the main ingredients are de-germinated yellow cornmeal, vegetable oil, whey, and cheddar cheese. So, they do, in fact, contain real cheese that helps flavor them  you expect that good, old-fashioned Cheez-It flavor to come through.
And then there's the coloring that you probably expected, seeing as how these puffed snacks are about as bright as they come. Red dye 40 — one of the most controversial but common food dyes, according to Healthline — is used in the formula to give these Cheez-It snacks their rich, fiery color.
People with food allergies should be aware that this Puff'd variety also contains milk ingredients and may also include wheat, eggs, and soy.
Price and availability of Cheez-It Puff'd Scorchin' Hot Cheddar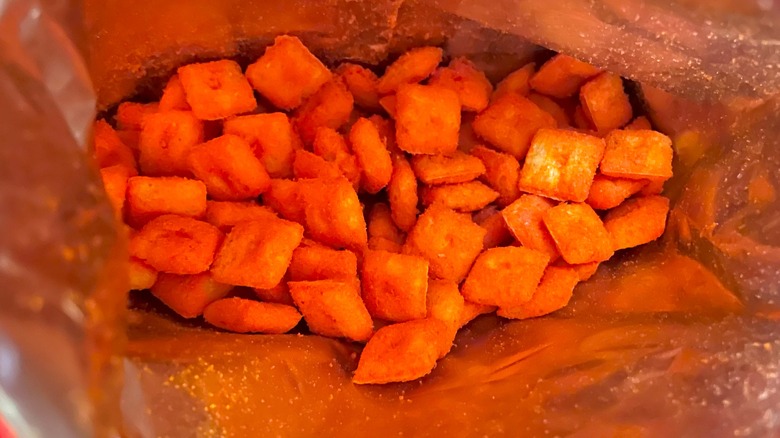 Amy Boyington/Mashed
You can find Cheez-It Puff'd Scorchin' Hot Cheddar in most grocery stores. Sam's Club, H-E-B-, Walmart, and Target are just a few retailers listed on the official site, along with some online companies, like Boxed and Instacart. Like most foods, the price of these snacks varies by location and retailer. Use the 'Where to Buy' tool to find a store near you that carries it. 
Walmart generally prices it a bit lower than other grocers, like Kroger and Stop & Shop, at around $3.18. However, because this product is a new offering, you may be able to find some money-saving promotions with lower-than-usual prices by checking out your local grocery store circulars or email newsletters.
Cheez-It also lets you buy its new product directly from its website for $3.49 for a 5.75-ounce bag. But this might not be your best option for a first try because you'll need to order at least $25 worth to get free shipping. If you discover you love them, though, it's a more affordable way to buy them online than on Amazon, which has a six-pack for just under $30.
How it compares to other Cheez-It products
Amy Boyington/Mashed
If you've tried some of Cheez-It's other new-ish products, like Grooves and Snap'd, you can probably tell that the brand is trying to appeal more toward the new-wave snacking crowd with different textures and exciting new flavors. Cheez-It Puff'd snacks hop aboard that train and ride it as far as it will go.
Cheez-It Puff'd Scorchin' Hot Cheddar isn't your typical Cheez-It snack, considering the original variety is known for its crispy bite. These have more of a crumble-in-your-mouth type of feel with an airy crunch that's more reminiscent of popcorn than a Cheez-It. That's not a bad thing at all unless your primary reason for enjoying Cheez-It Original is its texture.
In terms of spiciness, these have a slightly milder heat compared to Cheez-It Snap'd Scorchin' Hot Cheddar, probably because of their airier texture. Still, you'll get much more heat from these than you would from, say, Cheez-It Duoz Jalapeño & Cheddar Jack Crackers or Snap'd Jalapeño Jack Crackers.
Cheez-It Puff'd Scorchin' Hot Cheddar nutritional value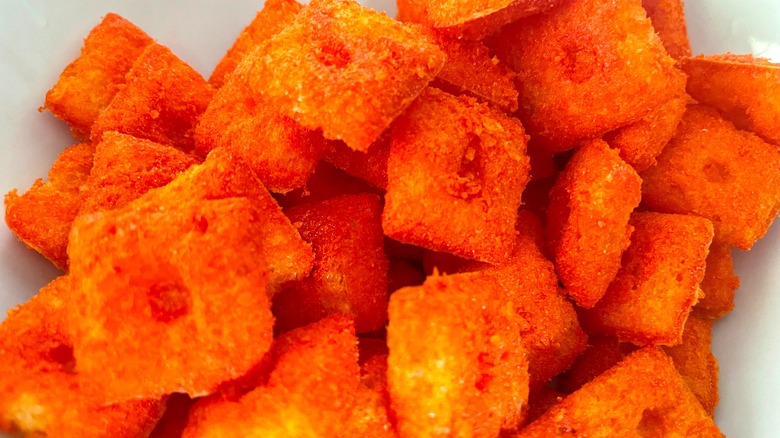 Amy Boyington/Mashed
Let's start by saying that the Cheez-It brand doesn't necessarily cater to the health food crowd. However, it is at least somewhat focused on wholesome ingredients with its "100% real cheese" mantra. It's also been quick to knock down rumors of toxic ingredients that have threatened the brand image. But as far as Cheez-It crackers go, the Puff'd Scorchin' Hot Cheddar gives you more snacking for about the same calories as some of the brand's other varieties.
These have 150 calories per serving, which is about 40 pieces. Compare that to Cheez-It Hot & Spicy, which has 26 crackers per serving for the same calories. And then there's Snap'd Jalapeño Jack, which gives you the same calories for just 20 crackers. All three have the same saturated fat content of 1.5 grams, while Puff'd Scorchin' Hot Cheddar has the least amount of carbohydrates at 16 grams compared to 19 grams. We should also mention that they also have the highest number of polyunsaturated and monounsaturated fats — the heart-healthy kind — out of these options.
So, if you're craving a Cheez-It snack without too much guilt, the Puff'd Scorchin' Hot Cheddar variety with its airy texture could be a good one to grab. Just be sure to pay attention to serving size.
Our final thoughts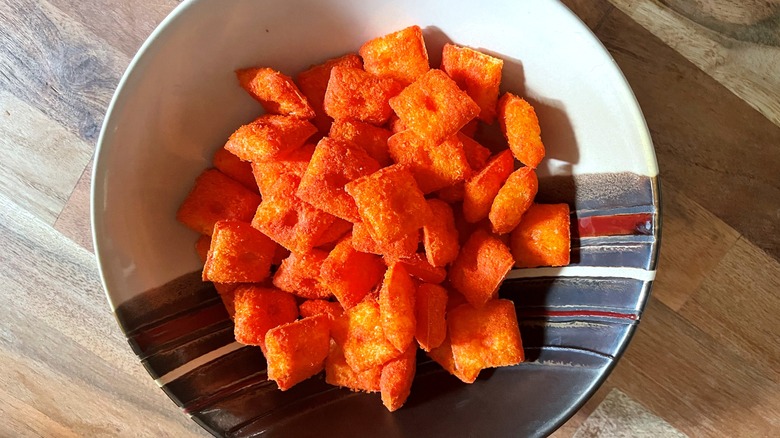 Amy Boyington/Mashed
We absolutely loved the unique texture of Cheez-It Scorchin' Hot Cheddar. It was a nice break from the traditional crispy cracker, somewhat walking the line between popcorn and potato chip. The only caveat is that this texture can lead to compulsive snacking, making it difficult to stop munching once you start. Pro tip: Measure out a serving into a bowl first to avoid eating the whole bag in one sitting (it's possible, trust us).
As far as flavor goes, we believe these crackers are a bit underwhelming — at least, with the cheese. Maybe that's because we're total Cheez-It fans over here and we crave a cheesy cracker. We got a lot of spicy flavor, which we loved, but the spice seemed to take over any hint of cheese lying underneath.
If you've tried other spicy Cheez-It snacks, like the brand's jalapeño varieties, be warned that these will be spicier. However, you can expect dialed-down heat compared to the Snap'd version. But if you prefer mouth-on-fire spicy snacks, these might not cut it. TLDR: You probably won't need a glass of milk to calm your taste buds.