The Best Knife Sharpeners Of 2022
Yuriy Golub/Shutterstock
We may receive a commission on purchases made from links.
We've all been there. The cutting board is out and an old knife is in your hand. You try to cut into a perfectly ripe tomato, expecting to slice through its red flesh like butter, only to watch the skin sink inward because the blade is so dull and worn down. Do you admit defeat and keep pulverizing that poor tomato into oblivion with that useless knife of yours? Or do you have a knife sharpener on hand to save the day?
Sometimes you don't realize just how dull your knife is until you use a newly sharpened one and experience the pleasure of a razor-sharp edge again. Believe it or not, using a dull knife is more dangerous than using a sharp one. That's because you need to use more force when chopping with a dull knife. With a dull knife, it's easier for the blade to slip off of the food and into your flesh. Using a sharp knife isn't just a matter of convenience — it's actually safer and protects your hands from harm (via University of Rochester Medical Center). Having an efficient knife sharpener is the key to maintaining your blades and safely preparing food. 
The good news is there are lots of different features and models to choose from. From electric sharpeners that do most of the work for you to manual models that give you more tactile control, there's a knife sharpener for everyone regardless of your budget or level of experience.
How we selected products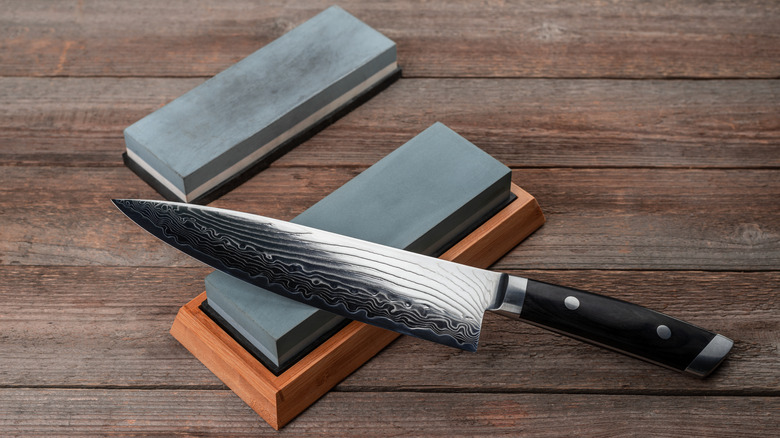 Iurii Korolev/Shutterstock
This list of knife sharpeners was meticulously curated through a careful analysis that weighed consumer reviews, user feedback, and general popularity. Extra attention was paid to product features and cost to ensure a wide range of knife sharpeners for various needs at different price points. Attributes such as size, ease of use, and sharpening modes were also taken into consideration.
Below you'll find a collection of knife sharpeners that encompasses all of the major categories, including whetstones, electric and manual knife sharpeners, honing rods, and models that can accomplish tasks even beyond knife sharpening. If you're looking for the right tool to sharpen serrated blades or ceramic knives, we've got you covered there, too.
The final result is a comprehensive list of knife sharpeners that provides plenty of well-vetted options that run the gamut from simple models for home cooks to more sophisticated designs for professionals. Rest assured, no matter your budget or level of expertise, you'll be able to find a knife sharpener on this list to suit your needs. Here are the best knife sharpeners of 2022.
Best overall knife sharpener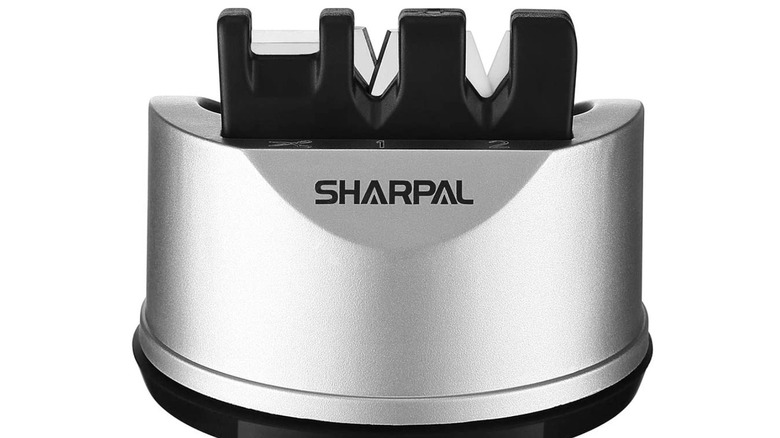 Sharpal
If you're looking for a knife sharpener that checks all of the boxes, the Sharpal Pocket Kitchen knife sharpener was designed with you in mind. Three-stage sharpening system? Check. Works on both straight and serrated blades? Check. Easy to use and affordable? Yep, this knife sharpener model checks those boxes too. It also has nearly 20,000 reviews that average out to an impressive four-and-a-half stars, so you can rest easy knowing that thousands of other buyers are very happy with their purchase.
So, what does the Sharpal knife sharpener offer? For starters, its three different sharpening stages have blades made from tungsten and ceramic that are specially designed for fine honing and edge-setting. It has a suction cup on its base to create more stability during the sharpening process. With preset notch slots that are ready to go, sharpening your knife is incredibly easy.
This model can work with just about any kind of knife, including chef's knives, paring knives, pocket knives, hunting knives, serrated bread knives, and even scissors. On top of all of these amazing features, this knife sharpener is so small that it can fit in the palm of your hand and it's so affordable that it won't break the bank. All in all, this knife sharpener is easily one of the most accessible, well-designed, and user-friendly models on the market today.
The Sharpal Pocket Kitchen knife sharpener is available on Amazon for $13.
Best budget adjustable knife sharpener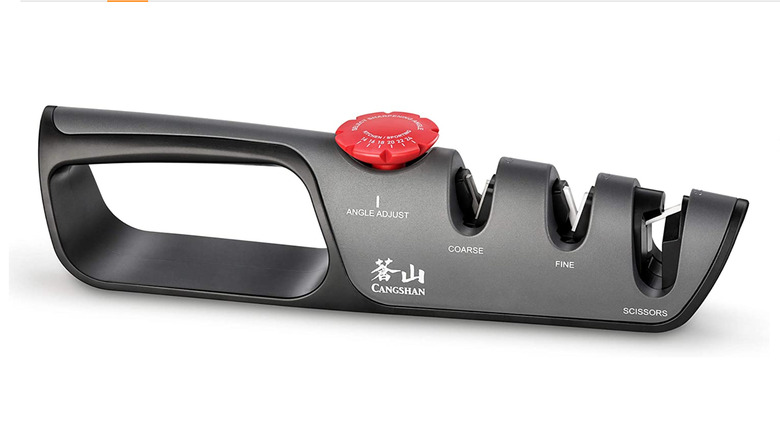 Cangshan
Everyone wants good tools in the kitchen but sometimes cost can be a major barrier. For those on a tight budget, finding tools and appliances that are affordable is a crucial part of the shopping process. Luckily for you, we've already done the work hunting down some great deals, considering there are so many reasonably priced knife sharpeners on this list — including this one.
The Cangshan 3-stage adjustable knife sharpener has ultra-hard tungsten carbide blades and a dial for angle adjustment to give you more customization over the sharpening process. The adjustable sharpening angle can be set anywhere from 14 to 24 degrees, making this model a great choice for anyone with a mix of Western and Asian-style blades that require different maintenance modes. Simply set the blade in a notch and gently pull the knife backward and your knife will be razor-sharp and polished in no time. This model's rubber feet help it stay firmly attached to surfaces and its grip design will help protect your hands. After 16 months of research and development, it's clear that a lot of time and effort has gone into making sure this Cangshan knife sharpener is worth every penny.
Purchase the Cangshan 3-stage adjustable knife sharpener on Amazon for $15.
Best entry-level knife sharpener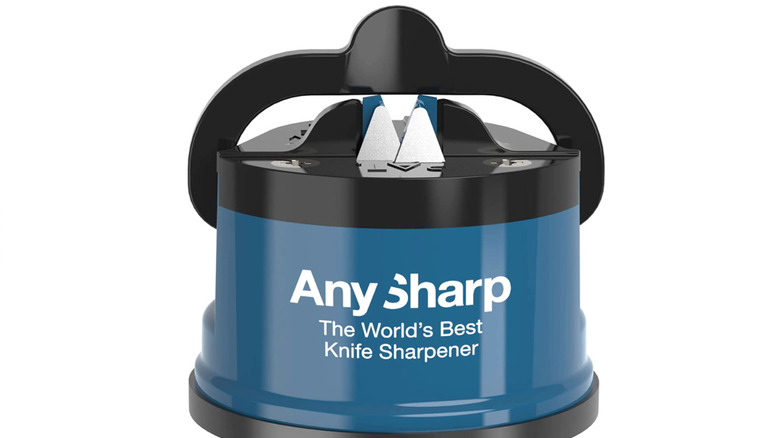 AnySharp
All of us were beginners at some point. From mastering the right way to properly sharpen a knife to other basics in the kitchen, we all start out with a lot to learn. Much like the blade of a knife, there's always an area to hone and sharpen when it comes to our body of knowledge. If you haven't sharpened a knife before, there's no need to worry — the process may seem intimidating and it's always a good idea to proceed with some level of caution when working with razor-sharp objects, but the bottom line is that knife sharpening is actually really easy. That said, some models and methods are more straightforward than others. And that's where the AnySharp knife sharpener comes in.
The AnySharp knife sharpener has easy-to-understand directions written right on the tool itself to help guide your sharpening and help prevent any mistakes, which makes it perfect for beginners. This model works with straight blades and serrated knives and also comes equipped with a suction cup to free up your hands. Sharpening only requires a few gentle strokes and it can work on just about any knife in your kitchen. The guiding top is fashioned with a soft yet durable polymer that's designed to protect your blade from unwanted blemishes. With its versatility, compact size, preset angle, and simplified operation, this handy model is a great introduction to the wonderful world of knife sharpening.
Buy the AnySharp knife sharpener on Amazon for $15.
Best electric knife sharpener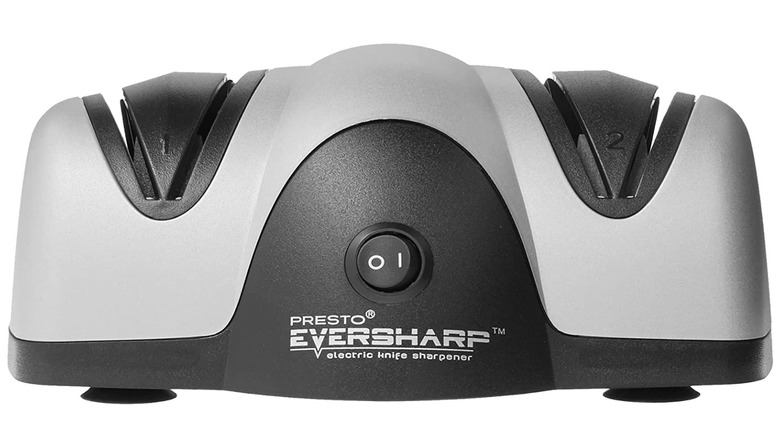 Presto
There's an old saying that still rings true and serves as a good reminder: "Work smarter, not harder." This tidbit of timeless wisdom can be applied to just about everything in life, including the way you sharpen your knives. Electric sharpeners are a smart way to easily and effortlessly keep your knives in great condition. All you have to do is flip a switch, hold the handle, and draw the knife back a few times while the electric sharpener does the rest. In a matter of seconds, your electric sharpener will gently grind and polish your blade back to its shining, razor-sharp glory.
With sapphirite sharpening wheels, the Presto EverSharp knife sharpener uses the same material that professional knife sharpening shops use, ensuring that your blades are getting the quality treatment that they deserve. The blade guides automatically secure your knife at the perfect angle, removing any risky guesswork and simplifying the sharpening process. Two different sharpening modes provide distinct stages, sharpening and honing your blade with optimal precision. A triple set of suction cups on the bottom of this knife sharpener help keep it balanced and stable on just about any surface. If you're looking for an easier way to keep up with maintenance, this electric knife sharpener is a dream come true.
The Presto EverSharp knife sharpener is available on Amazon for $36.
Best diamond-edged manual knife sharpener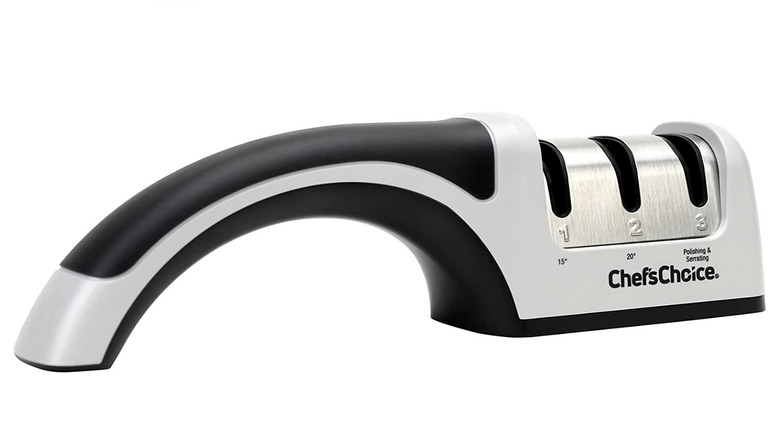 ChefsChoice
Why choose to use a manual knife sharpener over an electric model? The truth is that both styles have their advantages and drawbacks. On the one hand, an electric model is more effortless and thorough, but some models may be too aggressive for more delicate blades. On the other hand, manual models require a little more physical effort but offer you more tactile control. Ultimately, there are excellent models in both of these categories, so it's just a matter of choosing wisely based on your specific needs.
This Chef'sChoice manual sharpener uses diamond abrasives to sharpen and polish at a 15-degree or 20-degree angle. This particular model will also work on serrated knives, making it ideal for those of you who want one knife sharpener that can work for just about any style of knife in your kitchen. This manual knife sharpener is made in the United States, is very comfortable to operate and easy on the hands, and is small enough to conveniently fit anywhere in your kitchen.
Purchase the Chef'sChoice manual sharpener on Amazon for $59.
Best whetstone knife sharpener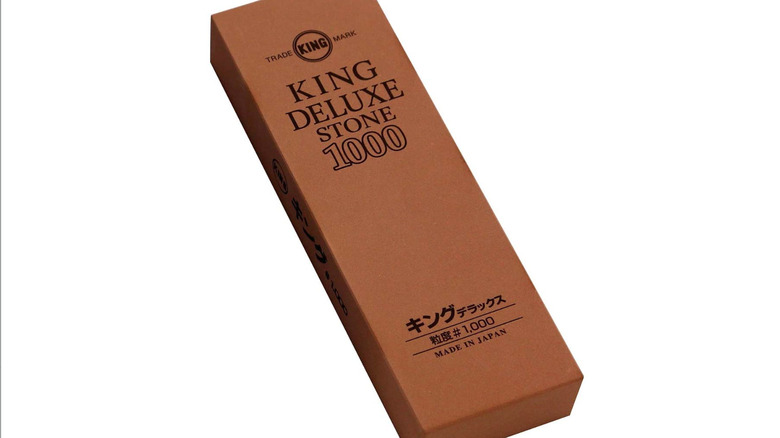 King
When Iron Chef Masaharu Morimoto recommends using a whetstone to sharpen your knives, you know you're getting good advice from a trusted source. Using a whetstone might feel intimidating, since the sharpening process isn't partially guided the way electric and manual models are. At the same time, learning to use a whetstone properly can reward you with an ultra-sharp edge and help keep your beloved knives in better condition since whetstones remove less material than other types of sharpeners (via Serious Eats). You can also rest easy knowing that acclaimed chef and cookbook author J. Kenji Lopez-Alt happens to recommend this particular King Deluxe whetstone.
According to MTC Kitchen, this medium grit whetstone is one of the most popular choices by chefs in Japan. Using this 1,000 grit whetstone is ideal for those of you who are looking for a single whetstone that can handle the job of sharpening your knife on a regular basis. Once you dive into the gratifying world of whetstones and see the clear difference in your blades, you'll never look back.
You can buy the King Deluxe 1,000 grit whetstone on Amazon for $22.
Best versatile electric knife sharpener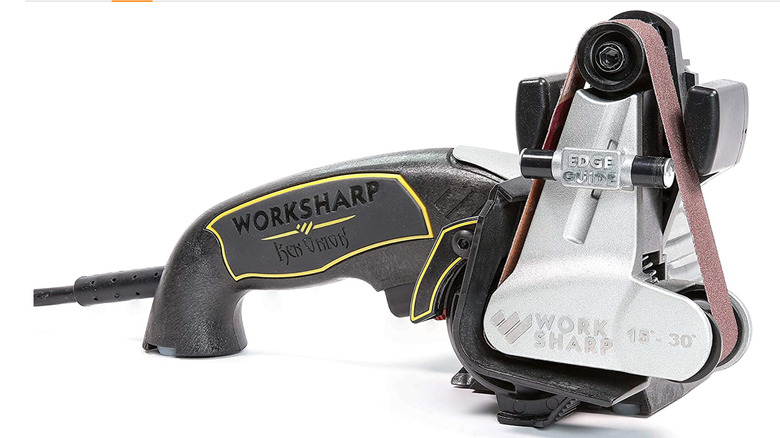 Work Sharp
Did you know that some knife sharpeners can do more than just sharpen knives? Not only is this Work Sharp model designed to work on your knife blades, but it's also perfectly capable of sharpening your pruners, axes, scissors, and gut hooks. The sharpening guide on this model has a wide range and can be adjusted to anywhere from 15 to 30 degrees, which allows it to work on a number of different blades.
This sharpener also comes with different abrasive belts to work with various types of material. The belts offer several choices that include extra course, course, medium, fine, and extra fine. The diversity of grit offered by this model will allow you to perfectly tailor your sharpening session based on the blade type and tool that you're working with. Powerful and versatile, this sharpener also comes with speed control variation, granting you more command over the acceleration of the abrasive belts to match the specific task at hand. If you have a lot of dull tools lying around, this sharpener is an excellent choice to get them feeling like new again.
The Work Sharp knife and tool sharpener is available on Amazon for $130.
Best serrated knife sharpener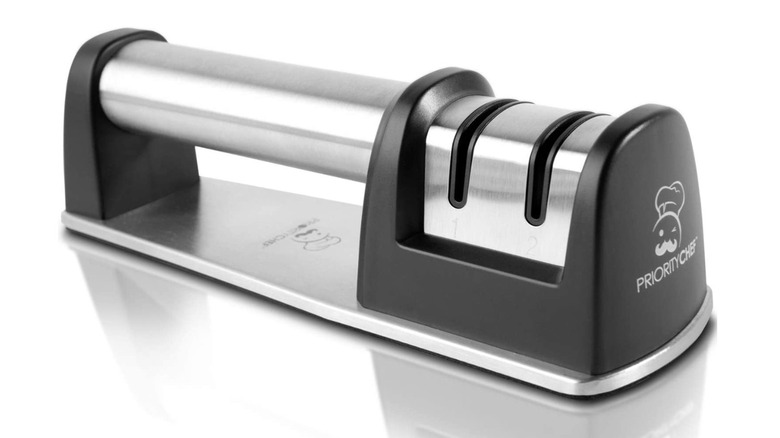 PriorityChef
Serrated knives are an important part of every kitchen. With their saw-like teeth, serrated knives are great for slicing through crusty bread, the tough skin of a pineapple, or a roast. Since some knife sharpener models don't work on serrated blades, it's a good idea to select one that's compatible so that you can ensure that every knife in your kitchen is sharpened to perfection.
This PriorityChef sharpener works wonders on both straight and serrated knives with a diamond-coated course wheel and a ceramic-coated fine wheel. The ceramic-coated wheel will work wonders on your serrated knife. All you need to do is pull your serrated knife through the ceramic-coated wheel about ten times and you'll be pleasantly surprised when you see the impressive results.
As with all tools, safety is always a concern, but this PriorityChef knife sharpener is thoughtfully designed with a cushioned bottom to ensure maximum stability. With nearly 13,000 reviews that average out to four stars, it's clear that many shoppers are highly satisfied with their purchase. And why wouldn't they be? Beyond its practicality, this model has a sleek design made with chrome and silver that's bound to look stylish on any kitchen counter.
Buy the PriorityChef sharpener on Amazon for $15.
Best ceramic knife sharpener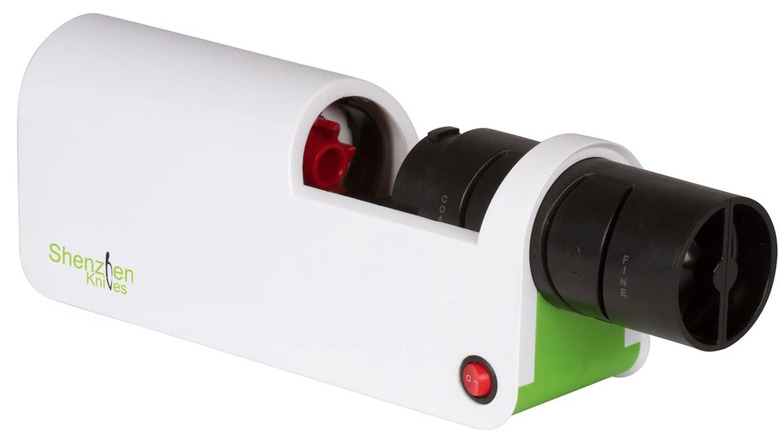 Shenzhen Knives
Ceramic knives require special attention because they need a sharpener that is uniquely designed for them (via Ceramic Cookware Hub). That's because the blades of a ceramic knife are made from zirconia, which is extremely hard. Due to zirconia's inherent hardness, sharpening the blades calls for a material component that's even harder: diamond.
This Shenzhen Knives electric sharpener has a diamond grinding wheel with course and fine grit levels that can sharpen both ceramic and stainless steel knives. This model comes equipped with a shaving cartridge to efficiently catch all of the particles from the sharpening process, which makes cleanup a breeze. Considering that the lifespan of the diamond wheel is about a year, extra diamond wheels for this model can be purchased to ensure longevity and continued use. With a universal knife slot for easy operation, a plug-in setup that provides a continuous stream of unwavering power, and raised sharpening slots to securely guide your knife, this model has everything you need to get started sharpening just about any ceramic knife on the market. After nearly 1,000 reviews that average out to four and a half stars, it's clear that there are plenty of happy customers who feel pleased with their purchase.
Purchase the Shenzhen Knives electric sharpener on Amazon for $35.
Best honing rod for knife sharpening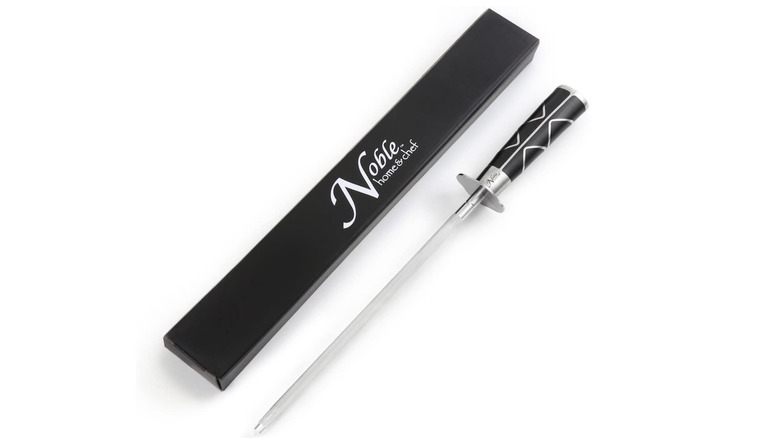 Noble Home
Most people probably picture a honing rod in their mind whenever the topic of knife sharpening comes up. And many may not realize that honing and sharpening a knife are actually two different processes that work to achieve the same goal: sharpening the edges of your blade. While sharpening actually shears off dull material from your knife, honing is more of a realignment process that levels out the edge. One of the best ways to do that effectively is by using a honing rod, which is a long piece of steel with a handle.
The Noble Home & Chef honing rod is chromium-plated to prevent rusting, dishwasher safe, and very affordable. One key safety feature that sets this model apart is the fact that its honing rod is magnetized to collect airborne metal shavings, which prevents particles from becoming airborne and causing harm by entering food or the respiratory system. It's also built to last and comes with three different handle designs for you to choose from, depending on your aesthetic preferences. At just under 15 inches long and only 12 ounces, this honing rod is small yet mighty and its sleek design is sure to add some style to any kitchen.
The Noble Home & Chef honing rod is available on Amazon for $25.